This week we are covering #'s 4 and 5 of the 10 Compelling Reasons to Work with Mechanism Design Specialist.
Read part 1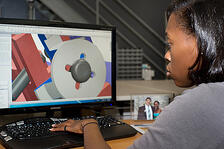 Read part 2
4. Your product will be of higher quality. Why try to solve a problem multiple times when you can get it right the first time? An experienced mechanism design team has had multiple opportunities and projects that allowed them to experiment with a product similar to yours, which means that the testing has been done, the mistakes have been made, and now, instead of working to make your product right, you can work to make it better. This means you can work on reducing parts, finding parts with higher tolerances, and other things that will improve your mechanism design.
5. The odds of developing better features for your product will increase. When you approach a team of mechanism design specialists, chances are that you have one thing on your mind: getting your product made as quickly as possible. Even if improving your product design is on your mind, it's probably not at the forefront; you've spent so much time working with this product that you feel like your design is finished – and now you want to make as many as possible in the least amount of time possible. Meeting with a group of mechanism design engineers, however, is akin to meeting with a group of muses; if you let them use their deep wells of knowledge and experience to think of new designs for your product, they might even discover that your design can do completely new functions that you never considered. If you embrace the opportunity to consult with mechanism design specialists, their creativity and imagination can only heighten and improve the uniqueness and functionality of your design, especially in the conceptualization stage. Your product may have more potential than you imagined.
Come back to read the rest!
For a deeper dive, read our eBook