Design for Manufacturing (DFM) is an engineering philosophy that emphasizes designing parts, components, and products for easier manufacturing. The end goal of DFM is enabling companies to achieve better products and lower costs.
A Design for Manufacturing approach accomplishes this by simplifying, streamlining, and optimizing the product design.
In our line of work, it's not uncommon to see companies start with the aesthetic design of their product and then move forward with their process from there. Which is understandable - it seems like it would make sense to start with the end result in the hands of a customer.
The problem? Even great ideas fail if they neglect the question of manufacturability. Many promising designs have found themselves shipwrecked on the rocks of production costs, faulty designs, and other manufacturing pitfalls.
This is why when we take on an engineering client, we prioritize design for manufacturing (DFM) to ensure that your product is not only innovative but practical.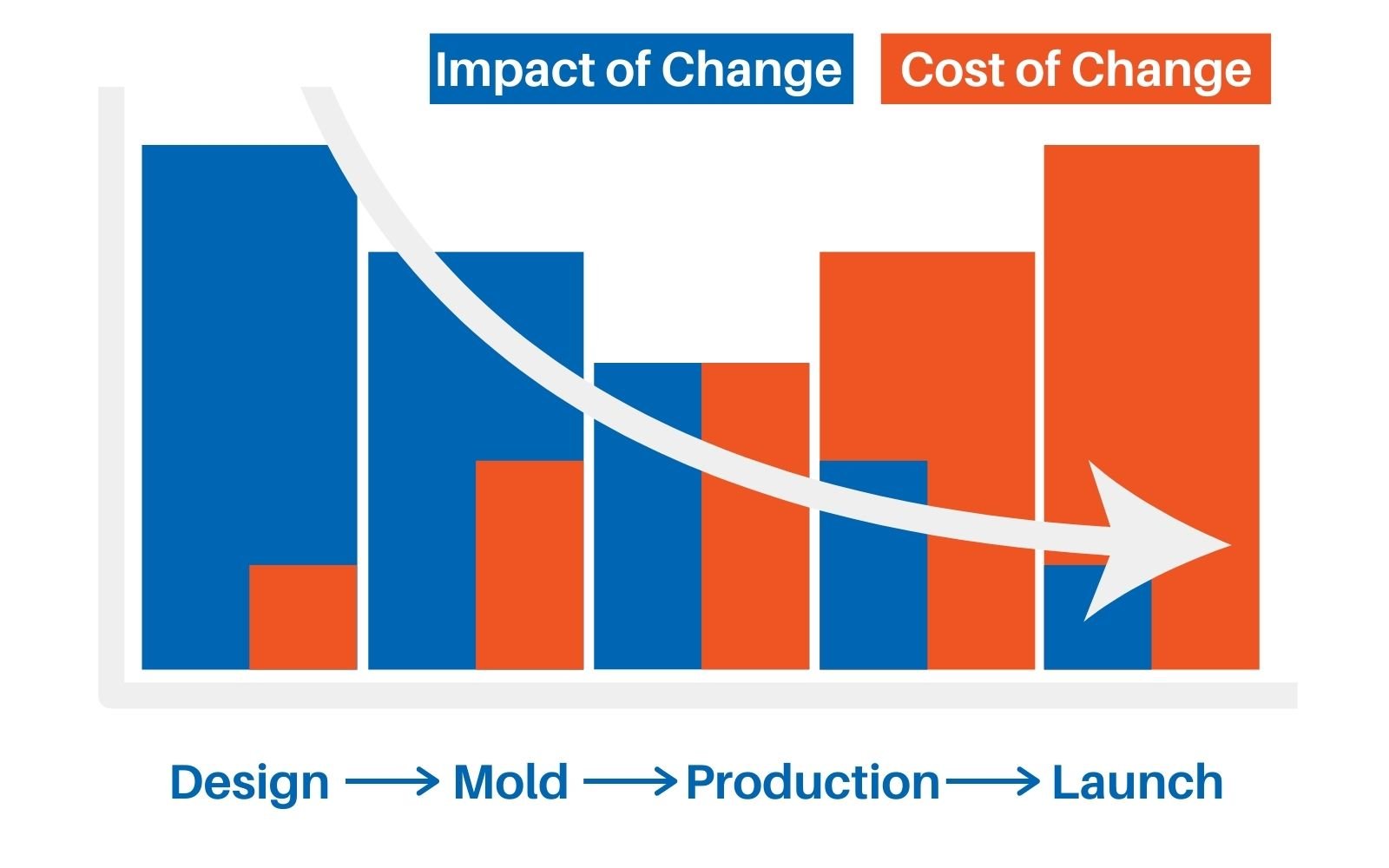 Design for Manufacturability Creates Confidence
We are always looking at the end result for manufacturability, even in the conceptual stage. As we discuss innovation and look for creative solutions, each concept is held to the standard of manufacturability.

This kind of foresight helps you enter manufacturing with confidence – confidence that you have a clear plan that gives you an idea of capabilities and cost effectiveness. It's just part of our DNA. It's what we work towards all along the process.
How DFM Affects Manufacturing Outcomes
There are a few principles that drive Design for Manufacturing (DFM) that are critical to improving your product to market success.

Reducing Your Part Count. If you can accomplish your outcomes with fewer parts required, you can reduce your production costs across the board.

Streamlining Your Manufacturing Processes. The more complex your manufacturing process is, the more opportunities there are for errors and changes to occur. DFM takes into account potential limitations of your process and works to simplify the manufacturing operations at hand.

Standardized Parts and Materials. Even the most innovative functions can take advantage of cost-effective standardized materials with the right guidance. To increase your speed and decrease your costs, your design should lean on readily-available standardized parts and materials.

More Efficient Joining. If you can leverage parts that interlock or clip together, you can avoid material costs and assembly steps involving screws and other adhesives.

Plan for Modular Assemblies. For more complex designs, it can be helpful to leverage modular assembly strategies that enable you to adjust individual components and their capabilities without overhauling the entire product.
Bringing a DFM Design to Market
Companies come to an engineering firm like Creative Mechanisms because they need certain criteria met in order to have a successful product launch. These product managers need:
Predictable design costs and timelines

Innovative ideas that improve product performance AND production costs

The ability to anticipate manufacturing challenges before investing heavily
By drawing on our Design for Manufacturing experience in bringing products to market for over 30 years, we help companies have confidence that their product is designed to succeed, in manufacturing and in their customers' hands.