After years of brainstorming, market research, and crafting a viable business plan, you feel that you're ready to bring your invention to life. Now what?
The next step is creating a prototype to serve as the preliminary model of your product. To ensure that this part of the process is completed as efficiently and cost-effectively as possible, it's essential to partner with an engineering firm or prototype company that has the team, training, and technologies to transform your dream project into a physical, functioning reality.
Before deciding which prototyping company is the ideal candidate to breathe life into your invention, there are a few questions you need to ask yourself.
How much control do you want to have in the design of your prototype?
Some product development companies are capable of prototyping a product from nothing more than a verbal idea, whereas other firms will produce require the use of designs and specifications. If you're confident that you'll be able to handle the bulk of the workload, consider partnering with a firm that creates parts from your files. On the other hand, if you're working off of an idea alone, you may require a different type of prototyping company that can develop it further and provide a solution to a problem you've presented. Understanding where you fit into the prototyping process can help save you time, money, and frustration.
Do you want to partner with a service bureau, industrial design firm, or a product engineering firm?
Though some product development companies will blend their services and capabilities, presenting themselves as an all-in-one solution, it's important to meet in-person with the individuals who will be working on your project to assess their skill sets and overall competency in your product's field. Companies within the product development sector tend to fall into one of three different categories: service bureaus, industrial design firms, and product engineering firms. Let's take a closer look at each.
Service Bureaus
These companies will print parts from the exact files and design specifications that clients give them. They typically utilize rapid production equipment such as SLA machines, FDM machines, or SLS machines, and are the ideal fit for inventors who intend to handle the majority of the leg-work in the prototyping process.
Industrial Design Firms
Industrial designers approach the prototyping process from more of a consumer-based standpoint. Their primary concerns are styling, human interaction, and the ergonomics of their clients' products. Design firms will help your business find its voice and tailor the partnership around creating better product experiences for your customers.
Product Engineering Firms
Product engineering firms can certainly help develop a prototype from an initial idea, though they place the emphasis of their prototyping on design for manufacturing and solving mechanical problems. Often, all they'll need to get started is a brief description of the product you have in mind. From there, they'll reach out to you for input throughout the prototyping process. This is the category that most closely defines Creative Mechanisms.
Though some companies may claim to fall into all three of these categories, the fact of the matter is that most companies will have difficulty serving every purpose for every client. It's better to make sure that you partnered with a company that knows its strengths and focuses specifically on what it does best, with transparency and honesty from the get-go.
Here are a few more questions to consider asking before partnering with a product development company:
Do they have industry expertise in your product's field?
Do they have end-to-end prototyping capabilities?
Do they utilize the latest design & fabrication technologies?
Do they have a transparent billing process?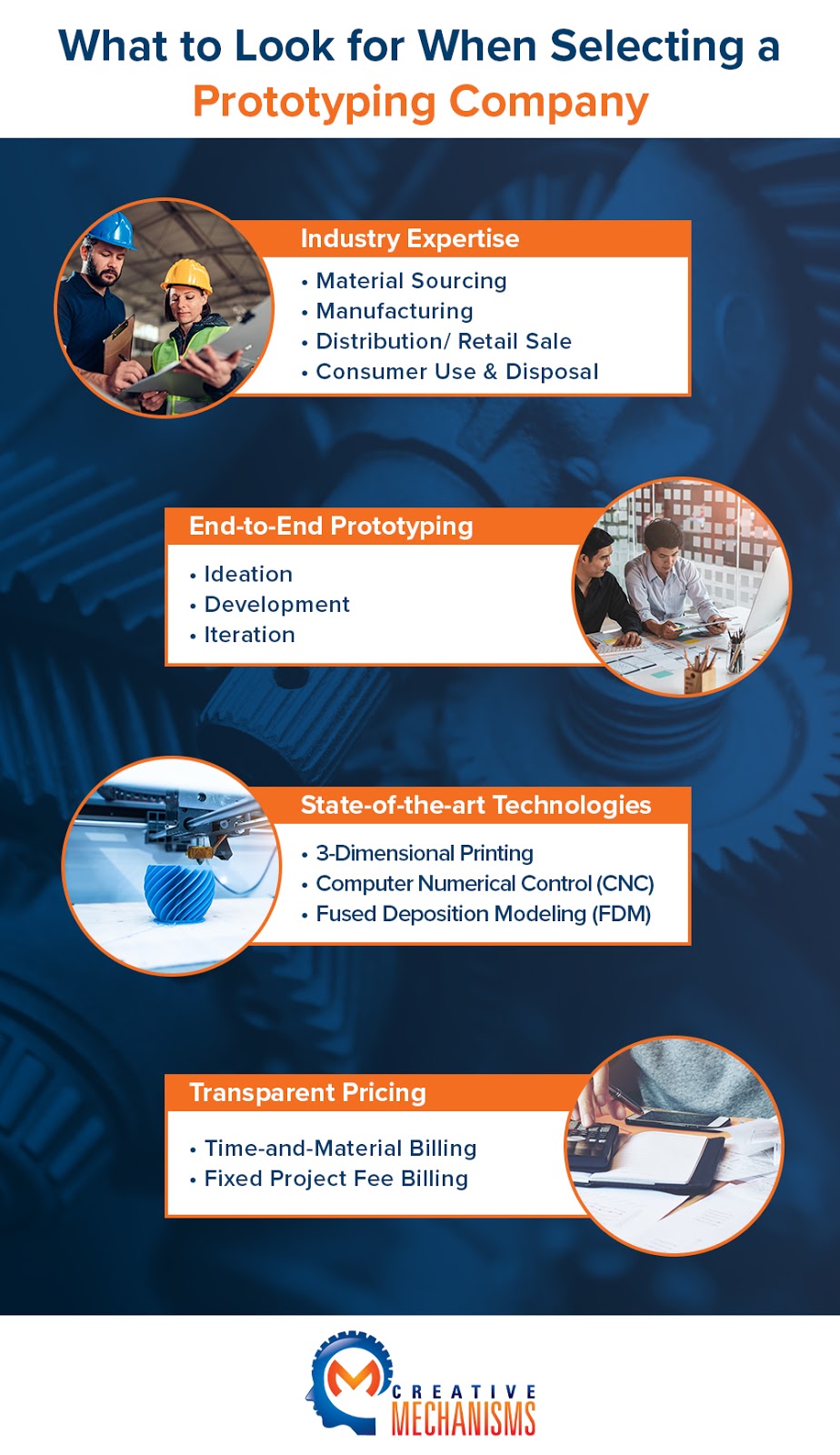 Why Partner With Creative Mechanisms For Prototyping?
As a globally leading engineering firm with more than 30 years of experience, specializing in designing, engineering, and prototyping a wide range of injection-molded mechanical products, Creative Mechanisms strives to set the industry standard for our clients in terms of innovation, fabrication, and transparent pricing.
Having originally established our company as a "model shop" in 1985, we began as a service bureau that created prototypes by hand, based on the specifications of a given design. As our team and technological capabilities developed, we added a design department to our organization and transitioned into an industrial design firm that focused on refining the prototyping process. As these processes began moving overseas, our team pivoted once again to become the product engineering firm we are today, focused on providing clients with mechanical solutions.
To find out more information about our prototyping capabilities, or inquire further about product development, give us a call today at 215-344-7823 or fill out a contact form through our website.