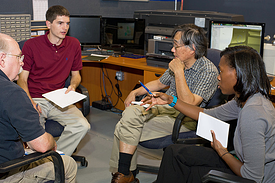 For those pursuing jobs in the design and engineering space, there are multiple skills and characteristics that will help you succeed. Like most industries, hard work and talent will go a long way, but we wanted to highlight some additional skills that are particularly appropriate for engineering students to develop. Read on to learn about five things you can do to make yourself more competitive and productive in the design and engineering fields.
Technical competence with appropriate software. Virtually everyone doing anything with design is using some sort of CAD (computer aided design) program. For example, SolidWorks is used for many mechanical design applications, and PADS is appropriate for designing electronic products. If you know the field you're interested in, start getting technical competence with the software that is primarily used. A lot of the work we do at Creative Mechanisms is in SolidWorks - read this blog to learn nine of the most useful tips to work effectively in the program. Many software companies also offer classes to help learn the programs; this can save you valuable on-the-job time if you're new to a company.
Creativity. In many cases, creativity seems to be something you develop with experience. The more projects you have been involved with, the more you are able to synthesize knowledge to develop "creative" solutions to what might seem like novel problems. An experienced designer probably doesn't see a particular problem as entirely novel. They're likely to incorporate bits and pieces of different solutions that have worked for them in the past as a means to overcome whatever new problem they're tackling. The moral of the story is: take heart! Creativity will continue to grow as your experiences add up - the important thing is to get started, and this will help creative problem-solving skills develop.
Ability to work as part of a team...which requires a measure of humility and a willingness to learn. At Creative Mechanisms, we've assembled our team's desks in a U-shaped configuration to foster brainstorming and teamwork. It's been a great success thus far, primarily because it allows our design and engineering team to bounce ideas off one another and continuously iterate on projects. More important to being part of a team, however, is demonstrating a willingness to learn from others and be open to input. It's rare that one person has the right idea all the time, so fostering a sense of community among a design team will result in better solutions for clients.
Multi-disciplinary knowledge. Even if you don't have professional experience in the field, having some familiarity with electrical knowledge, mechanical knowledge, and various softwares means you can contribute to building just about anything. It may be as simple as tinkering with an inventor's kit at home in your free time, or attending online classes in fields you don't feel competent in. The point is this: the more you get exposed to, the more you'll retain, and you can use multi-disciplinary knowledge to kickstart creativity and problem-solving. This will make you a well-rounded design engineer.
Initiative and persistence. You have to be willing to start the ball rolling in the first place and you have to keep at it when things get tough. Everyone goes through the doldrums in design. At other times ideas are flowing without much effort. It's the ability to persist through both cycles that can set someone apart. This is also where being part of a highly functioning design and engineering team has its benefits - team members can balance each other.
Do you have a project that requires a great design and engineering team?
Creative Mechanisms has a great team with experience designing products across multiple industries. Our team has managed to help many clients turn their ideas into reality by creating elegant solutions to complex problems. To learn about the feedback clients have given us, please visit our Customer Testimonial page. Alternatively, if you are an engineering student looking to broaden your knowledge base, please look into our class built specifically for students, entrepreneurs, and inventors. Thanks for reading!