One of the things we benefit from at Creative Mechanisms is a fully integrated software-hardware package that ties together our Computer Aided Design software (Solidworks) and our heavy machinery (two single tool CNC machines, one 16-tool CNC machine, and an industrial grade FDM machine or "3D printer").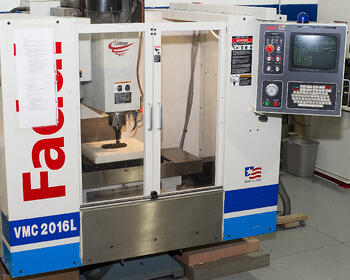 The benefit of having a fully integrated system is that design iterations can be made near-instantaneously without the headache of downloading and reuploading everything each time you want to print an updated part. This is a small thing that makes a big difference when it comes to rapid prototyping productivity.
Say we want to design a new part. For example, a recent project we worked on was an autoloader for a Glock pistol. Autoloaders expedite the bullet loading process which typically requires slow, manual inputs where one bullet in inserted at a time). Instead of designing a supplementary part we actually ended up redesigning and retrofitting the standard magazine. Leaving out the project specifics, let's talk about how we went about the project. First, we created a 3D model in Solidworks. In this case we started out with a model of the standard magazine. After a brainstorming session we started making design iterations to our baseline model. Once we iterate to a point that we were ready to print a baseline prototype, we used the 3D printer's interface software to convert the CAD model into a set of toolpaths that instruct the 3D printer. The printer's software slices the CAD model into printable layers so as to facilitate the 3D printing process. The software is hooked up directly to the 3D printer and so the original design file can be printed in a matter of seconds.
The real work begins when the FDM machine is finished printing the prototype part. There simply is nothing like holding a part in your hand. Oftentimes minor changes present themselves fairly quickly. Although our designs are well thought-out prior to printing, sometimes you want to make new iterations after holding the actual prototype. This is where a fully integrated software-hardware package really makes a difference. Rapid changes can be made in the Solidworks CAD file, quickly translated into the FDM software, and then printed yet again. This iterative process is repeated as necessary until a satisfactory design and the subsequent prototype is completed. There have been a few projects made up of small parts that have allowed and required us to iterate many times in one day. For example, we worked on an exterior cover for an audience polling technology (a sleeve that covered up everything but the buttons on a vote counting device). The sleeve took about 90 minutes to print. For reasons of proper fit we had to adjust the CAD file and then subsequently print it several times in one day. After three to four models we got it to work just right. Another example is a small, child-resistant bottle closure we designed. The device could be printed in around two hours and it took roughly three iterations to get perfect.
Sometimes, and it depends on the project, we can just hand-modify the 3D printed part to implement the changes instead of reprinting it. In such a case we can go back and make the same change to the CAD model after the fact so the software reflects the change in the future. Making changes this way is oftentimes a benefit from the client perspective because the more we iterate, the more it costs our customers and the longer it takes. For this reason you want to balance getting things right and doing unnecessary re-prints in the FDM machine. We make changes to prototype models when there's a good reason for the change - not just because we screwed something up on the previous model.