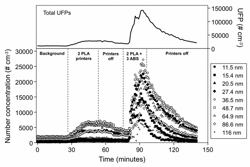 A recent study came out from researchers at the Illinois Institute of Technology regarding emissions from commercially available 3D printing devices. The study, entitled "Ultrafine Particle Emissions From Desktop 3D Printers," found that substantial nanosized particle emissions can occur from 3D printing and that those emissions could potentially be harmful when in an indoor facility without sufficient ventilation. The study provides objective data from an actual 3D printer using two different types of feedstock (PLA and ABS) and it highlights an important takeaway: ventilate your office space if you are using 3D printing machinery. This is particularly relevant point for "pro-sumers" (small-scale producer/consumers) that are using the technology for small-scale production in their home or small office. Typically larger manufacturers have well ventilated buildings with good air circulation and filtration systems. Despite the fact that you probably recognize these findings as common sense, they are nonetheless good to know for three reasons:
Small scale 3D printers are "widely accessible for rapid prototyping and small-scale manufacturing in home and office settings." These are areas that may or may not have sufficient ventilation systems in place.

"Most of these devices [small-scale commercially available 3D printers] are currently sold as standalone devices without any exhaust ventilation or filtration accessories."

"Many desktop 3D printers rely on heated thermoplastic extrusion and deposition, which is a process that has been shown to have significant aerosol emissions in industrial environments."
Particle emissions data from commercially available 3D printers was not known or available to the researchers up until the date of publication so they reported on "measurements of size-resolved and total ultrafine particle (UFP) concentrations." Two categories of data were reported: emission rates for particles with diameters sized-resolved between 11.5 nm and 116 nm, and total UFP emission rates (which includes all particles less than 100 nm in diameter). Although 3D printing with ABS released a considerably larger amount of UFPs than did 3D printing with PLA, both materials resulted in notable emissions (respectively comparable to rates reported during cooking with an electric frying pan or when grilling food on gas or electric stoves at low power). In summary, it is quite possible that in the day-to-day hustle most people with home or office 3D printers simply haven't given emissions too much consideration. Maybe they should.
The study also provides some simple and reasonable advice that likely applies for a great number of other machines used in prototype development. Common sense leads us to believe that CNC machines might also result in nanoparticle emissions. We certainly have seen plastic dust floating around near the subject material being cut. Come to think of it, just about everything emits nanoparticles - think of painting, industrial printing, or the actual production of plastic materials in a factory. Whenever there is an aerosol or liquid vapor present you can be pretty sure there will be airborne nanoparticles. Emissions, unfortunately, are a somewhat unavoidable externality. That being the case, there's no reason to get particularly alarmed about the fact that 3D printers produce emissions as well. What is important is that one realize that it is important to ventilate the space in which you use 3D printing technology so that you aren't inhaling a large quantity of polymer nanoparticles on a regular basis.