In part 1, we talked about how to save money on your next injection molding project by selecting the right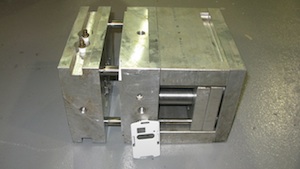 molder and the factors that come into play when doing so. We also talked about selecting the right material for your product and how you can outsource this job to capable people. Finally, we touched on how to go about the individual processes that make up the whole picture of your injection molding project and how to pull them together into a compact overall procedure.
Now we will take a look at some process-based tips to saving money in injection molding.
Bulk Production
Molding operations are rarely personal projects or projects that will produce small numbers. In the research and development phase alone, some projects produce hundreds of thousands of prototypes, as many benefits come from extensive testing and feedback. When the product moves into the production phase, it is even more important to be able to mold as many parts in one shot as possible. Molds for production should also have as many cavities as possible without compromising the quality of the parts produced. In a competitive market, a product must be the best it can be while also being affordable. That is why it is advisable to produce as many parts as possible at one time – because it spreads the setup cost out over more parts, thus leaving you with a lower price per piece. You can now sell your product in a competitive market.
Mold Design
In mold design, as in bulk production, it is beneficial if you can produce as many parts as possible in a single shot. For mold design, it is also very important to be able to eject the plastic product quickly and to be ready for the next shot without wasting movements. Every second in the injection molding process translates into money; it is critical to minimize the mechanisms of molding to as few and as fast as possible.
Incorporate Possible Mechanisms in the Molding Process
If there is a need for a mechanism in the product, there are quite a few to choose from. Many can be incorporated into the molding process without the need for secondary processes or machining. Some mechanisms, such as living hinges, take advantage of the properties of the material that was used to mold the plastic part. These mechanisms can be made directly from the molding process versus spending extra time and money on other processes, such as stamping.
Optimize Product Design
You can save a considerable amount of money, especially in material consumption, with an optimized product design. Using ribs and gussets to reinforce a product, for example, will save on material consumption, as will ensuring that the product has uniform wall thickness that is neither too thin nor too thick. Incorporating adequate draft is also essential, as it allows for quick ejection of the product from the mold, saving time and money. Time is money in injection molding. This article offers a few tips to help save money in the injection molding process, but your best bet is to put your trust in a reputable and trusted company like Creative Mechanisms. When you do, you can rest assured that your molding project could not be better managed.
Read more about Injection Molding
Introduction to Rapid Injection Molding
8 things you might not know about injection molding at Creative Mechanisms
or read our eBook - click the graphic below