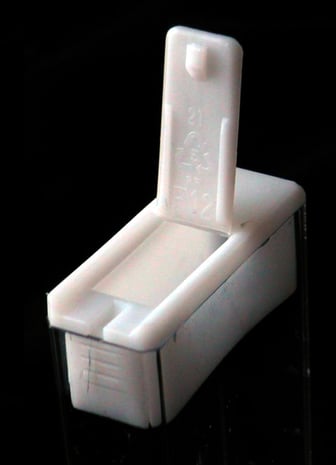 Let's start off with the relevant points before getting into the background and the historical side of polypropylene (PP) as a "thermoplastic polymer" … more on that later! Polypropylene is important to business because it has a wide variety of applications, it's widely available, and it's relatively inexpensive. It is used in automobile components, textiles, semiconductors and a number of other things. At Creative Mechanisms, we use solid blocks of polypropylene as a starting point for CNC prototype parts. We order blocks of PP in various sizes depending on the client need and machined polypropylene prototypes are typically translucent or black in color based on the stock material. Here are a few things we have noticed about the material in general:
1. It is difficult to machine polypropylene down to several thousandths of an inch…
...but it can be done. Highly precise components are beneficial within mechanical devices for obvious reasons. Most people don't realize, however, that a single piece of polypropylene can be machined down to 10 or even 5/1000ths of an inch or less. This type of accuracy leads to the ability to produce "living hinge" prototypes out of polypropylene. This is a big deal. Read here to learn why.
2. In general, polypropylene is extremely difficult to machine and/or weld, but it's commonly used in injection molding processes.
Industry wide, it's known for its very good chemical resistance within corrosive environments. Not surprisingly, polypropylene is used more widely for durable goods production than any other plastic in the United States (3,920 tons in 2012)*. Generally speaking, durable goods are things that are not simply thrown away after use (as compared to a non-durable good like plastic water bottles or Wal-Mart bags).
3. Polypropylene is relatively cheap and is one of the most highly recyclable plastics available.
If you ever see a ketchup bottle cap or a tic-tac lid (the ones where the hinge is a really thin contiguous piece of plastic), you can bet it's made of polypropylene. In 2012, the year of the most recent U.S. EPA statistics report, there were 3,920 tons of Polypropylene used for durable goods and another 1,390 tons used for non-durable goods (5,310 tons total).
Did you know? Plastics are identified by a "Resin Identification Code" (RIC) standardized by the Society of the Plastics Industry (SPI). Look at the bottom of your plastic bottle and you should see one of the following symbols: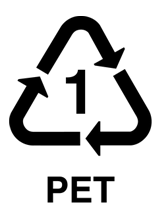 Here's what they stand for:
| | | | | | | | |
| --- | --- | --- | --- | --- | --- | --- | --- |
| SPI RIC | 1 | 2 | 3 | 4 | 5 | 6 | 7 |
| Resin Content | PET | HDPE | Vinyl | LDPE | PP | PS | Other |
PET = Polyethylene terephthalate, HDPE = High density polyethylene, LDPE = Low density polyethylene, PP = Polypropylene, PS = Polystyrene. "Other" common types of plastics include PVC (Polyvinyl Chloride), PLA (Polylactide), and LLDPE (Linear Low Density Polyethylene), and ABS (Acrylonitrile Butadiene Styrene).
Read here to learn more about Polypropylene and how it compares to other plastics.