We often like to complicate mechanical design but the truth is that the world of a mechanical design engineer really falls into one of several general categories: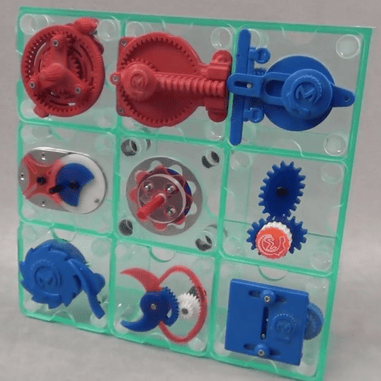 1. Structures: The "structure" is the frame of a mechanical device. It is the portion of the device that is holding everything together. Structures must withstand outside forces. These are the parts and materials that are engineered NOT to fail when a particular load is applied. There are typically a number of other parts in any design but generally speaking the vast majority tend to be non-structural. Parts might serve aesthetic or functional purposes instead of being structural.
2. Power Sources: The engine or drive that powers the device such as a battery, electrical motor, or gasoline powered engine. Power sources typically convert potential energy into kinetic energy. Most small mechanical devices are powered directly by batteries. Larger devices might convert electrical power into a particular motion by using an electrical motor. Other, more simple devices are simply driven use old fashioned "elbow grease" (human manual power).
3. Transmissions: devices or components that transmit power. Examples include gears, belts, pulleys, or chains. They focus power towards a particular application. In many cases the term gearbox or gear train is synonymous with transmission. Transmissions are the system of gears, belts, and in some cases fluid coupling devices that convert the energy (speed and torque) coming from a power source in a focused direction. In your vehicle, the internal combustion engine (power source) is converting the potential energy stored up in gasoline into rotational motion by driving a shaft. The transmission channels the kinetic (rotational) energy from the engine into rotational energy that is in sync with the wheels. It is essentially redirecting and repackaging kinetic energy. Typically you design a system of gears that convert a power source at a known combination of torque and RPM into a different and more desirable combination of torque and RPM.
At Creative Mechanisms we like to add a fourth term into the mix: mechanisms. Think of a mechanism as a type of transmission. It's a combination of parts designed to carry out a particular function. That's really what we do: design mechanical solutions to complicated problems. To do this we start with the basics (the blocking and tackling for you sports fans out there). Common mechanisms like actuators, cams, gears, levers, ratchets, and springs are the building blocks of mechanical design. You can use them on their own or in combination with other mechanisms to solve complicated problems. And just like a good home builder uses their experience to generate the vision for a custom home, a good mechanical designer uses their experience to conceptualize, design, prototype, and manufacture unique solutions to complicated mechanical problems.
Here are a few examples:
1. Glock Pistol Magazine Retrofit For Autoloader Capability:
We were recently approached by an American veteran and entrepreneur looking to develop a novel version of the standard Glock pistol magazine. The new device involved the integration of a magazine spring locking device that holds the magazine spring in the compressed position. Additionally the side panel of the standard magazine was converted from a solid wall into a hinged wall to allow for quick access to the compressed spring. You can take a look at the finished prototype in the following video:
2. Gumball Dispensing Machine:
One of the most interesting projects we recently worked on was a gumball dispensing machine with a particular set of requirements. The requirements included the following: first, gumballs were to be added to the machine through a hopper at the top of the device. Second, gumballs needed to be dispensed one at a time in sequence into four different slots at the bottom of the machine. You can see a brief preview of the mechanism in the following video if you fast-forward to 0:58:
3. Medical Device Prototypes:
We have had the pleasure of working on several major medical device projects over the years. In one case the company had exhausted its efforts with another firm over the course of two years only to turn to us with a short deadline. Due to some creative engineering and a hefty dose of teamwork our team was able to meet the requirements and then some. Listen to us discuss the project in this video:
4. Living Hinge Prototypes:
Living hinges are one of the most amazing and useful mechanisms in the world of plastic mechanism design. They are essentially nothing more than a thin section of plastic material that connects two larger pieces of material (one on each side of the hinge). Living hinges are made from polypropylene and are able to be bent several hundred thousand to a million times in succession without showing noticeable wear or tear. You can both CNC machine them and create a mold tool for large volume production using injection molding. Both methods have their challenges but both are possible and beneficial in certain circumstances. CNC tends to be the best option to provide 1-10 working proof of concept prototypes while injection molding is a better solution for 100 or more testing prototypes and/or final manufacturing en masse.
In conclusion, mechanical design is all about combining your knowledge of structures, power sources, transmissions, and other creative mechanisms to generate novel parts, toys, or machines to accomplish useful work that makes our day-to-day lives just a little bit easier. If you have an idea you're looking to turn into reality please don't hesitate to contact Creative Mechanisms. We can help you every step along the way.
To learn more about the manufacturing process click here