The use of computers to facilitate or assist design has been around since the mid-20th century. The term "Computer Aided Design" (CAD) emerged in the 1950s and is commonly credited to Douglas Ross, a computer scientist who was working at MIT when the acronym was coined.
Computer and Hardware Development for CAD:
1943: The first general purpose computer was developed in 1943 through the combined effort of US Army personnel and the University of Pennsylvania's Moore School of Electrical Engineering. It was named the ENIAC (Electronic Numerical Integrator And Computer) and was used principally to calculate ballistics for US Army artillery shots.
1953: The first graphics formed through mathematical equations took place roughly ten years later and involved the use of a computer numerical control machine and a cutting tool (rather than the electronic displays you think of today). These early CNC machines translated time and position inputs (x, y, and z coordinates) to make cuts in the form of common shapes (the earliest "graphics").
1964: In the early 1960s the first commercially available Computer Aided Design (CAD) systems were coming out on the market. The first of these were used by large aerospace, engineering, and information technology companies like Lockheed, General Motors, and IBM. One of the first computerized graphical display systems, the "DAC-1" (which stood for Design Augmented by Computer) came out in 1963 as part of a joint project between two of the aforementioned companies (GM and IBM). GM unveiled the technology in 1964 used it for nearly a decade until it was eventually replaced by a superior iteration.
CAD Software Development:
1963: CAD took an enormous step forward with the introduction of SKETCHPAD in 1963 by Ivan Sutherland, then working at MIT. Also known as "Robot Draftsman," Sketchpad was a novel step forward in the field of human-computer interaction and was a major breakthrough in computer graphics in general. Of the major advances include the introduction of a graphical-user-interface GUIA graphical user interface allows users to interact with a computer device through visual aids (icons). This is contrasted with the more traditional method of computer interaction using text. and object-oriented programming.
1971: Another major step forward involved the introduction of Automated Drafting And Machining (ADAM). ADAM was a CAD system designed by Dr. Patrick J. Hanratty whose company, Manufacturing and Consulting Services (MCS), provided the software for major companies like McDonnell Douglas and Computervision.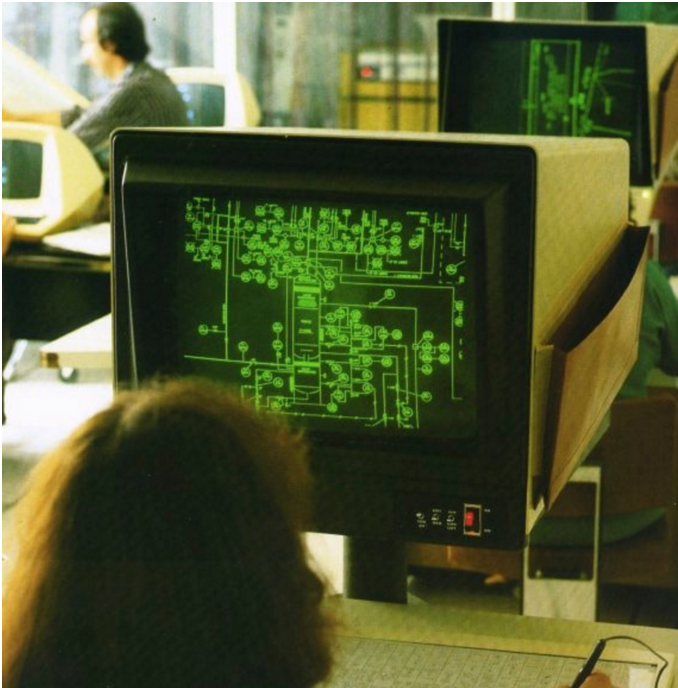 CADDS3 2D Drafting System by Computervision Inc.
1970s: 3D CAD was first introduced in the 1970s but not in a widely distributed fashion. Most design at this time was still being done with pencil and paper.
1980s: Solid modeling was the major CAD advancement made in the 1980s. Significant software offerings included the well known 2D system known as "AutoCAD."
1990s to today: Solidworks, an updated version of which we currently use at Creative Mechanisms, was first introduced in the 1990s. According to Tony Rogers, president of design shop Creative Mechanisms,
"We started with the first version of Solidworks around 1995. The progress in 3D CAD was gradual where the step towards Autocad in the 1980s was much easier. In 2D CAD you were drawing the same way you always had. It [2D CAD] took almost the same amount of time as doing 2D drawings by hand with the big difference being that changes were much much faster and easier to make. 3D CAD was an entirely different way of thinking and working so it took much longer for everyone to adapt to it."
For more on Computer Aided Design and how we use it for prototype production in the modern era read here.
More design and engineering blogs on CAD/Solidworks:
SolidWorks Tips for Those in Design and Engineering
SolidWorks Plastics for Injection Molding Prototypes