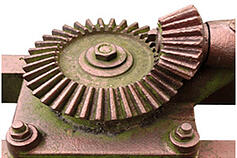 Mechanism design is a truly exhilarating aspect of the product design process. It is one of the few stages where there is a very fine and delicate balance between ingenuity, experience, and out-of-the-box thinking. For any one product, there are a plethora of design options to consider in order to achieve a certain motion or series of motions. Restrictions in the product design limit one's choices of mechanisms, of course, but even then there are still almost endless mechanisms that one could make use of instead. Selecting the bestmechanism and modifying it to suit your exact needs is an art as well as a science.
Here is a quick look at what defines a great mechanism design:
Manufacturability
A good mechanism design should look beyond the here and now, thinking not only about the functionality of the prototype but also about how, during the manufacturing process, the mechanism will be replicated or reproduced. If reproducing the parts for the mechanism will be too great a challenge, then that mechanism isn't the best choice.
Efficiency
The best mechanisms are those that do not waste movement. They are like Bruce Lee, so to speak, and will defend and attack with the same movement. A great mechanism is one that achieves more than one function in an uncomplicated way. This is usually accomplished by designing parts that incorporate two or more standard mechanisms such as cams and gears or levers and ratchets etc.
Cost
Cost and profit must ultimately be factored into every decision. There would be no point in designing a fabulous mechanism if it is too costly for its intended use. Any design that will lead to fewer sales is simply an impractical one. Relative costs, cost limits, and profit margins should be kept in mind while designing mechanisms. Aesthetics To an engineer, any mechanism that functions as it should with as few movements as possible is beautiful, no matter what it actually looks like. The general public, however, often values aesthetics as much as functionality, if not more. If a mechanism is being sold to an average consumer, a mechanism should be chosen with that in mind or be designed in such a way as to mask any unaesthetic characteristics to end up with a more attractive product.
Ease of Use
For many people, it doesn't matter how something works, just that it does. Because of this, attention must be paid to how the product functions in relation to the user. Handling of the product and maneuvering it should not be cumbersome or require a small training session. It should come as naturally as possible and it will often be the reason why one product is chosen over another.
Durability
Mechanisms should be built to last and to withstand some forms of abuse. Overly delicate mechanisms that completely cease to function because of a slight misalignment, obstruction, or damage aren't the best way to go. Go for more robust mechanisms that can withstand some bumps and nudges or that are even self-correcting in case of trauma.
Maintenance
Sometimes, when a mechanism is damaged and requires repairing, the ease with which it is repaired plays a big role in its design. Designs that make it possible for dismantling of parts are better than those that do not give this allowance. Also, designs that make use of temporary fasteners such as screws, which can be removed, are better than those that use permanent fasteners such as glue or rivets, because replacement of parts is easier in the former than the latter.
Choice of material
Most mechanism designs assume your parts will be completely rigid. In nature, there is no such thing as a completely rigid part, although some materials are more rigid than others. Choosing the right materials to use for a mechanism is as important as the mechanism itself. Sometimes, a more rigid material will be required while other times, a flexible material is better to achieve a certain function. Choosing materials to suit their respective functions is vital for mechanism design.
A lot of thought goes into – or at least, should go into – choosing and designing the best mechanism for a product. Depending on your goals and the market, some of these factors will be given more importance than others, but there is no doubt that they all need to be considered in order to design a great mechanism.
For more about mechanisms, go here
To learn more about mechanism design process click the picture below