At Creative Mechanisms, our design and engineering team does a wide variety of prototyping with an equally wide selection of materials. One of our specialties, however, is plastic prototyping with design for manufacturing in mind (read our Design for Manufacturing blog to learn more). One type of project that we are frequently consulted about is polypropylene products with living hinges. Depending on the specifics of a project and what the client is trying to accomplish, creating a prototype might best be accomplished with CNC machining, 3D printing...or combining the two to create a hybrid model. Let's discuss the basics of prototype production, as well as the merits and disadvantages of each.
Benefits and disadvantages of CNC machining prototypes
CNC (Computer Numerical Control) machines are electro-mechanical devices that manipulate machine shop tools using computer programming inputs. By using CAD software such as Solidworks, it is possible to transform a stock piece of material (like a block of plastic) into a finished product by means of a controlled material removal process. CNC machining is a little bit like sculpting: beginning with a block of material and removing it as necessary (also known as "subtractive manufacturing").
Read Everything You Need to Know About CNC Machines
One of the biggest benefits of using CNC machines to create a prototype is that it is possible to create a "Looks Like - Works Like" model. As the name implies, this type of prototype is a showpiece that is intended to wow the client while showcasing what a final production part would look like and work like. Most of our clients require fully functioning prototypes to ensure that design and functional objectives are met. Many of the projects we are approached with are enclosures or bottles, such as the polypropylene enclosure pictured here.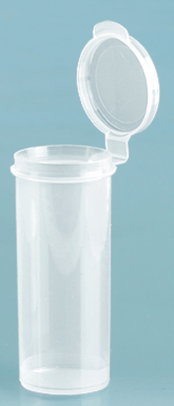 If a client comes to us and requests that we prototype this enclosure, our design and engineering team can CNC this model from a stock piece of polypropylene plastic. However, doing this can be expensive in labor, time, and cost...which is one of the disadvantages of CNC machining for prototypes. This is especially relevant when it comes to the low quantities of parts which are usually desired.
What about 3D printing for prototypes?
3D printing is an "additive manufacturing" process (unlike CNC machining, which was earlier described as subtractive manufacturing). Basically, parts are created through the sequential addition of small pieces of material to create a larger finished product. The process involves interpretation of a Computer Aided Design software file (such as a Solidworks 3D file) and is capable of producing complex, novel, and scalable parts in a matter of hours. At Creative Mechanisms, we use state-of-the-art Fused Deposition Modeling (FDM) machines to 3D print prototypes when appropriate.
Read Everything You Need to Know About 3D Printing.
One of the advantages of 3D printing is the fact that parts can rapidly be created with relatively little human labor once you are past the design phase; this decreases costs significantly when it comes to time and labor. FDM prototyping is often used to determine whether or not the engineering concept has any flaws that require redesign. Multiple prototypes can be generated based on iterative design improvements in a relatively quick timespan and at a relatively low-cost of production using 3D printers. Unfortunately, one of the drawbacks to 3D printing is that there are limited materials that can be utilized to create parts. For instance, there is no proper way to effectively 3D print polypropylene.
Why is polypropylene important when prototyping enclosures or bottles?
Many products that we are asked to consult on include a living hinge (you can see an example of one in the pictures above and below). In fact, living hinges are one of the most critical components in designs where an enclosure or bottle needs to be opened and shut thousands of times without fail. (Consider a ketchup bottle, shampoo bottle, beverage lid, etc.) The design and engineering team at Creative Mechanisms has developed a process which allows them to CNC machine a single piece of polypropylene to create a living hinge - a result that was previously thought impossible.
Everything You Need to Know About Living Hinges.
Everything You Need to Know About Polypropylene.
So - CNC machining is great to create a "Looks Like-Works Like" model but has potentially high costs. And 3D printing is great for rapid prototyping, but is limited by material specifications. So how does our design and engineering team utilize hybrid models to meet client needs?
Many of our clients have years or even decades of experience with their current products, and do not necessarily need the impressive prototype that CNC machining will create. These clients know what a final product would look like, and they care more about new or improved functionalities from their previous designs. These clients want to know if the prototype will work and find out in a cost-effective manner. Other clients want the ability to iterate quickly and have prototypes made of the same material that production-ready pieces will be made from. This is where the excellence of using a hybrid model comes into play.
The design and engineering team at Creative Mechanisms uses a combination of 3D Printed ABS and machined polypropylene to create one model. In our Solidworks design software, we can split different sections of a part and designate whether they will be 3D printed or machined. In most situations, we try to minimize the size of the important polypropylene sections (the living hinges) and 3D print the rest of the part.
3D Printed ABS + CNC Machined Polypropylene = Hybrid Model for Prototypes Case Study
A great example of a hybrid model is a specific pillbox enclosure that we have designed and fabricated. As shown in the picture below, the lid and the locking panels are machined polypropylene while the main enclosure body is printed from ABS using our state of the art Stratasys 3D printer. Once the individual parts are made in their respective machines, they are pinned and fastened together to form a single part that functions exactly like a production or CNC model.
Everything You Need to Know About ABS.

Besides the reduction in cost and the ease of fabrication, what other benefits are there to hybrid models? If a certain piece of the polypropylene geometry breaks or if a design change is needed, it is possible to replace that particular piece only. With these hybrid models, there is no need to replace the entire part's geometry if the redesign allows for it.
The design and engineering team at Creative Mechanisms has a number of tools to help you create production-ready pieces with an emphasis on efficiency of manufacture.
In summary, hybrid models are an alternative path for testing the functionality of a prototype with the added benefit of easy design change modification. With CNC "Look Like-Works Like" models, there is a certain wow factor that can be used as a show model to reflect what a production piece would look like. However, those CNC models are usually made when functionality and exterior design has been all but finalized. Hybrid models allow for the flexibility to repeatedly test the form and function of a model until it is perfected and ready to be fabricated out of a single piece of plastic.
Contact us today or visit our Client Testimonial page to see what current and previous clients have to say about working with our team. We would be happy to answer any questions you may have about the best way to achieve production-ready prototypes...we look forward to hearing from you!