I agree with the idea that product engineering requires a combination of human expertise and technological capability. Neither works particularly well without the other.
That's why our team at Creative Mechanisms leverages SOLIDWORKS to implement the innovative designs we create. The synergy and intuitive power of this CAD (computer-aided design) software allows us to build exceptional parts and products from scratch.
If your team is using SOLIDWORKS or considering using it, here are a few principles that will help you get the most out of the platform.
The Difference SOLIDWORKS Makes for Product Design & Engineering
SOLIDWORKS has established itself as the industry's preferred CAD software for a variety of reasons, all of them directly impacting final results. Not only can you design individual parts, but you can combine them together into assemblies by assigning relationships among various features.
It's a one stop shop to turn ideation into reality.
Now, let's get to the practical side. What are some ways you can make the most of SOLIDWORKS for your design and engineering projects?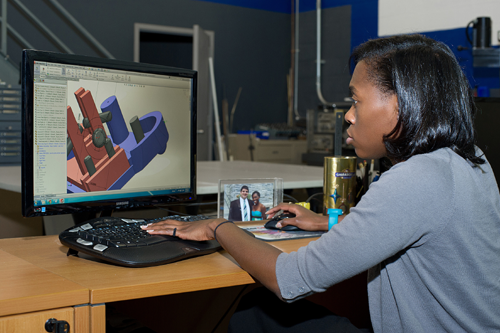 "Top Down" vs. "Bottom Up" Design
There's a phrase you may have heard in the world of computer-aided design (CAD). Here's the definitions for each.
TOP DOWN: Building your 3D parts from a 2D sketch that is drawn in top, front, and side views
BOTTOM UP: Building individual parts independently than bringing them together for final assembly
Each option is better suited for different scenarios, depending on what you need it to accomplish.
The main advantage to Top Down design is that it allows you to make minor adjustments quickly with minimal effort. By making a single change in a 2D sketch, you can immediately see how it will interact with your other parts as a system.
If you need to make a major change, the bottom up approach can be more useful. While top down is more efficient, bottom up design is more thorough by nature. So if you need a major change, bottom up designs lend themselves to less rebuilds or errors.
Always. Dimension. Your. Designs.
SOLIDWORKS is built to operate with defined measurements for every aspect of your design. If your designs are not fully dimensioned, they are prone to error especially while making adjustments to your designs.
While it may be tempting to move quickly while setting up your designs, it won't translate to the final prototype well as you make adjustments.
Start with the Proper Origin
Since SOLIDWORKS is a parametric program, choosing the origin of your part is critical to making quick changes. If you properly select your origin, you can mate your parts more easily to the origin instead of picking faces to line up and match.
Use that "Pack and Go" Tool
"Pack and Go" in SOLIDWORKS is slightly different from the "Save" and "Save As" tools. Pack and Go only saves the specific part or file you're working on.
Why does this matter? Because in SOLIDWORKS, parts reference each other within various assemblies. That means that in the case of an error, for every time a part is referenced, the error is multiplied that many times over.
For example, if it's referenced 10 times in other components, it creates 10 more errors in other files.
That's why Pack and Go is so valuable to working on a single part - if a mistake is made, the corrections are contained.
Are You Leveraging Productivity Strategies in SOLIDWORKS?
Productivity is a crucial part of product design and engineering. Staying efficient makes a big difference over the course of a project.
Optimize Your Display Settings
Let's start with using the right display settings. This isn't just a question of aesthetic preference - using the correct display is also a matter of the software performing well.
For example, using a "shaded" versus a "shaded with edges" will reduce your load time and reduce software performance issues. Always check to make sure your display settings are optimized for tasks you're working on to increase software performance.
Use Those Macros
Another way to be more productive in SOLIDWORKS is to utilize macros to avoid repetition.
If you need to change the title block on 100 drawing sheets, you can go to Tools > Macro > Record. Record you action on your highlighted feature, then use Tools > Record > Stop. You can now save the macro to your toolbar and use it across your other 99 drawings.
Keyboard Short Cuts Are Your Friend
One final productivity tip - use the keyboard shortcuts found in SOLIDWORKS! It may take a little bit of time to learn them and discover which ones you use the most, but they rapidly speed up your productivity once you're comfortable.
Don't Feel the Need to Always Have the Newest Version
We all love the sense of new and shiny - the appeal of new capabilities and conveniences can tempt any engineer to go with the newest, nicest version of SOLIDWORKS.
In our experience, there are two main benefits to resisting the urge to upgrade too quickly.
The first perk has to deal with getting in a rhythm with your workflow. While we're 100% on board with enabling innovative, efficient design, there still is a measure of value to being able to work quickly and confidently. If you are able to deliver great work and develop your skills, don't feel any rush to inject unnecessary change through new versions.
The second is that if you collaborate with others in your industry - partners, contractors, labs, etc. - most people aren't always updating to new versions. In this way, staying 1-2 updates back actually helps your platform compatibility with collaborators. Crazy right?
Getting the Most Out of SOLIDWORKS
So if you and your team are digging into SOLIDWORKS, take the time to learn tips like these that will help you get the most out of the powerful platform.
If you find yourself in a circumstance where you need expertise on short notice though, collaborative teams like Creative Mechanisms are able to dive directly into your SOLIDWORKS design to help get you on track.
If you'd like us to do a free product review to provide a fresh perspective, you can schedule a time with our team below.
This article made possible through the contributions of Michael Creighton, Ersen Boran, and Jarred Hake.