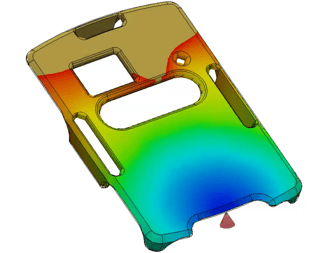 SolidWorks Plastics is an add on to the larger SolidWorks Computer Aided Design (CAD) software platform designed by Dassault Systems. At a high level overview, SolidWorks Plastics allows us to run advanced CAE (Computer Aided Engineering) simulations including moldflow analysis for injection molded manufacturing processes. We typically use Plastics to show moldflow animations, determine blemish prone sections of the part, discover possible areas for gas traps, and to help select gate locations. The basic Solidworks software doesn't come with "plastics" so you have to purchase it separately. The package is sold in three variants: Standard, Professional, and Premium.

The "Standard" package is fully synchronized with the baseline SolidWorks CAD software allowing for part designers to start engineering Injection Molding (IM) manufacturing considerations into their parts from the very beginning. "Professional" and "Premium" packages add advanced functionality for injection molding experts to refine designs for different tooling configurations (e.g. single and multi-cavity molds), manufacturing specifics (e.g. cycle time, shot size, and material specific properties), and mold flow particulars (e.g. cooling line layouts, weak spots, and warpage potential). The software features advanced simulation capability such that designers can analyze both the engineering and manufacturing suitability of mass-produced parts before they are put into production. Since so many of the parts we design are eventually mass-produced in an injection molding factory, making sure they are designed properly is a very big deal. Small mistakes can be very costly when scaled into a high volume operation.
Notice that the software shows the injection molding material flowing from the point of injection (indicated by the maroon cone at the bottom of the display) and then through the part.* As the molten plastic forms the shape of the part you can see the time profile (indicated by the changing color) as it flows and becomes solid. Typically, the longer a material is in the tool, the colder it will be. Using this type of mold flow software allows you to identify several important characteristics about the injection molding procedure. In particular:
Mold flow software indicates whether or not the cavity as designed creates bottlenecks for the molten plastic. Bottlenecks can create uneven distribution of material throughout the cavity, weak points, and can disrupt cooling cycles.
Mold flow software indicates empty space that may not be filled by the injection molding material due to restrictions created by a poorly designed part.
Mold flow software indicates air pockets (also called gas traps) that develop due to insufficient venting in the tooling. This is one possible type of a weak point that can develop in parts during injection molding and they usually appear as a dark burn mark on the surface of the plastic part.
Mold flow software identifies weld lines, areas in the part where molten plastic arrives from two different directions. The leading flow fronts of plastic are relatively colder than the rest of the molten plastic. This can cause a weak seam to form at the location of the weld line.
It is one thing to design a good-looking part, another thing to develop a good-looking and functional part, and still another thing entirely to produce a good-looking, functional, and easily manufacturable part. Doing all three of these is a good baseline for prototype creation shops. Being able to simultaneously create mold tooling with the properly designed internal cavities such that you can repeatedly produce your design in an injection molding machine is what you really need.
Core competencies of an effective prototype design shop:
Aesthetically pleasing parts

Functional parts

Easily manufacturable parts (particularly for injection molding processes)

Ability to create mold tooling for mass-production of the part in manufacturing
Creative Mechanisms is a design and production firm that specializes in all four of these and can deliver enough prototype parts in the final production material such that thorough testing can be accomplished before moving on to high-volume manufacturing.
*In an actual injection molding cycle, the part shown would be created by molten plastic that is injected into and flows through a metal tool (mold) that has the shape of the part (its "negative") as an internal cavity.