Computer Aided Design is ubiquitous in the 21st century. Anyone can put together a few files and 3D print a prototype at home. That said, everyone in the business knows that there's a big difference between DIY work and small hobby-shop prototype firms and the really knowledgeable experts in the industry. With that in mind, here are six things we do at Creative Mechanisms that make a big difference when it comes to generating initial or pre-production prototypes that mirror the functionality of the mass-manufactured concept made with injection molding machines and a final production tool.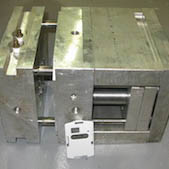 Pre-production Injection Mold Tool
If two pieces require a minimum amount of force in order to separate, or if a hinge requires a certain amount of rotation you want a firm that will make sure the initial prototype is able to meet the criteria. If there are material limitations during the initial prototype production phase (e.g. material property limitations of 3D printed

ABS plastic

), at a minimum you want a firm that is going to ensure the pre-production mold tool will replicate the functionality of the final part when you do a prototype run in the injection molding machine. That way you can effectively test and conduct meaningful consumer research prior to mass production.

As the molten plastic flows through the mold tool take note of whether or not it fills completely. There are a number of things that can go wrong and a

list of associated defects

(e.g. air pockets) that result from design mistakes and/or the failure to fully utilize mold flow software to properly design the part for production. Is your design going to be free of common pitfalls like warping, short shot, vacuum voids, or flow lines? Will the

living hinges

work properly? Some of these things can be solved when creating the 3D-printed prototype while others might crop up without warning during injection molding if you're working with a design firm that doesn't have the right experience.

Is the pre-production prototype tool and the final production tool put through rigorous testing just like the prototype? Parts should pop out of an injection molding tool smoothly without catching or breaking and they should meet the same criteria the prototype was designed to fulfill.

Does your design firm have an effective

brainstorming

and

iterative team process

to design and generate prototype concepts? Iteration is the key to successful products. Very few, if any, novel products are ever designed perfectly the first time around. The process of designing, testing, finding mistakes, making corrections, and repeating the process is the key to high quality outcomes. The more experienced your design partner the more effectively they will run through the cycle - resulting in an effective product without the high cost of defects in the end game and/or extensive time delays.

Does your design firm construct development models along the way? Ask them this question if you're not sure. 3D printing speeds up the iterative process in general and helps designers identify problems they might have missed in a 3D CAD model. Quality will generally go up if designers print models as part of their process. With additive manufacturing, defects can be identified, corrected, and re-printed within a matter of hours whereas historically you might have waited days. If your firm doesn't print in-house you may still end up waiting days and the process is likely to cost significantly more. If you work with a firm that has all of the necessary

expertise under one roof

you can expect a much quicker turn around between submitting your RFP and having a finished prototype on your desk.

Are you minimizing costs where you should be and paying for necessary technology when you need to be? For example, we almost always recommend the use of mold interlocks to align the two halves of the mold tool and to reduce wear and tear on the guide pins in the mold tool. This is a feature that can potentially be eliminated if the required number of parts is very low or if the part geometry is less complex. Every job has to be well thought-out to ensure the ideal combination of quality and price for the particular client and the particular job.
The ideal prototype development and/or computer aided design firm understands the pressure of the market and will keep the end-game in mind throughout the design process. You can expect them to be realistic with their deadlines and to share relevant examples from their past work. Make sure you work with the best when you have an important project to finish. It is much better to do it right the first time than to suffer through an inexperienced partner who is only a few steps ahead of you. You will end up paying much more in the long run by trying to cut corners. As always, if I can be of service, feel free to contact me at tony@creativemechanisms.com or call me at (215) 788-4566.