Anyone in the product business worth their salt knows this to be true:
Good intentions don't guarantee good outcomes.
As much as most of us would love every product to be a guaranteed success, your product is a business venture. And business ventures need to know that at the end of the day, the money will work out in your favor.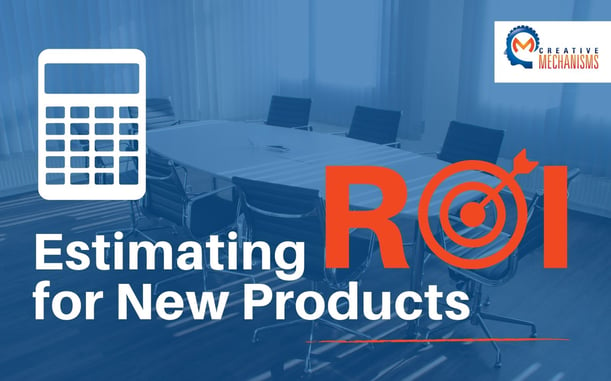 Unfortunately, budgets are one of the harder parts of a product to get right since the investment needs of product development are particularly front heavy. To make it more difficult, the actual income is unattainable until you have a completed, marketable product.
Today, we're going to walk through how to more accurately predict the potential ROI of a product from day 1 of the design and engineering process. That way, you'll be able to identify winners (and losers) before sinking more money into their development.
Use This ROI Calculator to Help Predict Product ROI
Before we dig into the principles of ROI projections, we wanted to share this useful tool with you: the Creative Mechanisms Product ROI Calculator.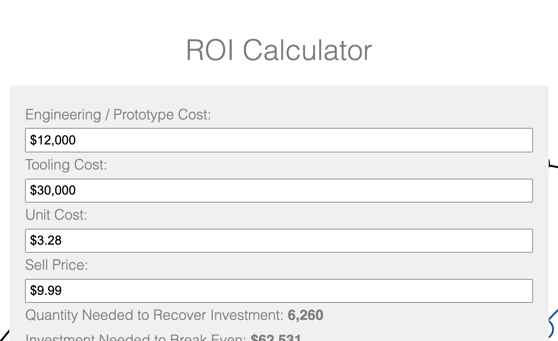 This simple tool is primarily designed to calculate the total number of units you'll have to sell and at what price to reach certain ROI goals. With a clearer view of what quantities you'll need to manufacture and sell to accomplish your goals, you'll have a more confident understanding of manufacturing budgets.
If you can lock in a clearer view of manufacturing costs early, this is the #1 indicator you can look to when it comes to predicting profitability. As your largest investment, and a relatively more risky one, being prepared for manufacturing is the key factor in the success of your product.
Accurately Assess Your Key Cost Variables
When you're ready to set your ROI goals for a new product, the first thing you need to do is get an accurate perspective on a few variables. In our approach, we work to clarify:
Budgets for engineering and prototyping

Estimated tooling costs

Your anticipated price per unit to manufacture

A reasonably assessed sell price
While each of these variables are estimates from the outset, getting them close requires experience to establish a realistic ballpark. If you're newer to the product business or a solo inventor, having an experienced perspective at your decision making table is essential for accurately forecasting your potential ROI.
Each of these data points may require additional expertise to answer accurately.
Step 1: Predicting Product Engineering Costs
When it comes to engineering and prototyping, if you're working with an internal team, your primary measure will be your timeline. Establish how much time you can allocate for engineering and development so that you can contain your costs through the end of the prototyping process.

If you anticipate needing specialized help from an outside consulting company like Creative Mechanisms, reach out during the early stages of your ideation. Not only will they introduce you to what's possible, but they'll also provide you with a quote to help you clarify your engineering costs.
Step 2: Assessing Tooling Costs
As product engineering is a technology-driven endeavor, accurately understanding your tooling costs is another necessary variable to consider. Tooling is a singular word that includes a variety of manufacturing methods such as injection molding, each one with its own strengths and weaknesses.
The result? In this step, you are not just trying to assess how much tooling will cost, but which method is the best fit for your product. The tooling element is closely integrated with the overall design of your product so this projection is usually best assessed with your engineering team.
It's also closely tied to the eventual manufacturing costs of your product, so in this way too, the decision is best made with a start-to-finish perspective of your product development plans.
Step 3: Deciding on Manufacturing Methods to Project Costs
If you've read any of our blogs, it may seem like we are always talking about ideas to streamline the manufacturing process, both logistically and financially. It's because manufacturing is usually the most expensive (and risky) stage that a product must survive in order to reach profitability.
When following a design for manufacturing approach, all other steps are taken through the lens of, "How will this improve or hinder manufacturing?" The ability to contain costs is a primary reason for this philosophy.
So when it comes time to predict your manufacturing costs, there are a few core questions you need to ask. And when you ask them, make sure you have the right experience at the table to answer your questions.
Which manufacturing method is best suited for our potential design?

Which materials provide the best combination of affordability and performance for our product?

How do we know which manufacturing partner we will use and what they charge?
These three questions can be difficult to answer, especially when venturing into new territory with a product. If you need additional support in answering these questions accurately, we at Creative Mechanisms invite you to lean on our industry experience to not just predict your costs but to answer these critical questions as well.
Step 4: Projecting a Realistic Sale Price
The product business doesn't reward good intentions as much as it rewards the truth. More than once, we've seen hopeful businesses over-estimate their product's potential to reset the market at a higher price.
While there's nothing wrong with putting your hope in a promising product, it's worth being tough on yourself in the initial stages of market research. The risk of investing too much money into a product that was priced too high to sell is a reality many businesses have faced.
For your vision, assess what currently exists in the market place as your initial frame of reference. From there, you can take into consideration your proposed improvements in your design. Here's a few guidelines for assessing innovation's worth:
If your product has a definitive ROI impact like money or time, lead with that value in your pricing.
If the improvement is a matter of preference and not ROI for your end user, get a clear understanding of what your target market is used to spending for what you're offering.
Need Help Forecasting Your ROI?
As we mentioned, honesty is the most important foundation in a product business. Achieving accuracy with your anticipated costs and profit is the cornerstone of a successful product business.
We invite you to use our Product ROI Calculator for your initial estimates, but if you need a deeper dive, you've come to the right place.
If you need assistance in a specific area of your ROI forecast, we here at Creative Mechanisms stand ready to help. We specialize in design for manufacturing, specifically in the areas of mechanisms (ex. living hinges) and materials (ex. ABS plastics).
If you are looking for a partner who can help you navigate the entire to-market process, our collaborative team is here to help provide expertise you can rely on at every stage. From initial concepts to design to prototyping, we can help you confidently develop a profitable, manufacturing-ready product.
You are always welcome to schedule a free project review with Tony, President of Creative Mechanisms.