We recently put the finishing touches on an inventor prototype project for an American veteran and entrepreneur looking to simplify firing range procedures for soldiers and police officers by introducing a new magazine for a Glock pistol. The device in military parlance is called an "autoloader." The intent of the invention is to avoid significant delays on the firing range that frequently occur in between firing sessions when the shooter is forced to manually reload one bullet at a time in order to refill their magazine clip.
The novel autoloader improves the efficiency of this process by introducing a hinged door on the magazine's exterior and a lock that holds the magazine spring in the depressed position so that the marksman can reload without having to painstakingly depress the magazine every time a new bullet is loaded.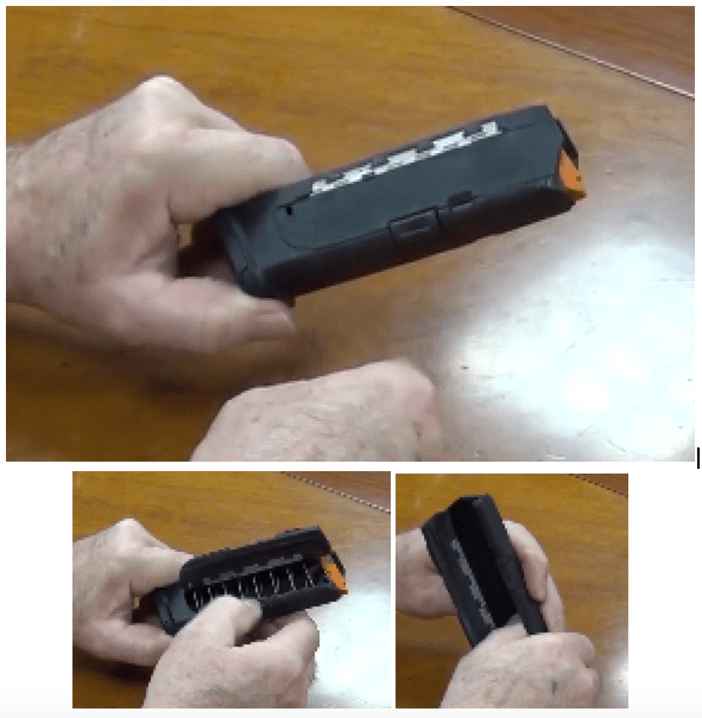 Corey, the client, recognized from his time in the military and as a military contractor that he could fill an unfilled need of police officers and military personnel doing target practice on the firing range. He noted that currently only magazine "accessories" exist while a speed-loading magazine specifically for a pistol is something that "they don't have on the market at all." So he started researching firms that could help him turn his idea into a reality. Here's what he had to say about the process:
"I came up with the idea … I'm not an artist by any means [and] I had some terrible sketches that I sent to them [Creative Mechanisms] and out of my sketches and description they came up with an incredible product for me."
Those of us who don't spend a lot of time at the firing range might not realize the utility of such a device but Corey explained to us that for those professions that spend a significant amount of their training day at the firing range it represents a huge efficiency improvement. He told us that "loading pistol magazines can actually be very difficult because they're small and they're high capacity magazines. The frustration that comes along with loading magazines all day - that's when I came up with the idea. It [the pistol magazine autoloader] not only makes the process faster but it makes it a lot easier so you can spend less time actually loading magazines and more time training and actually shooting."
The typical product development process at Creative Mechanisms involves a project management tool called Basecamp that allows our team to communicate directly with clients. It facilitates the ability to share documents (images, Word documents, videos etc), to take notes, assign taskers and "pass the ball" efficiently between our engineers and the client. This allows everyone to stay engaged in the back and forth as we iterate to a final solution. Corey took a minute to discuss his experience:
"I sent the powerpoint to Creative Mechanisms and the team of engineers. They looked it over to see how they could actually do this. Once they figured out a plan they sent it back to me … (Then) they brought me into a website where I could talk with each one of the engineers and they could communicate with me. They communicated progress they were making. They sent me pictures, videos, everything. I just kind of sat back and watched them build this thing [his prototype pistol autoloader], and what I thought was going to take a long time I'm pretty sure they had the whole thing done in two to three weeks. It was incredible."
Corey added that two really important aspects of the project were sticking to his budget and the help that Tony Rogers gave him regarding how to successfully monetize his new product:
On the budget:

"From the very start Tony asked me what my budget was, how much he could do with my budget and he stuck with my budget from day one to the very end."
On the consulting assistance:

"I had this idea that I could bring this [my product] to market (by myself). He explained to me that (bringing a product to market by myself) was almost impossible. So he wanted to know if I had a backup plan because he did like the idea of the product and he thought he could work with me so long as I had a reasonable plan of action. Tony said that any help I needed from him (after the project was completed) … just to let him know, he would be more than happy to speak with the companies, give them drawings, (answer) whatever questions they had about how they developed the product. He said he would be more than willing to help me out in any situation as I go forward with this (getting his product out to market)."
The market for the product that Corey will be focusing on is police officers, military personnel, and gun enthusiasts that frequent the firing range. He has a patent pending for the device and plans to license rights to produce it to a large manufacturer. We wish him the best of luck with his efforts and are available for support as Corey mentioned in our discussion.
What about your next project?
Do you have an idea or project that requires a proof of concept or the design and development of an initial prototype? If you do, the team at Creative Mechanisms is a great choice for a technical expert and creative partner particularly when it comes to the use of plastic materials. We manage everything related to design, engineering, and prototype development in house and have a specialized team of engineers and a proven track record of 30 years of industry experience. We can help you make your concept a reality.