This month, a cherished member of the Creative Mechanisms team is retiring after more than 20 years with our company. Art has been an integral part of the Creative Mechanisms process, so we wanted to take this opportunity to pick his brain one last time...
Name:

Art Klotz

Where are you from?

Willow Grove, PA
Tell us about the role you fill at Creative Mechanisms:
My current role is designer/modelmaker...in other words, I design a product and then make it. I worked as a modelmaker when I came into this industry and my job was to build and troubleshoot other peoples' designs. Basically, a lot of designs did not work as drawn. It could be a frustrating experience for both designer and modelmaker. When the opportunity presented itself, I learned to do my own design work and this way, if something didn't work, I only had myself to blame.
This all came about because Tony was smart enough to realize that there was a problem with the standard way of doing things. This was a change that I have been very happy with. It allowed for more direct access to what the client wanted and eliminated the "trickle down information" that modelmakers previously had to deal with. When I began this process, I approached the design of a product more as a modelmaker. I would build a bread board of a design to evaluate the size and movement of a mechanism. (A breadboard is basically a flat model of a mechanism with linkages and gears on a plate that can be changed quickly to make necessary adjustments.) Eventually, I took a SOLIDWORKS course at Penn State and found that I could do the breadboards on the computer. SOLIDWORKS allowed me to assemble parts and make them move on screen just like a physical bread board model would do. It made the process much easier and eliminated having to physically make a breadboard.
What inspired you to get into the design and engineering industry?
As far as what inspired me to be in this field, it was more by accident than planning. I had worked in tool and die and machining since 1968. In 1990 a friend who I had been working with in tool and die applied for a job with a local company, HMS, Inc (now defunct) and eventually told me that there was an opening that I could apply for. It was the best move that I could have made. We made prototypes for toys for Mattel, Kenner and Tyco and the prototype models of the cars for the Danbury Mint. It was as much fun as it sounds!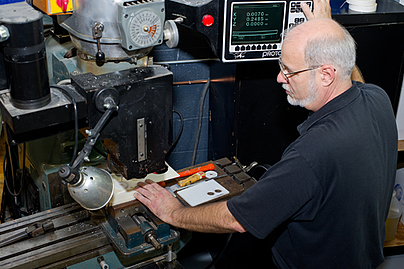 I started with Creative Mechanisms in 1993 after HMS dissolved. At the time we were Ralph James Studios. I was hired primarily for the work that I did on the cars for the Danbury Mint. After about a year I was asked if I wanted to carve a car for the Mint, and ended up making 17 cars for them before they stopped manufacturing in the U.S. Being a Corvette enthusiast, the two cars that I am most proud of are the 1963 Corvette split window coupe and the 68 Corvette L88.
Explain the Creative Mechanisms process; how do you bring an idea from concept to reality?
The process for starting a job for a client has evolved over the years. We used to assign a job to the person best suited to do the work based on the particulars of a project. Now, a project may be assigned to one person, or may have input from the entire group when that is necessary, but any of us are free to discuss the job with the other designers if there is a point in the process that is difficult to solve. A different point of view can many times be helpful in solving design issues. Other projects may require multiple design ideas from several designers and then we narrow those down to the best possibilities to present to the client.
Tell us about a particularly satisfying project:
One of the most satisfying projects that I have worked for was for B-D, a company that designs medical products. A designer at B-D who had previously worked for us asked if we could help with the design of one of their products. We did a couple of very creative designs to solve their problems and did it quickly. Our advantage was that our design approach is not limited to one industry, and that gives us a lot more options from which to draw. Some of those options come from things that we have done for the toy industry, for instance. Many toy mechanisms can be very complicated and have to be produced at a low cost to the consumer. The end result for me for the B-D project was that I now have my name associated with some patents, which was a first for me. I am also proud to be associated with a product that benefits a lot of people who need it.
What advice do you have for aspiring designers, engineers, and modelmakers?
It's been a long time since I left school and started working, but I still remember a lot of thoughts and feelings from those days. I think the biggest thing that I came to realize was that in school, being smart and getting good grades was everything. There was a lot of theory but not much real world experience. Good grades and class standing will get you in the door, but when you actually have a job, it's likely that no one will ever ask you anything other than where you went to school...and the longer you work, the question then becomes where you worked before and what you did. What people are most impressed with are what you can do, how fast you can learn what they need you to do, and how well you fit in with the company and its goals. Take the time to look around, get to know the people that you work with and contribute what you can.
And now for my favorite part, the "old guys". When you start with a company you tend to rely on people closer to your own age. Somehow, and I was as guilty of this as anyone else, we tend to look at the older employees as being from another era and they seemingly do things the "old way." What I can tell you is that these are the people who have been with the company through downsizing, layoffs, more than one bad economy and they are still there. They are not there because someone liked their face or felt sorry for them. They are there because they have a lot of knowledge about the job and can get the work done in a way that benefits the company. I was fortunate to have had one of these people take an interest in me and I owe most of what I know about mechanism design to Mike Waters...so wherever you are, thank you!
Art, what's next for you?
I have worked for a few companies and looking back, the ones that I have done best in are companies that encourage people to grow and move on to better things within their organization. It's one of the things that I have liked the most about Creative Mechanisms and the work that I now do. Even as I am ready to retire after 23 years with this company, there are still things to learn and ideas to come up with. Continuing to learn new things and fulfilling new client requirements is one of the most rewarding parts of my work experience. Every job is different and challenges me to come up with new approaches to doing something new and better.
As for what I will do when retired, I will probably do design work on a part time basis. I find it ironic to have spent most of my working career learning to design and then stopping suddenly; creativity is something that you don't just turn off with a switch. I attended my 50th High School Reunion this past weekend and was surprised at how many people are still working and looking at retirement the same way I do...I guess we're not done yet!