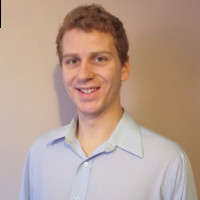 NAME: Troy Smith
WHERE ARE YOU FROM?
I grew up in Wrightstown and enjoyed everything my suburban/rural surroundings had to offer, like the Grange Fair and the outdoors. I had a change of scenery going to Holy Ghost Prep in Bensalem for high school and then I left home entirely to live in the city to attend Drexel University for my Mechanical Engineering degree, class of 2019. Philadelphia was a great place to learn to live on my own and there was always something going on. Now I am ecstatic to have moved back home and to have found Creative Mechanisms.
WHAT IS YOUR POSITION AT CREATIVE MECHANISMS, AND HOW DO YOU CONTRIBUTE IN THAT ROLE?
I am a problem solver. My job title is Design Engineer and I enjoy thinking of out of the box solutions to problems. My wide variety of co-op experiences from Drexel University give me a unique perspective. Having worked in industries related to biofuel, natural gas, bridges and transportation have taught me about working on large engineering projects. Now I am excited to work for Creative Mechanisms on much more complex and intricate plastic part design projects.
WHAT INSPIRES YOU TO BE IN THIS FIELD?
I have always been that nerdy kid that was excited to go to math and science class. I decided I would go to school for engineering from a very early age of about 14. When I was younger, I thought engineering was something more like architecture or construction, and now I know how much more it is. I wanted to be like my dad who worked hands on as a carpenter and general contractor. Building a prototype is my "carpentry". Some machines that inspired me to become a mechanical engineer are the toys I played with as a kid: model cars, tanks and my dad's power tools.
EXPLAIN THE CREATIVE MECHANISMS PROCESS; HOW DO YOU BRING AN IDEA FROM CONCEPT TO REALITY?
There are several steps that Creative Mechanisms takes throughout the design process and the order is not necessarily always the same. These steps go something like this:
Problem Statement
We want to hear your ideas. We ask the important questions. Not only "what?" and "how?" but also "why?". What motivates you? Our team is very good at adapting to changing customer needs, so it is good if what you need today is different from what you needed yesterday.
Conceptualizing
Creative Mechanisms offers a variety of solutions from which to choose from. Pick the tried and true method or pick the new, never before attempted solution. The concept stage is a great way for us to get customer feedback.
Drawing
We use 2D and 3D Solidworks to draw the parts. This is beginning of the transition to physical parts. Drawings help us prove that it fits, works, and can be made a reality.
Prototyping
Creative mechanisms has its own machining and printing capabilities on site. We enjoy making stuff from scratch or using standard parts if that makes more sense. We make things fast and can make multiple prototypes to find the best path to take.
Testing
Creative Mechanisms wants to make sure that what we design works and is safe. We can conduct very scientific tests like failure analysis and child resistant testing, but also more abstract tests like usability. Not all people are the same, so it is important that the product fits the intended user.
TELL US ABOUT ONE OF YOUR MOST SATISFYING PROJECTS THUS FAR:
For my senior project at Drexel University, my team and I built an automatic wood pellet stove designed to burn grass pellets. I have had a passion for alternative energy resources since my first co-op for the USDA working on a bio-oil project. I wanted to find a way people could grow and farm heat for their house. Even though the idea of burning grass to heat my house is not exactly feasible yet, I was glad to have been able to sit around a roaring wood stove with my friends and not have to worry about feeding it or keeping the fire going. Automation is a wonderful thing.
WHY SHOULD COMPANIES & ENTREPRENEURS CONSIDER CREATIVE MECHANISMS?
Our track record shows why people continue to choose Creative Mechanisms. Here are some quotes from previous clients about working with the Creative Mechanisms team:
"After thinking there was no way to develop and prototype living hinges, Creative Mechanisms were recommended to me. I quickly learned they offer a rare and sought-after service, ideal for any early stage prototyping through to production level injection molding. They were hands down the best external contractor I can recall working with."
-Carla Zampaglione, Invetech
"Creative Mechanisms is the type of company that is hard to find. I'm glad I found them. They provided what they promised on a short notice, tight timeline, and with amazing precision. They exceeded my expectations and I highly recommend them - without a doubt."
-Hassan Mohamed, Edgewell
Many times, a product design will be on the verge completion, but one aspect is holding it back. Creative mechanisms takes a broad approach to problems and powers through tough projects when many others get stuck. We enjoy that eureka moment when we give the customer exactly what they want.