NAME: Gary Reuther
WHERE ARE YOU FROM? Warminster PA.

WHAT IS YOUR POSITION AT CREATIVE MECHANISMS, AND HOW DO YOU CONTRIBUTE IN THAT ROLE?
I am a Mechanical Designer and model maker responsible for providing ideas to put clients' desired end results into reality.
WHAT INSPIRES YOU TO BE IN THIS FIELD?
Being able to overcome problems that we encounter every day, like building a better mouse trap, seems to be in my DNA.
EXPLAIN THE CREATIVE MECHANISMS PROCESS; HOW DO YOU BRING AN IDEA FROM CONCEPT TO REALITY?
Our team collectively thinks about a clients desired product. What problem does the product solve? What materials make it practical? What size is comfortable? How long will it last ? What obstacles exist to produce it in quantity? We then make a prototype so we can handle the item, see the item, and use it like the massproduced product it will become in the market place.
TELL US ABOUT ONE OF YOUR MOST SATISFYING PROJECTS THUS FAR: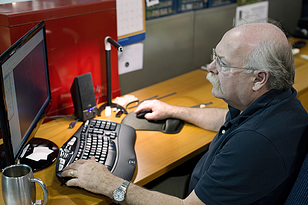 The one hand dog leash connector has "high five" feelings in my book. Being a dog owner and lover, I could personally relate to being able to hook my dogs' leash to their collar more easily. First hand user experience, that's what the design and engineering process is all about.
WHY SHOULD COMPANIES & ENTREPRENEURS CONSIDER CREATIVE MECHANISMS?
Because we are a collective design group, because six heads are better than one, because we work together to provide solutions to everyday product issues. If one of us comes up with one answer that stinks, there is always someone else in the group that has an idea that smells like a rose.
Do you have a project that requires a design and engineering team? Consider Creative Mechanisms
We've put together a team with depth and breadth across many industries to help design and engineer solutions to complex problems. Our team has extensive experience with plastics, and we are skilled at defect prevention for injection mold manufacturing. Here are some quotes from previous clients about working with the Creative Mechanisms team:
"After thinking there was no way to develop and prototype living hinges,

Creative Mechanisms

were recommended to me. I quickly learned they offer a rare and sought after

service

, ideal for any early stage prototyping through to production level injection molding. They were hands down the best external contractor I can recall working with." Carla Zampaglione, Invetech
"Creative Mechanisms is the type of company that is hard to find. I'm glad I found them. They provided what they promised on a short notice, tight timeline, and with amazing precision. They exceeded my expectations and I highly recommend them - without a doubt." Hassan Mohamed, Edgewell
You can read more about our previous work here, or feel free to reach out directly - we'd love to hear from you about your project!