In the world of product manufacturing, there's a simple truth that is well known, and for some, found out the hard way. Let's use a picture.

When you want to stop a stone rolling down a hill, would you rather stop it at the top or the bottom? At the top of the hill, it's a far easier task with less risk and consequence. And how about at the bottom? Well, you get the idea…

As any product-driven business knows, the most expensive part of the to-market process is large scale manufacturing. It's the "bottom of the hill" portion as far as momentum is concerned.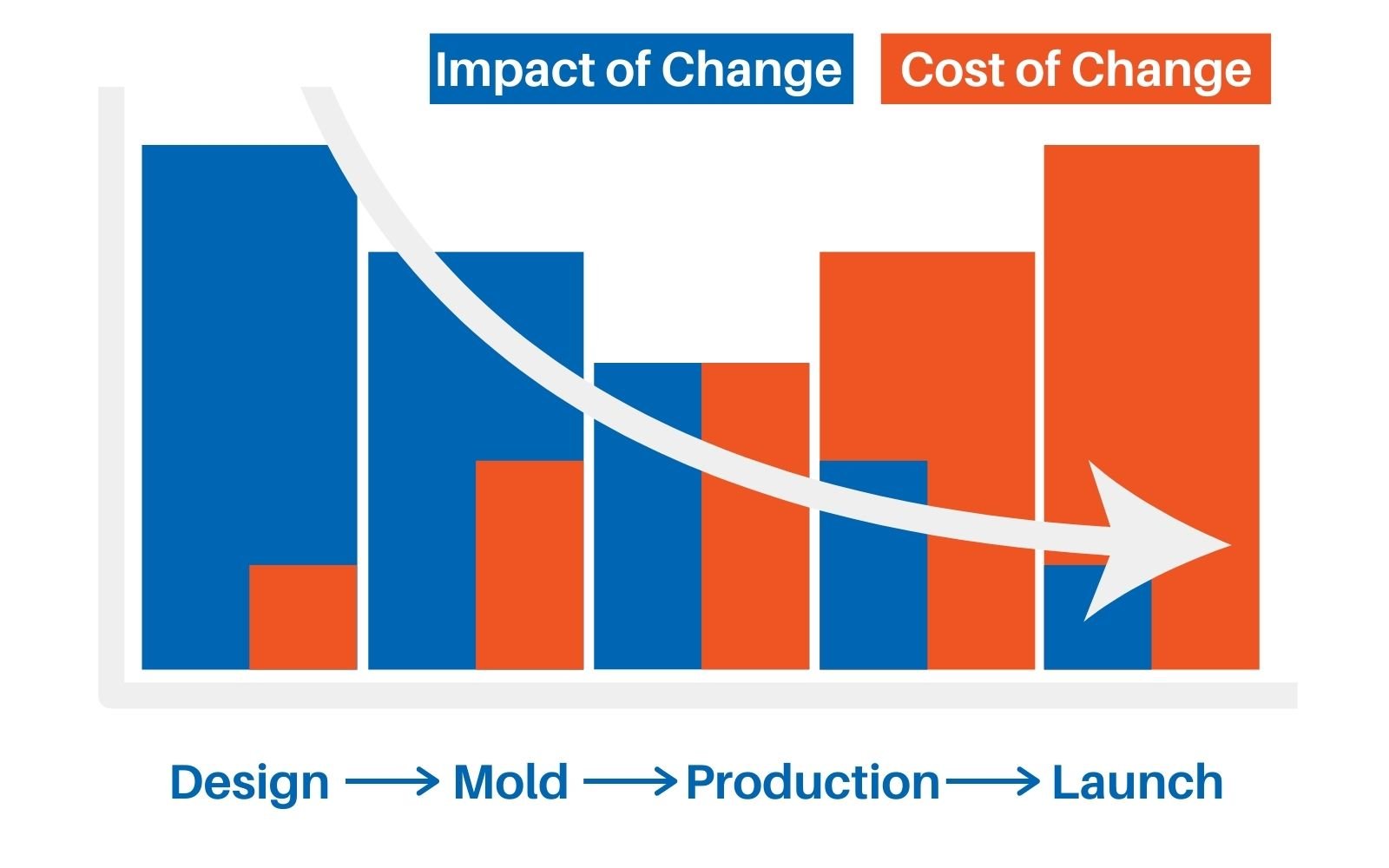 Consequences for mistakes are now multiplied by the amount of money you've invested and the difficulty of fixing already-manufactured products.

What we're going to talk about today is the crucial element of product viability - establishing the functionality and cost of your product before you invest in manufacturing. Every product based business knows this is a crucial step, but in the competitive rush to bring your idea to market, there's more than a few pitfalls that can ensnare your plans.
A Clear View of Product Viability
At Creative Mechanisms, we often act as an extension of a company's engineering team by partnering on design, engineering, and then production-ready guidance for them.

Our goal is to bring a specialized design-for-manufacturing expertise perspective to the table. This is critical because for many product-driven projects, testing your product for manufacturing requires technology and resources that many in-house teams don't have access to.


To use a real world example, let's look at The Better Bungee. They chose to build their product on the claim that their bungee chords would be the safest, strongest, and most environmentally friendly polyurethane products.

It was a bold claim to start with, and the final success of their product rested on a few related benchmarks:


Their ability to create a product that could carry the mantle of their cornerstone marketing claim.

Their ability to accomplish these outstanding results with a process and design that made the manufacturing process profitable.
Quickly Creating and Testing Prototypes
In a perfect world, your first iteration would be perfect, wouldn't it? As a close second, the ability to methodically prototype and test your product can provide similar confidence.
Starting with 3D-Modeling and Visualization
We always start from 3D Modeling and CAD design so we can begin interacting with the specs of the product digitally. We can use this as a common ground to spark dialogue regarding visuals as well as fine tuning potential errors.

During this stage, we also search for opportunities to reduce design complexity. In doing this, we are finding ways to make your manufacturing process more efficient with less room for errors and excess costs. Whether it's reducing parts or leveraging more reliable mechanisms, we help you align with a more profitable product design before a physical copy is ever created.
Creating Initial 3D Printed Prototypes
We prefer to utilize 3D printing as the first step into the physical prototyping world because of its flexibility to quickly create prototypes, and more importantly, to quickly adjust them through rounds of feedback.

Once you're pleased with the initial design, we can take that design we've fine tuned and make a real-world product that we can interact with and test in a better way.

After several iterations of your prototype, we frequently find that we are most of the way there when it comes to the physical design of your product with minimum material costs invested in the materials for prototyping to this point.
Real World Tests with Real World Prototypes
Having thoroughly put your prototype through its paces in the CAD stage and the 3D printing stage, we arrive at real world tests with a heightened degree of confidence. Now, it's time to bring it all together with real materials so we can fill in the final variables in the testing of your product.

For many teams though, finding a testing lab that understands their product's goals is challenging. Many testing labs are testing-only and don't have as much participation in the design and adaptation process. For our clients, having an integrated testing lab is a particularly important feature because of how it expedites the testing and revision process.

We are able to move more rapidly, leveraging custom machinery to test both the capability and longevity of the mechanical components your product relies upon. As we test it to find potential weaknesses, we are able to implement that feedback as part of the same process with our engineering team.

For example, if you need a living hinge that needs to be able to endure thousands of activations, we can create custom machinery to test the full lifespan of your product.
Finalizing a Production Ready Product
By the time we reach the actual manufacturing stage, we've already anticipated and prevented the primary dangers that threaten to derail your product. You've made your adjustments, and you can invest in your product with greater confidence in a profitable outcome.
By partnering with a design for manufacturing expert, you have:
Efficiently explored design options and optimization with CAD design veterans
Affordably handled and tested your actual product with revision-friendly 3D printing
Rigorously tested your final prototypes to stand on the quality of your product
If that sounds like the kind of resource your team is looking for to solidify your to-market strategy, let's schedule a call! Our team at Creative Mechanisms has decades of experience paired with cutting edge technology and knowledge to add to your product launch plan.