In part one of this series, we talked about how to move towards a paperless office in 2015. Today's blog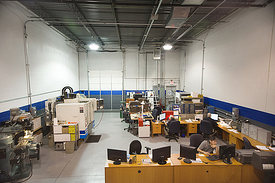 will discuss the much more difficult task of moving to a paperless manufacturing floor. This is a topic that I have recently take a keen interest in and am working with some of my clients to help achieve this goal.
We sold out plotter two years ago because we had not used it in several years. In fact, we don't use 2D drawings at all here at Creative Mechanisms anymore. Everything we receive from our clients is digital and remains so for the life of the project. We don't generate paper 2D drawings for any of our clients at this point either. We do provide some 2D PDF drawings upon occasion but it is mostly for reference and only contains some basic overall dimensions, part weights, and other details for those that don't have (or choose not to have) 3D CAD viewing capability. There are free 3D viewers available for most CAD programs and we can also generate 3D PDF drawings that Adobe can open. Sometimes, though, it's easier to look at a simple 2D PDF file that has basic information on it. We include that for each part as a component of any injection molding quote package.
When I am talking about 2D drawings in this article I am referring to fully dimensioned multiple view drawings that are printed out on paper and used for the fabrication of a part on the shop floor.
The vendors that we use for any prototyping or manufacturing jobs work directly from our Solidworks files. Most modern manufacturing machines work directly with 3D CAD files. CNC mills, routers, and lasers all work from tool paths (the instructions the machine uses to cut the parts) that are made directly from the Solidworks files. Any 3D printing gets printed directly from the 3D file. Injection molding tool designers use our Solidworks files to design the tool in Solidworks. The tools are then cut directly from that 3D CAD tool design. The technology exists to eliminate any paper on the work floor but in my informal surveys of manufacturing companies, that rarely happens.
I hear the same story from most companies, and it appears to be a generational issue. People that have worked on the shop floor for many years are used to working with 2D drawings, and there is a reluctance to change their process because they have adhered to that process for so long. Change is hard.
I certainly understand the difficulties of change, but I want to strongly make the point that the generation of a 2D drawing package is a tremendous waste of time and money. It is an unnecessary step with today's technology, possibly adding weeks to the time line of a project and costing thousands of extra dollars. I don't know many managers who wouldn't like to shorten schedules by weeks and save thousands of dollars – yet there remains a huge reluctance to take this step.
Creative Mechanisms has been working paperless for so long that I just assumed that most companies are doing the same, but after working with several clients who are still reliant on 2D drawings for prototyping and manufacturing I have been informally asking manufacturers about their use of 2D drawings on the shop floor. The common answer is that they see the need to eliminate 2D drawings but the idea meets too much resistance from the floor so they haven't done it yet. In my mind it's a tremendous lost opportunity for competitive advantage.
What is the status of a paperless shop floor in your company?
Click below to download or eBook