My name is Tony Rogers and I am the owner of Creative Mechanisms. We specialize in the development of injection molded plastic mechanical consumer products. We design and engineer product in 3D CAD. We then prototype that product in plastic using both CNC and FDM technology. We purchased our FDM

machine 7 years ago.
As I look back there were many assumptions I made then that proved to be completely wrong:
I thought that the FDM technology would replace CNC in our company
I worried that my machine would be obsolete in a just a few years
I never imagined that this technology would ever be used for anything other than prototyping
A few years after we purchased our 400mc from Stratasys our CNC machine was rarely being used and I thought its days were nearly over. Now our CNC machine is being used full time and it has allowed us to differentiate ourselves in the marketplace and bring in customers that we never would have received business from before. Several years ago we were working with a manufacturer who made Flip Top Caps. Flip top caps contain what is called a living hinge. It's a hinge that is molded as one piece with the top and bottom of the cap. I consider a living hinge to be one of the simplest forms of a mechanism because it does contain one moving part. It is also one of the most difficult things in the industry to prototype. I have been in the prototyping business for almost 30 years and prototyping a living hinge was always one of the most difficult tasks in the industry. Living hinges have to be made out of polypropylene. That is about the only material that has the properties that allow the plastic to bend so much without breaking. I was always told that Polypropylene is impossible to machine. It is too soft and melts too readily. It galls up on your cutter and melts more than it cuts. I had several employees try to do it and it just never worked. They couldn't cut a block much less machine a part down to .015 of an inch which is what is required for a living hinge.
Well we were designing caps for our customer and we had to prototype them. What we could do is print an FDM part and bend it one time. The hinge would break and we then had to use tape to simulate the hinge. This drove my guy's nuts. One of my guys is a CNC expert and I think he was rightfully afraid that this technology that he loved so much was going to go away form our shop. So he set out to conquer the machining of polypropylene and he did. It took a while and it took him even longer to be really good. There isn't a 3D printing technology yet that has a suitable material that can print a living hinge. When you need a specific material CNC is still the way to go. He had assumed for 30 years that you couldn't machine this material too. Sometimes you have to think about using the tools you have differently and to disregard your current assumptions.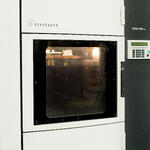 When 3D printing technology first came out I studied the industry and the machines very closely. We used a service bureau to get SLA parts made and we made rubber molds of them and produced urethane castings for our final models. I knew what Stratasys was developing and the fact that they were using ABS material was very exciting to me. We used ABS to make our hand built or CNC cut models and the fact that the printed models could be used as final models would allow me to skip the whole rubber molding and casting process. Stratasys had their desktop printers but the quality of the part and the speed of the print was just not good enough yet. When John Dobbstetter came out and showed me what they now call the Fortus line I bought the 400mc immediately.
The technology then was moving so fast. New machines were coming out every year. I knew this machine was right for us but I was scared to death I was spending a fortune on technology that would be obsolete before the lease was up. After 7 years this machine is still the top of the line machine. I never would have thought that.
In my perspective what both Stratasys and 3D Systems did was once they got the technology up to the Fortus level and the Viper on the 3D Systems side was to focus on lowering the cost. Now you can buy a machine for a few thousand dollars. It will only be a few years until there is one in each household. This is going to change the way we design and produce product. Its not just replacement parts either. I can see platforms being sold that then allow you to log on and download files for your product and customize the whole thing. We will be designing product for that process instead of designing for a specific box size because that is what fits on Walmart's shelf. It can totally change the way that products get sold and delivered. This is disruptive technology. It's a very exciting time but if you are in businesses that in any way deals with the product supply chain you need to be thinking about the disruption it could cause to your business.
I lived through a disruption once. Back in the 90's all product development was done in the US. We had 40 people carving plastic to make tooling patterns and models. It was all done by hand. It was very labor intensive. Manufacturing was being done in China already. I knew the development was going to go over. I prepared for it. I thought I would be ready, but when changes like that happen it still seemed to happen so fast I couldn't believe it. Disruption was more like devastation.
I believe we are at another turning point. The prices of these machines have been driven down and now the focus is turning to make this technology applicable to manufacturing. I thought that this technology was only going to be used for prototyping but now people are printing skin tissue, fabrics, food, houses, and furniture. I saw an article recently on a lamp that actually prints itself and then folds itself up into a package. Industries are going to be disrupted. Think of what the digital age did to the music industry. I think there are going to be a lot of Buggy Whips out there in the next several years.
I heard of group of local guys from Wharton school who saw that the eyeglass industry was controlled by just a few factories that kept the prices inflated. I can't think of another piece of plastic product that weighs a few grams and costs hundreds of dollars. They started producing their own frames with competitive styling that they are selling for a fraction of the cost. Think about what will happen though when 3D printing disrupts that industry.
I made some assumptions seven years ago and things sure turned out very differently than I imagined. We are using our CNC machines more than we ever have in the 14 years since we adopted that technology. My seven year old machine is still the top of the line but yet I can buy a machine for my home for $2,000 and this technology is spreading to every industry imaginable. I have made a few predications here today so we will have to see how they hold up in the next seven years.