If you're in the business of medical plastics, you're in luck. NanoMarkets, an industry analyst firm, has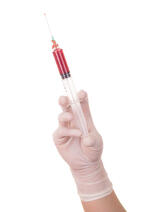 forecasted a major boom in business for you over the next five years. Two studies conducted by NanoMarkets – one in October 2012, the other in September 2013 – estimate that the global medical polymer market will increase by 5.2% every year between now and 2018 – a $1.2 billion growth.
According to a summary from Medical Plastics News, several factors are contributing to that growth:
Implants
The medical industry is moving away from metals like titanium and toward polymers. Polymers cost less, weigh less, and have better compatibility with medical imaging.
In Vitro Diagnostics
The demand for in vitro diagnostics is growing and the technology is leaning toward quick, multi-assays. Increased demand for quantity as well as convenience and versatility relies on disposable, less expensive, and more flexible materials.
"Soft-Touch" Coatings
More "soft-touch" accessory coatings are entering the market. These are high-value products designed to improve the comfort factor of medical accessories and utensils, like catheters, gloves, and syringes.
Environmental Sustainability
There is a call to increase the use of biodegradable materials, which means that biodegradable polymers are being incorporated into implants, prostheses, and clinical lab ware.
Frost & Sullivan, a U.S. business consultancy, conducted another study that suggests that the market for medical plastics – especially polyvinyl chloride (PVC), polyethylene (PE), and polypropylene (PP) – is being driven by several factors:
an aging baby boomer population
the rise of "lifestyle diseases" like Type 2 diabetes
a stronger government commitment to improving health care
the goal of lowering health care costs
the desire to replace long and expensive hospital stays with home health care
The medical plastics industry growing rapidly and has a lot of room for innovation. Creative Mechanisms has the expertise to bring your medical plastics ideas to life.
Let us walk you through the entire product development cycle by contacting us for more information.