One of the biggest challenges in prototype development is making a model of a product that has a living hinge. Living hinges are slender sections of plastics that connect two segments of a part allowing the parts to be opened and closed. They are used for functional evaluation of what will eventually be an injection molded product.
Common applications of living hinges are in products that entail a very high amount of opening and closing such as disposable packaging, medical containers etc. Perhaps the most easily recognizable living hinge is the cap on a bottle of ketchup.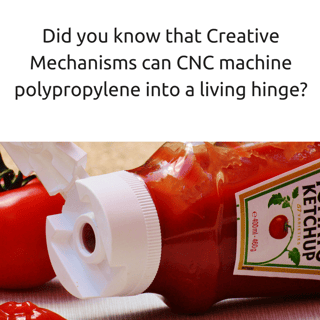 Living hinges are relatively simple to make in injection molded manufacturing. Polypropylene is heated up, injected into the mold tooling, and out comes the cap. What happens, however, when you need to design a new cap and want to test it out before you invest a significant amount of money towards manufacturing? One thing's for sure: you want a prototype made out of the same material so you know it works before you manufacture it in bulk. This is where it gets tricky. While injection molding polypropylene is simple, prototyping a functional living hinge out of polypropylene is not. Many methods have been tried to solve this problem. Here are a few we have attempted:
You can make a "hard" model (e.g. 3D printed part from a technology like FDM) that looks the like the finished product but doesn't function properly (i.e. it doesn't bend at the hinge or only bends once).

You can create a rubber mold and cast a low-durometer urethane model that will allow you to flex a hinge a few times before it breaks.

You can make the living hinge mechanism out of a thin piece of polypropylene sheet stock and then screw it into place between the two sections of a living hinge part (the base and the cap).
With the advent of rapid prototyping, there have been many attempts to get a printable material that will represent a polypropylene part, but none that I have seen would last more than a few bends of the hinge. That left us with good old-fashioned clear tape as the best solution to represent a living hinge. Obviously this leaves a lot to be desired.
So why can't you cut a polypropylene part on a CNC machine? Or can you?
Polypropylene is a very flexible, soft material with a relatively low melting point. These factors have prevented most people from being able to properly machine the material. It gums up. It doesn't cut clean. It starts to melt from the heat of the CNC cutter. It typically needs to be scraped smooth to get anything close to a finished surface. Everyone has always told me just to forget it ... "you can't machine polypropylene," they say. But it turns out they're all wrong. It can be done. And we can do it.
Our talented team at Creative Mechanisms has solved the problem. Yes, they figured out a way to machine polypropylene. They can machine polypropylene cleanly and with great detail. They can machine snaps that are functional. They can machine the formerly impossible living hinge prototype down to .005 of an inch. The results are amazing.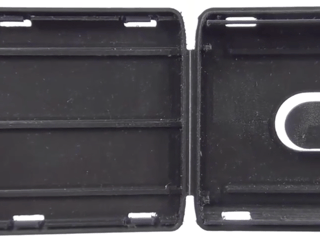 Polypropylene Prototype Living Hinges by Creative Mechanisms
There's only one problem. No one believes me.
I tell prospective clients that we can do this and they tell me to my face: "You're wrong, it's impossible." Most engineers believe that, for numerous technical reasons, it is impossible to machine polypropylene. I have to show them our physical prototypes before they realize we actually figured out how to machine living hinges out of polypropylene like I'm telling them we can.
To convince skeptical professionals, we created a Creative Mechanisms business card holder that has been machined out of a single piece of polypropylene (see above). It has two living hinges, a flexible finger to hold the cards in place, and a series of snaps to complete the assembly of the two halves of the product. If you don't believe your eyes, call me and I'll send you a free one with my compliments – no kidding.
Creative Mechanisms has considerable expertise machining polypropylene to produce living hinge prototypes. We invented the process to do it through trial and error, and now we have considerable experience perfecting it. Now that you have found a company that is capable of manufacturing living hinges through another method aside from injection molding, you have also found another reason to love the living hinge.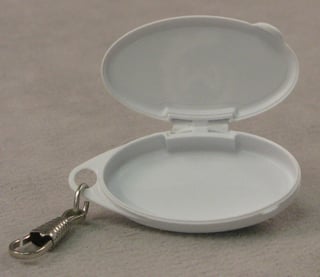 Living hinges (and prototypes that use living hinges) have advantages and disadvantages, but the upside far outweighs the down. Want to learn more? Read on for the top-10 reasons living hinges and their prototypes are useful for your business:
1. LOW COST: Because of their simplicity (one single part), living hinges are usually a much cheaper alternative to other types of hinge mechanisms (many of which require labor to assemble, multiple tools to produce etc). The fact that the hinge is incorporated into the design and manufacture of the prototype makes the cost of living hinges markedly reduced.
2. NO RUST: There is no possibility of rust. Plastics (typically polypropylene "PP" in the case of living hinges) won't react with the environment as would be the case with metal hinges. There is no need to "coat" or paint the hinge with a non-corrosive protective layer in order to prevent environmental degradation.
3. NO MAINTENANCE REQUIRED: Living hinges do not require maintenance or repair because they only fail when subjected to unnatural conditions that are beyond the limits for their designed use. You can bend a ketchup bottle's cap an extraordinary number of times before it fails.
4. DURABILITY: Living hinges are extremely durable. The absence of an extensive number of parts makes them very sturdy. Relative to the alternatives, they are not susceptible to part wear or failure. Some living hinges are capable of millions of cycles before any sort of wear or tear materializes.
5. FLEXIBILITY OF DESIGN: Novel living hinge designs are limited only by your imagination. They can be designed to suit aesthetic, functional, and/or structural requirements among others. They are an extremely versatile mechanism that will satisfy most considerations by virtue of their nature and the material they are made from.
6. FLEXIBILITY OF MOTION: Living hinges can be designed to accommodate very complex motion - much more than the conventional open and close motions you might imagine. The pliability of the materials that use living hinges can be exploited to achieve much more intricate movement.
7. MINIMAL FRICTION: Living hinges experience very minimal friction. Consequently, they undergo very little wear and tear.
8. LIFESPAN: Living hinges made from plastic are typically manufactured through an injection molding operation that creates all three of the part components (typically cap, base, and hinge) at the same time as a single, contiguous piece of material. If correctly designed and manufactured, living hinges will remain functional over the life of the part. Polypropylene is considered to be the best resin for living hinges due to its excellent fatigue resistance. It is a very flexible material that can bend more than a million cycles without failure.
9. RANGE OF APPLICATIONS: There is a wide range of applications for living hinges and a solution can be adapted for most injection molded prototypes that require the use of hinges. The simplicity of its design makes the living hinge perfect for such purposes.
10. AESTHETICS: Living hinges are very clean and easy on the eye due to the elegant nature of their contiguous and smooth curves. There is room for creative license and new design possibilities can always be explored.
So: now that you're aware that living hinges can be machined from polypropylene, where will your imagination take you? Contact us today to see how we can turn your ideas into reality!