What's the biggest difference between a successful inventor and an unsuccessful one? It's not their personality. It's not their skill with a sales pitch. It's not even their creative product ideas… It's their ability to generate profits.
And profitable inventions are much easier talked about than accomplished. The path to profitability has many critical decisions, each having a direct impact on your money as an inventor.
One of the key questions along the way to profitability for inventors is whether to license your product or manufacture it yourself.
In order to make this decision correctly as an inventor, you need understand three things:
What exactly each path entails

Which makes more sense for your financial goals

Why your risk tolerance needs to be financially grounded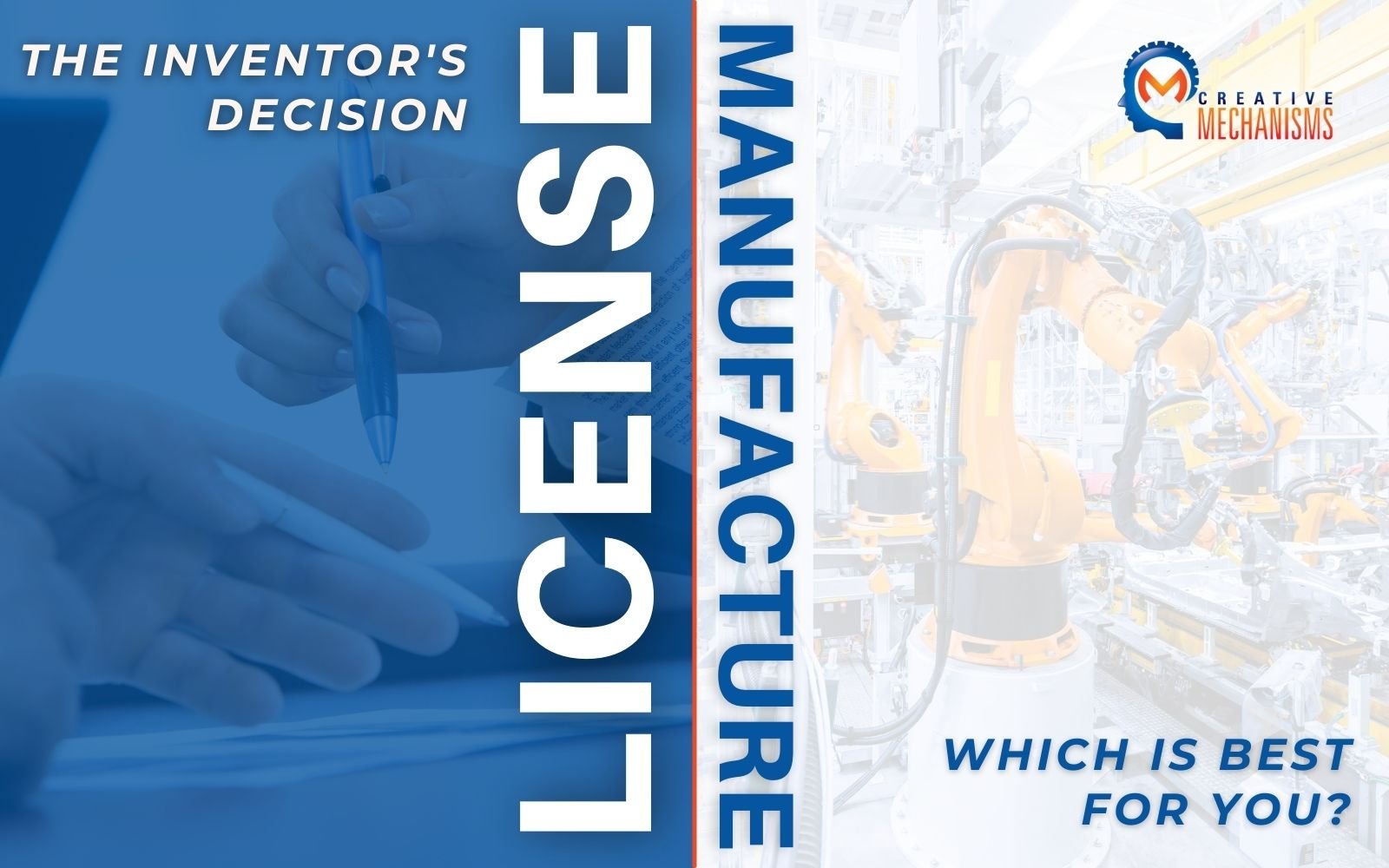 Comparing Product Licensing vs Manufacturing
We'll start with basic definitions to kick off our discussion.

Licensing your product is a strategy in which you sell the rights to manufacture and sell your product to another business.
The benefit of licensing your product is that you eliminate the large majority of risks that inventors normally face. The company who licenses your product takes on the risky investments of engineering and manufacturing your product, all while paying you an advance for the idea.
While you do receive only a portion of the profits for a successful product, you have minimal risk as an ideator.
Manufacturing your product is a riskier route, but the potential profits are greater.
Navigating manufacturing is a tall task, and many newer inventors lose their profit margins (if not their products) during this process. If you are able to successfully navigate manufacturing, you have the highest earning potential through a direct launch.
So which one is best for you as an inventor? We'll go more in depth in a moment, but for those of you short on time, I'll leave you with this.
Of the hundreds of inventors we've had the privilege of working with at Creative Mechanisms, I would guess that we've recommended licensing their product to about 90% of them. Why's that?
Unless an inventor has any previous experience taking a product to market, it's unlikely that they have the knowledge necessary to successfully navigate the complex engineering and manufacturing process. More than that, the engineering and manufacturing is heavily expensive, turning a low chance of success into an expensive risk.
Though licensing is comparatively less profitable, it is far less expensive and far less risky to put your great idea into the hands of an experienced product team.
How to License Your Product
If you are inclined to hedge your financial bet and license your product, here are a few things you will need to do to prepare.
The challenge of licensing your product is selling the idea - getting a veteran product developer to purchase the license to your product. They need to believe in its profitability as much as you do if they're going to take on the risk of manufacturing and going to market. We call this "proving" your product.
To help successfully prove your product, here are a few steps you should take.
Secure Intellectual Property Rights
No company wants to invest in developing a product just to find out someone else already has the rights to it. As a result, part of your pitch needs to include intellectual property protection.

We go more in depth on how to do patent searches in our fantastic Online Course for Inventors, but for now, you should plan on conducting a thorough patent search first. This will tell you if your idea is in the clear.
Beyond that, getting legal protection is essential, even if it is only a provisional patent. This generally affords you temporary protection without being as expensive to secure. We are not attorneys and cannot give legal advice, but this is a common recommendation in the licensing space.
Businesses Deal with Business - Look Professional
A professional presentation is entirely essential for a successful licensing pitch. Businesses want to work with inventors that present a certain level of professionalism.
For you, this likely means a professional website, business cards, a dedicated phone number, and other polish points that help you present as a business.
Know the Basics of Manufacturing and To-Market Processes
While the point of the licensing option is to avoid the need for you to be an expert in engineering or manufacturing, you still need to know enough to impress. Product businesses are more likely to vote confidently in an inventor that developed their idea with the to-market process in mind.
Speak their language, and speak it intelligently if you want to encourage their trust in your idea.
But What If I Want to Manufacture My Product?
If you're feeling particularly confident today and are still considering manufacturing your idea and taking it to market, I want to help you know what to expect and what it takes.
We've taken hundreds of products to market with successful companies and inventors, and it's rarely easy. But when done with the right expertise, the financial potential is life changing.
Now how about some encouragement for the manufacturing minded! The good news is that you don't necessarily need to be an expert in engineering or manufacturing to successfully manufacture your own product. You do however need to be familiar the product development and adept at running a business.
I do highly recommend that if you take this route, you'll want an engineering team who is manufacturing-minded at your decision making table. Taking a Design for Manufacturing (DFM) approach is the #1 way to mitigate the risks of the manufacturing process. You can read more on that here: Why We Start with Design for Engineering
Make Sure Your Plan Invests Beyond Manufacturing
Many inventors believe in their product because they've invested so much time, money, and emotional energy into making it as useful as possible. This tends to have a tunnel vision effect that leads inventors to be a little too confident in their product's sales success.
To make the leap from manufactured product to successful product, you'll need to invest in marketing your product. I've seen a number of inventors close their manufacturing runs with a great, marketable product… just before their product flopped because they had no funds left to generate public awareness.
If you want to protect your product's ROI, make sure you have money left to take it from the manufacturer's factory to customers' hands.
Should You License or Manufacture Your Product?
Every product idea and every inventor are different, even if they are guided by the same principles. Picking the best option for you is a matter of using either tool correctly.
Licensing your product requires much less time and money, but the potential profits are proportionally less. A successful licensing process requires more skill in presentation and ideation, and affords you more freedom in your commitments.
Manufacturing your products puts you fully in the driver's seat, demanding more time, money, and risk before granting access. With the right support and deep enough pockets, manufacturing offers the highest potential financial success.
Both licensing and manufacturing are far from simple processes, but if you plan around your strengths and resources, both present the ability to turn a great idea into a profitable business.