Medical product prototypes are, for the most part, very similar to every other industry prototype that we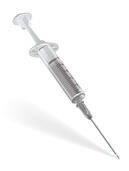 make here at Creative Mechanisms. The difference is that we take medical prototypes a step further.
Many of our medical device customers need us to provide a small quantity of injection molded prototypes to use in FDA trials or consumer testing before actual production can begin. The injection molded prototypes allow the customer to see how the product will perform in the actual molded material. A lot of the products that we engineer are small, intricate plastic mechanisms. We often have snaps and integral springs or living hinges whose characteristics will change when the production method changes.
In order to finalize a design we must take the Solidworks file as far as we can by evaluating the design using FDM prototypes. FDM stands for Fused Deposition Modeling and is our preferred method of 3D printing. It builds parts by adding tiny drops of ABS plastic, one on top of the other, to form a part from a file. After we are satisfied with the result of our 3D print, we will make a prototype injection mold and evaluate the parts now that they have been made in the same material and using the same process as production. This evaluation will result in changes to the tool and the 3D file to bring the parts into the exact configuration needed for optimal performance.
Some people assume that all injected molded tools are pretty much the same, but they aren't. There is actually a wide range of quality levels for an injection mold, which we divide into 3 general types: prototype tools, production pilot tools, and production tools. Within these categories there is an even wider range of quality levels depending on the materials used and the features added.
A prototype tool is a mold that is typically used to make several hundred up to a few thousand pieces. These parts are commonly used for consumer testing, sales samples, or FDA trials. These molds are not necessarily built identically to a production tool. We consider prototype production tools a step between 3D printed prototypes and a production pilot mold.
Prototype production tools are typically single cavity tools. To save time and money, we use a hard aluminum when possible to build this tool. We then add features or actions that are necessary to produce the parts – slides or cams, special moving parts, etc. We often use a hot runner (also known as a hot sprue) to inject the plastic into the mold. This is a more advanced feature that costs extra but is helpful if the geometry of the part and the plastic being molded would benefit from it. It also helps reduce the size of the runner or the plastic that flows through the mold before it gets to the part. We use mold interlocks to keep the mold halves aligned and to lessen the stress and wear on the mold guide pins. Some of these features can be eliminated if the quantity of parts needed is very low and the geometry of the part is fairly simple.
Next are production pilot molds. These molds are used to make sure that the mold design is everything you want it to be before you proceed to the stop of producing a mold with more cavities. All the same materials and features of the production mold would be kept – you're simply shifting focus in this step. Instead of looking at the part design, you're looking at part production.
The prototype mold was used to finalize the part design and get all of the design features working as desired in the production materials. The pilot mold and production mold are designed to make sure that you are replicating that part design but in high volume quantities.
Injection molding prototype tools are an important part of medical device product development. We also work with companies whose packaging features characteristics like living hinges and whose designs are best finalized through the evaluation of a prototype injection molded part.
Contact Creative Mechanisms to see if your products could benefit from this process. We evaluate each job and you'll get exactly what you need.