3D Printers that use FDM (Fused Deposition Modeling) technology often have the option of printing at different layer thicknesses. The impact of those layer thicknesses is most easily seen when looking at print time and surface finish. Thinner layers will result in good surface finish, but longer print time. Thicker layers will result in poor surface finish, but faster print time.
With FDM, the thinnest layers achievable with standard equipment are typically .005" thick. Other options include .007", .010" and .013" layer thicknesses. In order to print at different thicknesses, typically the machine needs to be outfitted with different tips (or nozzles) that are intended to be used with each layer thickness.

Along with improved surface finish, some of the other benefits of thinner layers are sharper corners and the ability to accurately print smaller features in your products. This is due to the fact that the tip used to create the thinnest layers will also extrude a more narrow bead of filament. The narrow filament extrusion also helps to better fill gaps between the exterior surfaces of your part.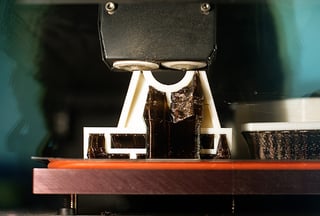 The downside of printing with thin layers is the time required to print. Not only are there more layers to be printed, but the rate at which material can be extruded through the tip is lower. With the FDM machine that Creative Mechanisms uses, as a rule of thumb, print time tends to double as you move from one tip size down to another. For example, if a part takes 4 hours to print at the .005" layer thickness, it will take around 2 hours to print at the .007" layer thickness, and 1 hour to print at the .010" layer thickness.
Selecting the proper layer thickness is most often driven by the following:
Overall size of the part

Time to print

Importance of surface finish

Presence of thin walls or small detailed geometry
At Creative Mechanisms, we print the smallest, most detailed parts at a .005" layer thickness and the larger parts at a .010" layer thickness. Surface finish can often be improved by properly orienting the part when building, or it can be improved by manually sanding after the part is printed. Professional grade FDM machines allow you to print without any human input, so parts that require long print times can be printed overnight or over the weekend.
More about the FDM machine at Creative Mechanisms
We utilize a Fortus 400mc 3D printer manufactured by Stratasys. Fortus 3D printers work with a variety of production plastics to include various ABS polymers, several Polycarbonate polymers, Nylon, and the ULTEM polymer product line. According to Stratasys, ULTEM plastic polymers offer "the highest heat resistance, chemical resistance and tensile strength of any FDM thermoplastic." This machine was state-of-the-art when we purchased it nearly 10 years ago. The base technology in that machine still remains at the top of its industry, however Stratasys has since improved on the model with an updated version know as the Fortus 450mc, a smaller Fortus 380mc, and its largest model the Fortus 900mc. All three models as well as the 400mc at our company have very similar production capability. The principal difference is the maximum size of a part that can be printed.
If you have questions about 3D printing, choosing between 3D printing or CNC machining for a prototype, or questions about the prototype development and production process, please contact us today!