The process of taking a product from initial concept to market-ready result is a complex one. It's made up of multiple stages, each one requiring a depth of expertise to get right. This creates a natural problem, even if you have strong experts in each space.
When working with multiple teams or experts, preserving the information and insights from one stage to the next may be easier said than done. There's usually a high risk "whisper down the lane" causing problems and negating progress made at each stage.
That's why today, we're tackling ways to limit mistakes that happen as a result of handoffs during the product design and engineering process.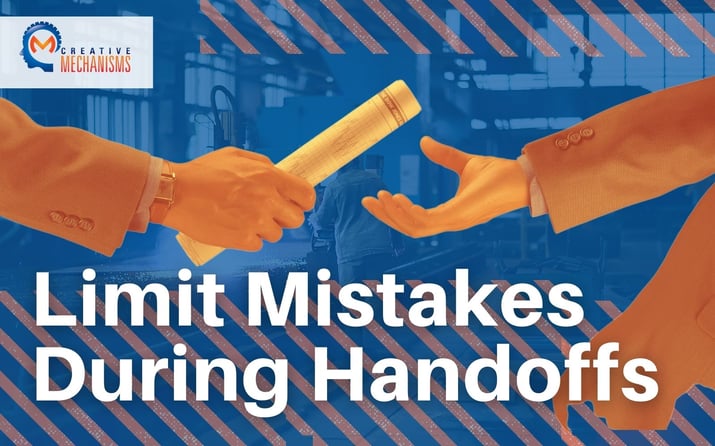 Project Solution 1: Less Moving Parts, More Team Continuity
The first solution may be the most obvious one, but it's also the most helpful so we'll start here. How do you limit opportunities for mistakes during team-to-team handoffs?
Reduce your number of handoffs!
This is especially relevant to your business if you regularly work with outside consultants on your products. It's common for businesses to seek out expertise in a particular material such as plastics or a manufacturing method like injection molding.
In some cases, you really may only need limited insight on a single topic and your team can carry the ball upfield from there. In other cases though, you need to be sure that the expertise you're paying for is handed off into capable hands for correct implementation going forward.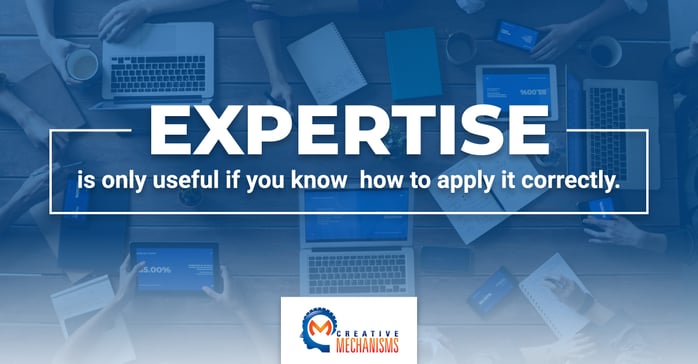 One way to be sure is to work with a consulting company that has the multi-stage expertise to help you at each step on your way to manufacturing. From initial design to engineering to prototyping and so on - having one the same partner providing specialized expertise removes opportunities for miscommunication.
Not only are you removing knowledge transfers, but you are also ensuring that the supplemental expertise you sought out can be correctly handled throughout the engineering process.
If you're looking for an example of product engineering experts that can walk you through every step of the to-market process, we invite you to explore Creative Mechanisms, the Design for Manufacturing experts.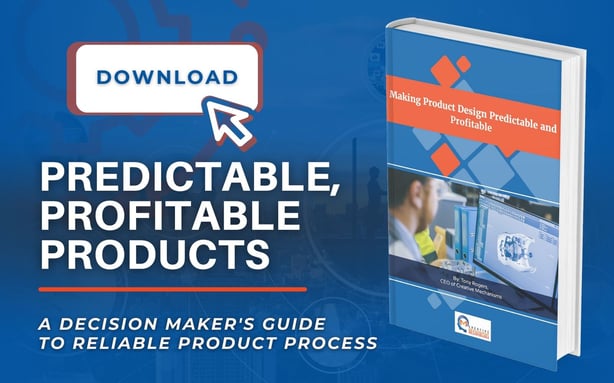 Project Solution 2: Invest in Integrated Technology
As the product engineering industry has developed over time, we've watched the emergence of integration-friendly technologies that make the design and engineering process far easier, faster, and more reliable.
Let's use an example from our engineering shop. At Creative Mechanisms, we invested in SolidCam for our CNC programming. SolidCam integrates directly with SolidWorks to update our designs in real time. And the effect? It eliminates lengthy importing and exporting steps that used to bog down time between iterations.
To make things even better, the platform-specific integrations help ensure that data is correctly transferred between steps with less reliance on human input. It also gives you more confidence that as these individual platforms innovate and evolve, partners with specific integrations are consistently matching those innovations to ensure their platforms integrate seamlessly.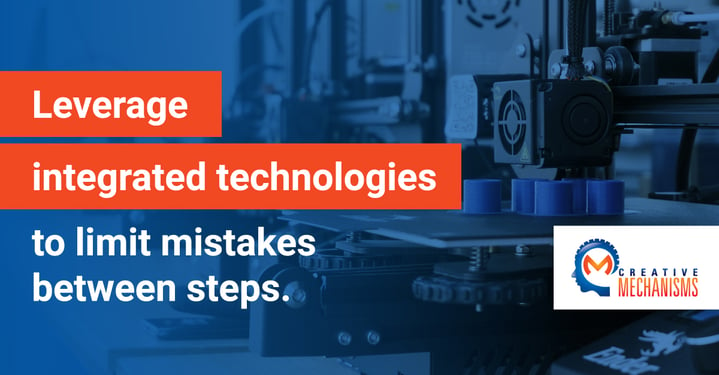 Read: 3 Product Engineering Innovations to Watch: 3D Printing, Injection Prototypes, and CNC
If you're a larger company with a more robust in-house team, you may be able to make these investments in integrated technologies yourself. If however you are a smaller team or an inventor, access to this technology may be more problematic. In addition to the ongoing financial investment, there's also the learning curve that comes with grasping new tools and platforms.
If you fall into the latter category, these same technologies can be accessed much more affordably and effectively by partnering with an established engineering firm. Partners like Creative Mechanisms are veterans of these technologies, providing both the access and expertise in a financially efficient arrangement.
Project Solution 3: Design with Manufacturing in Mind
The #1 checkpoint that projects get catastrophically derailed is during manufacturing. Not only is the handoff from engineering to manufacturing a difficult one for many teams, but the stakes are higher here. Any mistakes made during manufacturing can severely disrupt a project's budget or timeline for launch.
With manufacturing as your most critical handoff, there's one crucial truth that needs to anchor your approach: every other step needs to keep manufacturing in mind. This handoff is not one you want to try and tackle at the point of the handoff without coming in prepared.
A successful, confident handoff is accomplished by starting from initial design and aiming for manufacturability the whole way through.
For some companies, manufacturing isn't new turf, but there may be a new element in their product design they haven't manufactured before. In those cases, it pays to have a design for manufacturing (DFM) expert along to assist in the specific area you're introducing.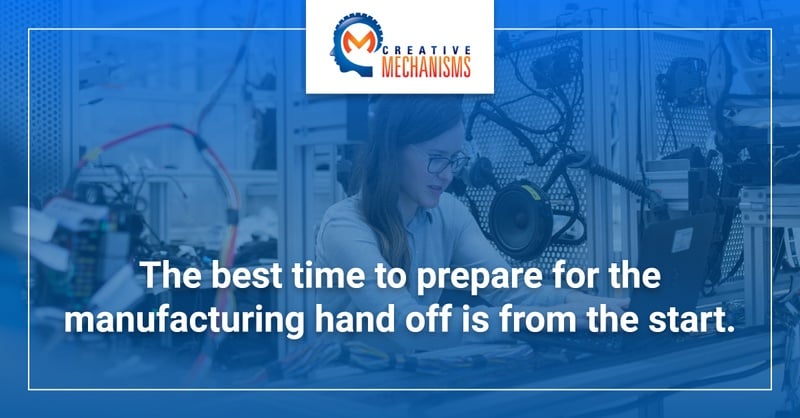 If you're newer to the product business, the premium value on a DFM specialist rises exponentially. On one hand, their help in preparing your product for manufacturing is invaluable in helping you avoid project-sinking mistakes.
More than that, they also work to provide you with innovation that will make your product more capable, durable, and cost-effective through the manufacturing process.
What's the Bottom Line?
No product business has a bright future without the ability to get their handoffs right. If you're not the type to hope you get it right, these three steps will help you put the right systems in place to eliminate opportunities for mistakes.
Preserve continuity in expertise-oriented handoffs

Invest in integrated technology that streamlines steps

Implement a DFM approach to prepare for the critical manufacturing handoff
If you are in leadership, think about how you can make the changes needed to prepare your team for better handoffs. If your team could use additional support or access to the tools you need, let's have a conversation.
Creative Mechanisms stands ready with a veteran team of product designers that each bring specializations to bear on your project through a collaborative approach. When you're ready to chat, we invite you to schedule a free product review.