There's a saying, "Learn from other people's mistakes… it's less expensive."
In the product world, it's not uncommon to find yourself in need of a little bit of advice. It's a complex business and it highlights the need for a collaborative approach.
The question then isn't necessarily, "Will I need advice?" It's, "Where will I look when I need it?"
If you know how to get trustworthy guidance when you need it most, you're halfway to success in the product engineering business.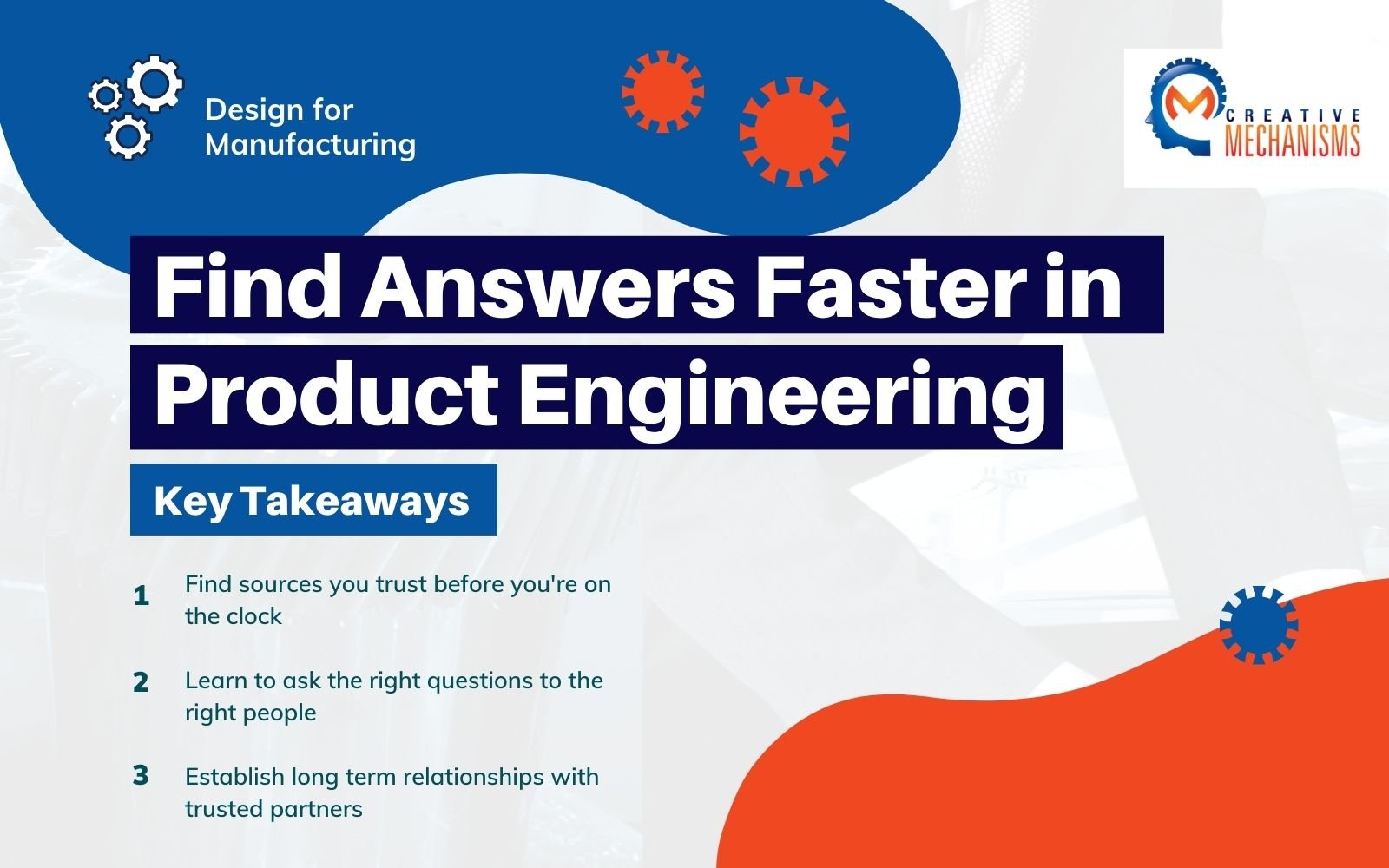 Step 1: Know Where to Find Answers Before You Need Them
I apologize if this example seems a bit odd… but it's just too good.
Have you ever needed to use the bathroom in an airport and not known where the bathroom is? It seems like you can walk forever without seeing those signs....
In product design, having an urgent need can feel the same way.
Jumping on the internet for advice may feel useful, but we're still tripped up by questions about these authors we don't know. It can be hard to gauge if their answer is the right answer for your specific product needs.
That's why it's important to take the time to find trusted resources before the need is urgent.
If you anticipate you'll need a specific expertise in a material, find a resource you can bookmark. If you think you'll need some specialized advice in preparing for manufacturing, find someone you can put on speed dial.
Knowing where your help is going to be before you need it can be the difference between delays leading you to go over budget or staying on track. Getting to the right answer quickly versus trying (and struggling with) the first available suggestion from an unknown source.
Not sure where to start your search? Here's a few examples:

Step 2: Learn to Ask the Right Questions (to the Right People)
If you're in any sort of leadership role, you know that your job isn't necessarily to be the expert in every area. Some days, it might feel like everyone is looking at you for answers, and that's why it's important to be a strong question-asker in your own right.

Within your own team, your questions should be mining for answers in their own insight as well as challenging them to find the answers you need. The most resourceful leaders (and team members) learn how to ask the right questions and who to seek out for the answers.

If and when you can't find a confident answer within your team's own experiences and knowledge, this is where step 2's rubber meets the road.

Looking for supplemental expertise is a critical step to take correctly when it's needed.
Asking the right question requires a certain awareness of what your need is even before you've found the solution.
And while you might uncover new information that points you towards a new solution along the way, the right first step is about starting with the right question.
Every product is different so how do you know the right question to ask when it comes to choosing the right partner to help with your engineering needs?
Here's our simple answer: schedule a free product review! We'll help you identify the most pressing needs from our team's collective expertise in design for manufacturing practices.
This can include anything from:
Comparing which materials and plastics will best fit your design needs
Strategies for reducing manufacturing costs
Innovative ideas to improve your product's mechanisms
Hop on a call with our team and you'll be on the shortest route to the right question and the right solution for your product needs.

Step 3: Developing Long Term Partnerships
This concept is nothing new, but it's going to highlight for us a principle you may not have considered before.
There's a reason the product business likes to operate within known solutions and strategies. While the occasional innovation is created by "reinventing the wheel", most times, it's better just to use the wheel!
When we can secure our parts and processes for a product, we have the freedom to invest our problem solving time and energy elsewhere where it is most needed. It's more efficient, and it produces better, faster outcomes.
Partnerships in product development work much the same way. Most people know this well, as we've never met a product business that liked the process of searching for and vetting a new engineering partner.
Under the assumption that you would prefer not to change partners regularly, it highlights the question, "What characteristics make the ideal partner for our needs?" It's here that we'd like to suggest a few critical attributes to look for.
Make Sure They Are Manufacturing Minded
You may be looking for one area of expertise that is well before the manufacturing stage, but every step of your process has a direct impact on manufacturability. Early decisions dictate costs, feasibility, manufacturing accuracy, and more.
So even if you are looking for a non-manufacturing partner, make sure they have a firm grasp of design for manufacturing.
Industry Specialization Versus Industry Agnostic
There are some product companies that prefer to look for industry-specific design firms – like an engineering company that focuses on furniture. It's all they do, and it's their bread and butter.
This appeals to decision makers looking for simple, quick fixes. What they don't take into account is the creative limitations that often come with industry-specific companies.
An "industry agnostic" company like Creative Mechanisms brings experience from multiple industries to bear on your specific product. We've seen a wider variety of solutions that broaden our ability to create solutions for your specific goals.
It's a driving force behind our ability to innovate beyond your competition. While they're working from the same playbook, you gain access to the broader world of engineering solutions.
Their Approach Resonates With Your Business Priorities
Specialization is a tool, not necessarily a solution. It needs to be applied correctly to have the desired results. The partner you want to hitch your cart to in the long run understands your business priorities, not just your engineering needs.
Take for example consulting with a mechanisms specialist. One specialist may be primarily focused on a solution that is basic and reliable. A business-minded partner will go a step further and look for mechanistic solutions that help you consolidate parts to make your product cheaper and more reliable in manufacturing.
Lower-cost, high-volume engineering partners will often take the first route, but work with a more developed team like Creative Mechanisms, and you'll find an approach that thoroughly meets your engineering needs and your business objectives.

Taking the Next Step
This was a lot to think about, so what's the next step that you can take to give your project better access to the knowledge you need? Here it is boiled down:
Find Trusted Resources
Do a little bit of digging into a question or two you need some information on. This time, don't just read an article - research the author. Whether it's a person or a practice, get a better idea of their larger approach to product development. We invite you to explore our resources and lean on our experience regarding design for manufacturing insights!
Learn to Ask the Right Questions from the Right People
Whether it's within your team or reaching out to a specialized consultant, it's a leader's job to find the right answers. If you can find experts to help you ask the right questions, you'll be most of the way to the right solution. Of course, our team is available for no-obligation project reviews to help.
Find and Stick with a Strong Long Term Partner
The value and speed that comes from a trusted engineering partner has a major impact on the success of products. If you can find and vet an engineering partner whose philosophy aligns with your own, you can save yourself a great deal of time and headaches. Especially when you can't afford either!