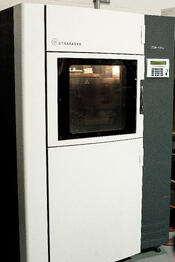 When we are designing and engineering a mechanical consumer product, we typically produce severalprototypes along the way. Most of our prototypes require multiple parts – some for the housing, others for parts of the mechanism. For each individual part, we must make a choice: print the part in ABS on our Stratasys FDM Machine or machine it on one of our CNC machines?
The following list is some of the criteria that we use to make that choice. If you would like further explanation of some of the terms used, please read this article explaining the jargon we use in prototyping. In general, when I refer to "cutting" a part, I am referring to a CNC machined part and when I refer to "printing" a part I am talking about a part that was produced on a 3D printing machine.
Material
At Creative Mechanisms, we only use ABS material in our 3D printer. In fact, ABS is our material of choice for the overwhelming majority of everything we make. If we determine that a part should be made in any other material, we will CNC cut the part in that other material.
The primary reason for using a different material would be part function. If a part needs to flex or bend – such as with snaps or living hinges – we make that part out of a different material. If the part has a snap feature, we usually use a Nylon material; living hinges and other parts that require a
lot of movement are usually made from polypropylene. Gears are something else that we always cut with a CNC machine, using Nylon or Delrin because those materials have natural lubricating properties.
Surface Finish
CNC machining produces a smoother surface finish than 3D printing. If you need a really smooth surface finish, whether for aesthetics or function, we'll CNC cut the part as opposed to printing it.
The choice for aesthetics, however, usually comes down to cost – 3D printing is less expensive and will suffice, but if the need for a smooth finish is important, it's more economical to use CNC cutting. This is because, while the 3D printing will work, you'll have to do extra work to get your part as smooth as it would automatically get with CNC cutting, making any cost savings minimal.
When it comes to function, any parts that come into contact with each other must have as little friction as possible. For parts that need smooth surface to eliminate friction, we'll usually cut the part as opposed to printing it.
Speed of Production
There are no hard and fast rules here – you need to evaluate every part. Sometimes machining a part is quicker than printing and sometimes it's vice versa. If we're very busy, we occasionally save up all the parts that need to get run during the day and print everything overnight. For simple parts, it's often more expedient just to cut the part in order to keep the job moving.
Clients often ask why we chose one method of making a part over another. These are the criteria that we consider first when making that decision.
What criteria do you use?
Click on photo for complimentary pill box