More often than not, taking a product from concept to market is a complicated, treacherous journey. There are plenty of opportunities for mistakes along the way.
That's why it's crucial that for every step of the to-market process to be supported by capable, reliable partners.
In my experience, a team's relationship with their manufacturers has an enormous effect on their products profitability, punctuality… and general headache quota. If you're looking for a new manufacturing partner, today we're going to tell you what we look for.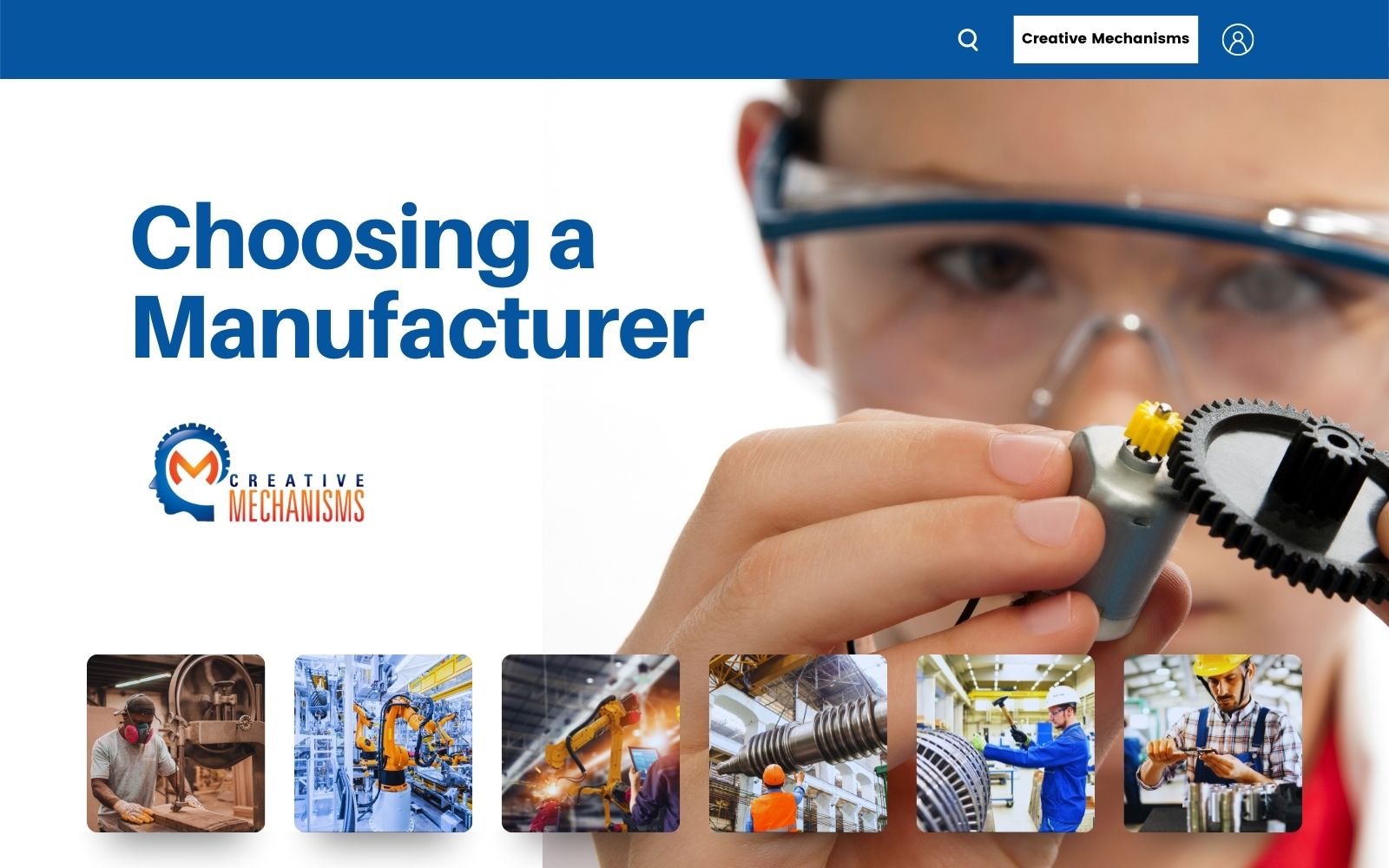 Your Needs Determine Your Manufacturing Partner
Let's start with the first question that informs the rest of your direction: what is your experience and the experience of your team? Let me explain.
Which manufacturer you want is directly linked to the amount of support you need and who they are best built to serve. For example, an inventor designing a better bungee cord has very different needs than an international business mass-producing child-proof packaging.
Why does this matter? Because who you work with for manufacturing needs to accommodate:
The amount of support you need in making a successful hand off (ensuring your design materializes correctly)

The technological capabilities to deliver your planned manufacturing method (ie. injection molding vs 3D printing)

A realistic ability to keep to your required timeline for delivery - we'll get more into that later
So when you're searching for a manufacturing partner, orient your search to your unique needs: your type of business, the industry you're manufacturing products for, etc.
Overseas or Domestic Manufacturing?
Everyone knows the product business obsesses over speed to market, and your manufacturing partner may be the most important variable. That's perspective that informs my perspective on the question of overseas versus domestic manufacturing partners.
Over the last several decades, there's been a notable shift in many industries with companies sending their manufacturing and its prototyping steps overseas for cheaper costs.
As a trade off, overseas operations incur much longer turnaround times for developing and testing prototypes. These processes become dependent on longer shipping times, added import and export costs, and longer lead times.
This has been made worse in our current economy plagued by shipping disruptions. The result? What they gain in savings, they sacrifice in delay.
If we look at the current domestic space, 3D printing has introduced the significant ability to rapidly produce accurate prototypes cheaply and domestically. The result is a workable part that can be interacted with for the testing and feedback that strong products need to improve.
This is also tied into the strategic movement away from reliance on cheap labor. Leading product companies are now investing in technology as it makes remarkable innovation and progress more attainable.
It does not mean there's always one right answer, but it does mean that the cheaper overseas alternative is not the right assumption for your business.
Should I Choose a Manufacturer with an In-House Engineering Team?
I've written about this topic before because many businesses consider it. From new inventors to smaller product teams, some operations find a sense of security putting all their eggs into one basket.
It carries an apparent appeal in terms of:

Confidence that your design will be manufacturing ready

Smoother hand off from the engineering team to the manufacturing team

Potential discounts by combining your services with one provider
This may be a good option for some smaller operations and more limited budgets. There also are a few drawbacks that you wouldn't necessarily know unless you've gone this route before. For example, with an in-house engineering team:
Factory-based teams can curtail your innovation to be more compatible with their manufacturing comfort zones.

Unless you have savvy veteran experience on your side, in-house teams have no 3rd party accountability along the way.

Having cost-realistic pricing is one thing for manufacturing, but deal hunting on design & engineering is a dangerous game.
Again, I do think having your engineering support combined with your manufacturing might be the right choice for some operations.
That being said, I wouldn't recommend choosing a manufacturer based on their engineering support. There are plenty of other strong design & engineering solutions that provide higher quality at an efficient price point.
Need Help Finding a Manufacturing Partner?
Looking for a new manufacturing partner may feel overwhelming. It usually means you're newer to the business… or you just had a bad experience with another manufacturer.
If you need help finding the right manufacturer for your specific business, we're happy to help. We've spent a few decades working with a variety of manufacturers across different industries on behalf of our clients.
So if you could use some help finding the right manufacturing options for your goals, let's schedule a call and get you on the right track.