At their most basic definition, springs are devices that store mechanical potential energy. Springs are incredibly common, and can be found in virtually every industry. While helical (coiled) springs are typically what comes to mind, springs come in many shapes and materials, such as a wooden bow (used with arrows) or serpentine springs (made of wire and used in furniture). In this article, we'll discuss the principle behind most springs, four different types of springs, and some popular applications where springs are used.
What is Hooke's Law?
Robert Hooke was a British physicist who stated that there is a proportional relationship between the force required to extend or compress a spring, and the distance that the spring is extended or compressed. This relationship is expressed by the equation
F = kx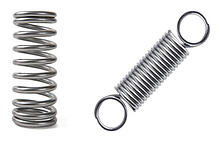 where F is the force, k is the spring's stiffness (a constant), and x is the distance. The spring constant (k) is a function of the material's properties, coil thickness, and the number of turns in the coil. Hooke's law holds for most solid bodies, as long as the forces are small enough and large deformations do not occur. Because of this, Hooke's Law is used in almost all of the sciences, and has broad application in the engineering world as well. Indeed, if something is described as "Hookean," it means that a proportional relationship exists for an elastic material or body. Elastic materials are those that are able to spontaneously regain their normal or "relaxed" shape after force is applied.
Different types of springs: compression, extension, torsion, & constant force springs
Two of the most common types of springs are compression and extension springs. These helical mechanisms are most often made of metal, but occasionally are made of other materials as well. Extension springs are coiled more tightly than compression springs, while both may have hooks or loops on either end to attach to other objects. The "compression" and "extension" names refer to the state in which the springs contain the most potential energy; compression springs have the most potential energy when they are compressed, and extension springs have the most potential energy when they are extended. Still confused? Here is an example of each:
The springs on a

pogo stick

are an example of compression springs; they are naturally at rest in the extended position, contain the most potential energy when compressed, and release that energy as the springs extend back to their natural position (which softens the impact of bouncing up and down).
The springs used on

trampolines

are an example of extension springs. They are naturally at rest in a tightly coiled, compressed position, contain the most potential energy when someone steps onto the trampoline and extends them, and they release that energy as they tighten up again (pulling the canvas taut and flinging the jumper into the air).
What is a torsion spring?
Torsion springs are wound tightly like an extension spring, although the ends of the spring typically extend away from the spring in a non-helical shape. Instead of being compressed or extended, a torsion spring is twisted to store potential energy. Common applications of torsion springs are those found in clothespins and in traditional mouse traps. Torsion springs obey Hooke's Law, but it is an angular form (𝞽 = kθ) of the equation rather than linear. For torsion springs, torque replaces force, and angular distance in radians replaces linear distance.
What is a constant force spring?
Constant force springs are unlike the types mentioned above in that they do not obey Hooke's Law. Instead of exerting a proportional force, these springs exert a near-constant force (hence the name). Constant force springs are typically made of a thin sheet metal that is tightly wrapped around a drum. One end is typically attached to the drum, and the free end is attached to a loading force. As the spool is unwound, it exerts a near constant force because the geometry of the coil is nearly maintained by the drum. Different applications for constant force springs include systems that require retraction (like seatbelts, power cords, or tape measures) and power for clockwork devices.
Does your product require a spring? Creative Mechanisms can help.
At Creative Mechanisms, we have been helping companies and entrepreneurs for more than 30 years. We are a design and engineering firm that specializes in creating custom solutions for mechanical design problems. We have experience with all sorts of mechanisms, like springs, cams, gears, levers, and ratchets - we even have the ability to machine living hinges from a single piece of polypropylene! Have a question about whether we can help bring your idea to reality? Visit our site or contact us today.