Computer Aided Design (CAD) is the use of computer software to facilitate the generation, modification, and optimization of a part or a compilation of parts. Using software to facilitate part design allows for higher precision, simpler and more accurate design iterations, and comprehensive documentation for part and/or project management (e.g. integration with a traditional Bill of Materials or BoM). There are a number of vendors that provide CAD software. At Creative Mechanisms we use Solidworks. Some of the benefits of CAD over traditional drafting and/or 3-D model making include the following: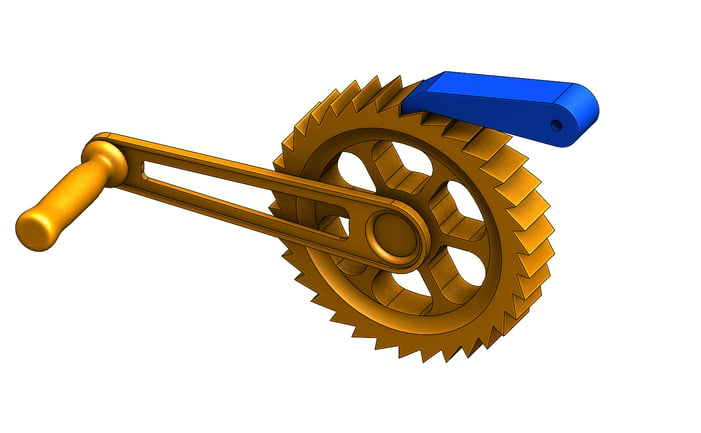 CAD allows for simple and accurate automation and/or process modeling (known as Mechanical Design Automation). Traditionally MDA was not possible without first building a physical prototype of every part in the system and then assembling it to check functionality. The ability to digitally model and automate a prototype before ever generating a physical model adds enormous efficiency to manufacturing processes and cost reduction benefits.

CAD allows for the ability to conduct Computer Aided Manufacturing (CAM). For example, integrating CAD technology with Computer Numerical Control (CNC) machines or Additive Manufacturing processes (3D printers) e.g. Fused Deposition Modeling (FDM) machines.

CAD takes into account material properties and interactivity characteristics between different materials.

CAD allows for highly accurate

dimensional

analysis and mathematical scalability using vector graphic technology (digital images based on mathematical formulas).

CAD provides highly precise part tolerance (much lower margin of error between parts).
CAD for Static Mechanical Design or Mechanical Design Automation (MDA): One of the enormous benefits of CAD software is the ability to automate 3D imagery and integrate different pieces of the same product in tandem with one another.
Learn SolidWorks tips from the pros!
CAD for Computer Aided Manufacturing (CNC & Additive Manufacturing): At Creative Mechanisms we use a fully integrated software-hardware package that ties together our Computer Aided Design software (Solidworks) and our heavy machinery (two single tool CNC machines, one 16-tool CNC machine, and an industrial grade FDM machine or "3D printer"). The benefit of having a fully integrated system is that design iterations can be made near-instantaneously without the headache of downloading and reuploading everything each time you want to print an updated part. This is a small thing that makes a big difference when it comes to rapid prototyping productivity.
CAD for Manufacturing (Injection Mold Automation): When it comes to mass-manufacturing there aren't a lot of technologies that compete with injection molding. One of the most important things to analyze when designing for injection mold production are the particulars of the mold flow (the way in which molten plastic works its way through the mold tool prior to solidifying into the shape of your part). We utilize Solidworks plastics to optimize our designs for production. Proper diagnostics with the right software tools and design experience will help you minimize defects and maximize your return on investment.
Curious about the history of Computer Aided Design? Read here.