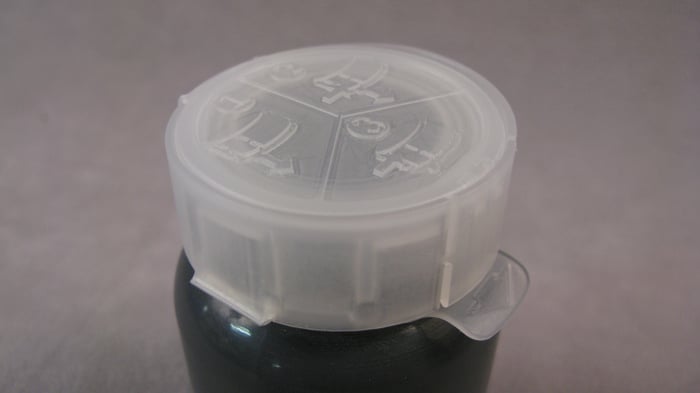 The market for child resistant closures is growing, as is the need for differentiation between on-shelf and custom packaging. As more consumer products require child resistant packaging, the need for customized solutions increases. The laundry detergent pod and recreational cannabis markets highlight just a sample of non-pharmaceutical products that need custom solutions to maintain their branding with added child resistant protection.
Creating and certifying custom child resistant packaging involves complex details concerning materials, size, product use, and other factors. The materials used in plastic closures can be very difficult to prototype. Most plastic closures are made in a soft material called polypropylene, since it is the best material for living hinges. Living hinges are a small web of material separating the top and bottom of a cap. That web of material acts as a hinge to allow the top to move between open and closed positions. Being soft, polypropylene is a very difficult material to machine. Few materials substitute for polypropylene, which makes prototyping a living hinge product very difficult. Creating a closure for polyethylene bags or paperboard boxes has its own set of unique challenges. The lack of rigidity of those material makes developing mechanical locking systems more difficult. Working with a company that has succeeded in developing unique mechanisms from those materials and which successfully passed the certification process can minimize costs and accelerate development time.
Child resistant certification is a testing process that determines if the packaging follows the Consumer Product Safety Commission's standards for child resistant packaging. The testing process' strict criteria make sure that 85 percent of children between the age of 3½ and 4¼ cannot open the package and that 90 percent of adults between the ages of 50 and 70 can open the package. The testing process adds at least several weeks to the product timeline.
Creative Mechanisms specializes in the creation of inventive mechanical solutions, encompassing a unique capability in prototyping. These skills provide their clients with child resistant certified solutions for brands for which other firms failed to create designs that passed certification.
A company's reputation rests upon the integrity of its brand; therefore, successful companies place a high priority on maintaining brand integrity. A partner who understands the certification requirements is essential to minimizing the cost and time involved in the development and certification process. We mastered that learning curve, so clients can rely on our insight and efficiency. Working with a company that also understands the manufacturing process for the product and that will stay with the project until it reaches the shelf also factors in helping to speed up the development process.