Designing and manufacturing optical devices from plastic is becoming common practice for firms looking to achieve complicated or unique part geometry, reduce costs per unit, and/or produce components consistently in volume. Production at high volume with injection molding is particularly well suited to translucent polymers in lieu of glass. End products tend to have better resilience to breaking due to the polymer material they are made from, are cheaper to produce (particularly when using multi-cavity mold tools that generate multiple parts per cycle), and are extremely repeatable. Some applications favor the sole use of polymer plastics while others use glass and still others benefit from a composite of the two materials. Glass embedded in plastic tends to strengthen the underlying polymer and can be added in different degrees to change the material properties of the finished material. That said, no single composite solves all optical design problems and the particular combination typically involves tradeoffs in one way or another.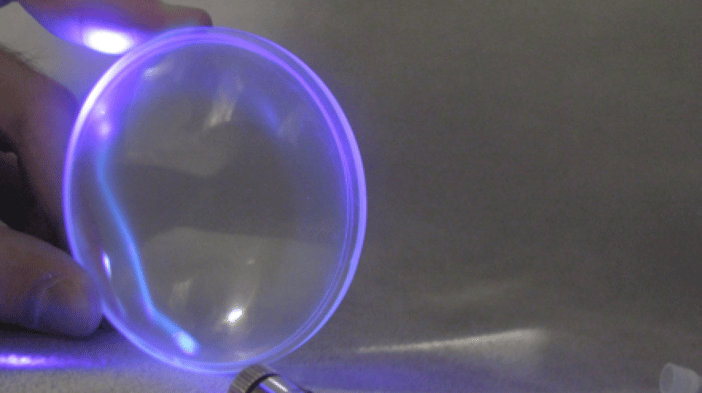 Acrylic Lens Reflecting Light From A Laser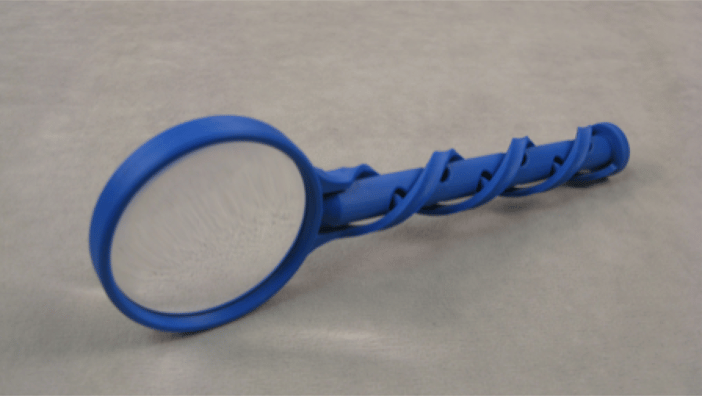 Plastic Magnifying Glass By Creative Mechanisms (Lens: CNC Machined Acrylic, Body: 3D Printed ABS)
One of the major disadvantages of glass (and conversely, one of the major advantages of translucent polymers like acrylic), is that plastic tends to cause less damage to the human body when shattered or broken. For this reason plastics tend to find wide application in minimally invasive medical diagnostic devices used internal to the body or in close vicinity to sensitive tissue (e.g. the eye). Two examples where polymers are highly desirable include arthroscopy (where an optical device known as an arthroscope or endoscope is inserted into a joint through a small incision) and a head mounted optical device like night vision goggles (with lenses worn close to the eye). Device failure during use in both of these examples would be damaging to body tissue and polymers have been shown to cause much less damage relative to glass in the event of a catastrophic failure involving contact with body tissue.
Perhaps the most commonly used optical plastic is Acrylic (PMMA). Acrylic was introduced prior to WWII and was originally used in things like airplane windshields. The material is widely used today in consumer products, medical devices, and even furniture. It is a good substitute for Polycarbonate in the event that strength is not the utmost priority or in cases where scratch resistance is extremely important. Other translucent plastics commonly used in optical devices include Polycarbonate (known for its extremely high impact strength and broad operating range in terms of temperature), and Polystyrene (useful in optics components NOT exposed to external contact and thus less subject to scratching or in those cases where reduced UV transmissivity is a desired characteristic).
If you are going to use polymers for optical devices you should understand a few of the small differences between plastics and glass. Here are several examples of relevant distinctions and/or similarities between the two types of materials when it comes to optical devices:
1. Material Properties: Glass generally has a higher refractive index than plastic (meaning light is reflected and/or bent more substantially when it passes through glass). PMMA (plexiglass), the most common optical plastic, has a refractive index of 1.49 while Flint glass (a common optical glass) ranges in value between 1.45 and 2.00. That said, it depends on the particular glass or polymer being used as Crown glass (another common optical glass) has a refractive index value of 1.52 (much closer to that of plexiglass). Generally speaking the range of values is much smaller with pure plastic polymer optics. Using different composites of glass and polymer will vastly increase the available material properties and likely will simplify the process for designers.
2. The Actual Design Of The Optical Device: Glass is much better suited to spherical and/or cylindrical designs while plastics allow the designer a more flexible range of shapes. For example, aspherical lenses (such as the one seen below) are much cheaper to manufacture with polymers than glass and more complicated geometries like aperture cut-aways or rectangular aperture are often much better suited to plastic.


3. Component Cost: Lower price per unit is perhaps the greatest advantage of using plastic for optical devices in lieu of glass. Plastics are ideally suited to high volume injection molded manufacturing and can generate very low unit cost when producing at scale.
4. Coatings: Coating plastics and glass is a very similar process and both materials are suitable for mirrored, conductive, reflective, anti-reflective, or beamsplitter coatings etc. The principal difference is that the coatings can be generally applied to plastics at a significantly lower temperature than is common for glass.
5. Mounting and/or Connecting The Device To Mechanical Hardware: Plastics vastly simplify the mounting process as quite often they can be manufactured with tabs or special fittings to simplify the connection to the larger device. This means less parts, more robust products, and generally cheaper assembly costs.
6. Contact With Human Tissue: Plastics are much less harmful to human tissue (e.g. skin, eyes, etc.) than glass in the event that they are broken or fractured while in contact with the human body. Glass tends to splinter into many sharp, often extremely thin, and damaging fragments while plastic does not. The result is that in the event of a failure, plastic is liable to do much less damage to the human body than glass. For devices used in frequent contact and/or close proximity to human body tissue, plastic should be seriously considered.

In summary, plastic optics offer a relevant alternatives to glass for a number of reasons to include: lower cost, less damaging when fractured and in contact with human tissue, more flexibility in design, and simpler integration with other device components. The major advantage of glass is its refractive qualities which can be incorporated in many cases by using a composite of glass and polymer materials.