Ensuring that your product is designed for manufacturing is a major consideration you should be thinking about when conducting new product development activities. It might not be front of mind now, but believe me, when it comes to high volume production, the consistent and repeatable manufacturability of your product is a make or break issue.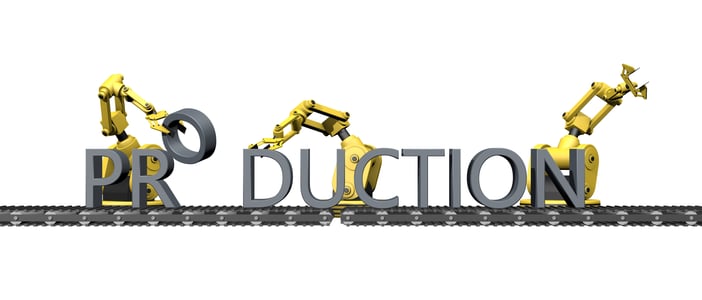 How Does A Manufacturing Environment Work?
Manufacturing environments are all about process control. They're concerned principally with improving their processes, keeping costs down, and verifying that part and process accuracy stay within required tolerances. A common industry term for a mature, essentially defect-free manufacturing process is a "Six Sigma" process. Six Sigma is not something that is typically achieved without repeated destructive iteration to the manufacturing process. That said, it is much easier to achieve when parts and processes follow a few basic principles that make manufacturing much simpler. Working with a product development firm that understands manufacturing processes is important because they're able to anticipate the issues that will face developers, entrepreneurs, and inventors when they move their product to mass-production (manufacturing and assembly).
General Design For Manufacturing (DFM) rules of thumb that will save you money down the line:
Less parts is typically better than more parts. Following the "keep it simple" principle is generally a good rule of thumb for designers. With

plastic parts

,

injection molding

processes tend to significantly reduce the total number of parts required for a complicated device because the housing and any relevant cavities, fasteners, and accessory parts can all be designed into the same piece of plastic. Other small things like maximizing efficiency with multi-cavity mold tools, designing molds to avoid

injection molding defects

, and avoiding unforeseen manufacturing mistakes by appropriately testing prototype parts ahead of time will make a big difference when it comes to the overall cost of your project.
Design

mistake proofing

into your parts. Mistake proofing is an attempt to make errors either impossible or 100 percent detectable in the event that they do occur. Ultimately no nonconforming parts should make it out of the assembly process and into the store shelves. Similarly, no nonconforming events in the manufacturing process should go undetected. An example of mistake proofing during the design process is to design connecting parts with unique connections such that any two pieces can only be combined in one unique way: the correct way. This prevents a laborer who is unfamiliar with the design or who is assembling thousands of parts per day from making a mistake. If you simply cannot make the mistake due to intelligent design then your process is mistake proof. For more on this read our column on

Design For Assembly (DFA)

.
Conclusion:
Design for manufacturing and design for assembly are both important aspects of reducing overall costs during product development. Understanding the issues manufacturers run into during production and what they care about will help you design your parts in such a way as to avoid these conflicts when your product reaches that stage in its lifecycle.
To learn more about the manufacturing process click here