Creative Mechanisms is a design and engineering firm with a variety of experience across different industries. Our design engineers have been able to turn ideas into reality for the personal care, packaging, automotive, toy, and medical industries, as well as consumer products in general. We specialize in prototyping products, with a particular emphasis on plastics and the injection molding process (although we are familiar designing for various types of manufacturing). Confidentiality agreements prevent us from sharing prototype information until a product is made available to the general public, but we wanted to share some of the projects we've accomplished that have successfully made it to market. Please read below for three examples of the Creative Mechanisms team helping clients bring products to market at scale.
STP: Cap-less Compatible Bottle (buy it here)
We were approached with the task of designing a new 12oz bottle for STP that would allow the bottle to work with the cap-less fuel tanks that are becoming more common on today's vehicles. The shape of the bottle needed to fit in the family look of STP's other products and bottle sizes. The bottle also needed adequate space for product labeling, and needed to utilize the same child-resistant cap that was used to close the original bottle. The bottom portion of the bottle also needed to remain unchanged so the bottling equipment used to fill the bottles would not need to be updated, which would have been an expensive and lengthy process. These bottles are blow molded, so we also needed to be sure that any designs we proposed could be manufactured using that process. We started by sketching up some concepts in 2D and shared them with the STP team. From there, we took a few of the leading concepts and refined them in 3D CAD. Based on more feedback from the STP team, we refined the designs again and again. Once the final aesthetic shape was chosen, we then added the thread details so the bottle would function with the child-resistant cap. We printed some FDM models of the bottles that could be used to get a feel for the overall size and shape. Those models were also used to test the function of the child-resistant cap and to make sure that the bottle would function properly with the cap-less fuel tanks.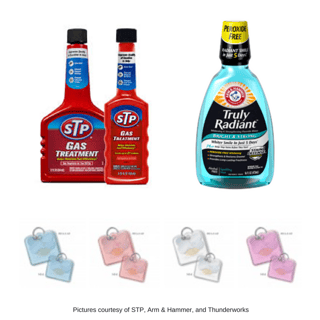 Arm & Hammer – Truly Radiant Rinse Bottle
In this case, our client, Church & Dwight, knew exactly what they wanted for their Arm & Hammer brand, our team just needed to execute. They brought their 16oz white bottle used for mouthwash, and were looking for an 8oz clear bottle in the same shape. This new smaller bottle needed to work with the existing child-resistant cap that was used on the larger bottle. A 3D CAD file was not available for the 16oz bottle, so we had to first start by transferring some 2D prints into 3D by using SolidWorks. Once we had the 16oz bottle in 3D CAD, we then appropriately scaled the bottle down so it would hold 8oz. In mass production, a bottle like this would be blow molded using PET plastic. However, due to project deadlines, blow molding was not an option to create the first prototypes of this bottle. Church & Dwight needed 50 prototypes for consumer testing, so we worked with a local supplier of high-quality SLA prototypes to create 50 crystal clear prototype bottles.

Thunderworks – ThunderCover Dog Tag Silencer (buy it here)
We were approached by ThunderWorks to develop their concept for a product that would help silence the noise created by a pet's tags. We were given a rough drawing which outlined the concept and showed how it could potentially work. The product would need to be clear, durable, and stretchy. We took the provided drawing and created 3D CAD geometry in SolidWorks which featured all of the desired design elements. From there, we created a prototype mold by CNC machining blocks of polycarbonate with cavities that matched the shape of the product. We injected liquid silicone and once that cured several hours later, we could remove the part from the mold and we had our first prototype. The prototype was tested to make sure it worked well with several different sizes of rings and dog tags. After ThunderWorks was able to evaluate the prototype, there were a few minor changes made to the design in the 3D CAD files. It was not necessary to create another prototype mold. Instead, the updated 3D CAD files were used to start creating the production-level injection molding tooling.
Creative Mechanisms can help your company with design, engineering, and prototyping consumer products.
Our team has been able to help companies, inventors, and entrepreneurs across various industries to design and engineer products for mass production. We specialize in plastics, and can design for various objectives (assembly, manufacturing, etc). We develop prototype mechanisms as simple as a living hinge, and as complex as the limits of your imagination. Creative Mechanisms is a good fit for companies seeking engineering expertise and looking to develop mechanisms and products they can reliably bring to market at scale. Our ability to design, develop, and demonstrate innovative mechanisms can provide your business with a significant competitive advantage. We react quickly to customer feedback, efficiently test your innovations, and bring creative solutions to market on tight timelines and for less money.
We have several manufacturing partners that we work with on a regular basis. If we know your product will be manufactured with us, we include the manufacturing team in the product design process as the design, engineering and prototyping phases are in progress. To learn more about our process, or whether Creative Mechanisms is a good fit for your idea, please contact us or visit our "Customer Testimonial" page.
To learn more about the engineering process click here
To learn more about the manufacturing process click here