The hallmarks of a good design and engineering team include an ability to innovate, a good iteration process, and the skill to synthesize elements from various projects and previous experience to devise a novel solution. Most of the time new ideas are iterative and anything but instantaneous. But occasionally, an idea just occurs to you in the process of daily living, and voila!...an awesome product is created! And so goes the story of the Creative Mechanisms' baby spoon.
Daily life can inspire innovation when a design engineer is in the family!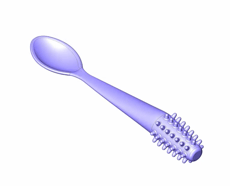 Gary is one of our design team members who was inspired to create a combination feeding and teething spoon for infants and toddlers while watching his grandson eat (read Gary's profile here). After eating food with the spoon portion of the utensil, Gary noticed that his grandson would flip the spoon around and gnaw on the handle. This simple observation inspired Gary to bring an idea to his teammates on the Creative Mechanisms design and engineering team: create an infant/toddler utensil that serves three purposes:
Feeding

Teething Relief

Food Particle Removal
To achieve Objective 1, our design team created a standard spoon and handle from polypropylene, which is a commonly used plastic in food utensils. The handle is similar to current market utensils and has a wide grip for easier use when motor skills are developing. (Read our blog: Everything You Need to Know About Polypropylene.) To achieve Objective 2, our design and engineering team went through a short iterative process. Initially, we considered adding pacifier-type geometry to the handle as a teething device, but we came up with a better idea: silicone radial bristles that gently massage gums and teeth to soothe an infant or toddler. This innovation enabled us to accomplish Objective 3, which was not initially part of the project. We discovered through the testing process that radial bristles also served to dislodge small bits of food, and may also serve to imprint hygienic dental habits for younger children...a win-win-win! Another unintended, positive outcome was discovered after making a few prototypes: the bristled teething portion can also be used as a honey dipper. For example, dipping the bristled part of the utensil into pureed food provides an additional way for kids and grandkids to get food in their mouth...as evidenced below!
Learn more about Creative Mechanisms' success with the consumer product development process
While the baby spoon is an example of happenstance innovation, the design and engineering team at Creative Mechanisms has worked with companies in a huge variety of industries. We have helped companies succeed in the personal hygiene, food, beverage, medical device, and automotive industries, in addition to many others. While much of our work for clients is protected by non-disclosure agreements, you can browse some of our previous projects here.
If you are looking to learn more in-depth information about our process, you may be interested in this case study about a square tile dispenser that we created. Our clients had four specific parameters that made this project uniquely challenging:
The square tiles were to be poured into the container

The tiles needed to be dispensed in groups of exactly four

Dispensing the tiles needed to be possible with one easy motion

No motors or electronic actuators allowed
To read more about our iterative process and how this project came to fruition, download the case study to the right!
Why should you consider Creative Mechanisms for your design and engineering needs?
One of the most important reasons our team is singularly successful is that we can accomplish the Design-Fail-Learn-Repeat process faster than our competitors. Our team is great at brainstorming and iterating, and we adapt quickly when challenges present themselves. Our engineers and model makers share a love for devising solutions, and that excitement is contagious throughout the shop. (View bios for our team members here.) We have a variety of experience and creativity on our team, and a great ability to apply previous successful elements to new challenges. But don't take it just from us - visit our Customer Testimonial page to see what previous clients have thought about working with our team. As always, please feel free to reach out at any time with questions - we look forward to helping you!
Click here to learn more about Product Innovation