No matter the industry, it can be difficult for smaller firms (suppliers) to land major manufacturing contracts with big companies. This is something we can indirectly help you with. Getting on a manufacturer's Approved Vendor List (AVL), sometimes called an Approved Source List (ASL), is a large hurdle for small companies trying to win over big business. It's hard to get on the list for any one particular company and there are a lot of vendors out there competing for a spot. That all said, if you're one of a firm's go-to suppliers, then your relationship with them can be very lucrative indeed.
What are some of the benefits of netting a major manufacturing contract?
Large companies typically manufacture in volume and thus suppliers benefit from steady work that makes underappreciated business necessities like human resource planning a much simpler task. These advantages start to snowball because with a large client (sometimes called a "hero" client), you're more able to offer your employees steady work and opportunity. Steady work makes you a more competitive employer, and reduces the likelihood that key personnel will look for other opportunities or that another firm will be able to bid them away from your company. In short, it's difficult and sometimes cumbersome to land contracts with a big company, but it can be a wonderful source of steady work that you can build and plan your business around when you successfully get them.
What happens when a large client requires changes to the product you're providing?
Because it's so hard to get on the vendor list for big manufacturers it's also relatively likely that the large client will look to your firm first when they need to make changes to the product you're delivering. This is an opportunity to shine or fail spectacularly, so what happens if you don't have the expertise in house to make the design change? Enter Creative Mechanisms.
We are a design and engineering firm with expertise in multiple industries and materials. Whether your concept is just an idea, or you require modification to an existing model, our team is uniquely suited to problem solve and iterate to the best solution. We specialize in prototype development, particularly with plastic parts intended for mass production using injection molded processes. If your products tend to be injection molded plastics with some functional mechanisms in the design, Creative Mechanisms is an excellent choice to help your business deliver when a change or update to a product is required.
Other considerations with landing a major manufacturing contract
So what does a relationship with a large client look like? This is highly dependent on the industry but in many cases involves contractual specifications for the product you'll be producing. As a vendor it behooves you to be certified according to the International Organization for Standardization (ISO). Depending on your industry, some of these terms should be familiar:
ISO 14001 (environmental management systems)

ISO 13485 (medical device or pharmaceutical manufacturing)

ISO 50001 (energy management systems)

ISO 39001 (road traffic safety management systems)
Another consideration is being able to scale your business model appropriately to meet the needs of a major manufacturing contract. This can be especially turbulent for small businesses, as they may not have the excess resources, time, and capability required to pursue these relationships with larger companies.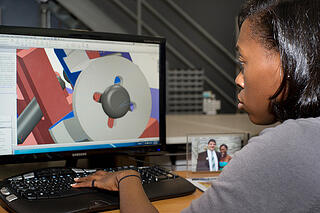 Taking care of items like certifications and scaling is a prerequisite you'll need to manage in house. Design innovation is not. Once you're done setting the foundation for major manufacturing contracts, there's no reason you shouldn't keep them. Partnering with creative firms like ours with broad expertise in prototype development and bringing innovative products to market is a wonderful way to maintain your hard-won hero clients without the expense of hiring engineering talent on a full time salary. Our team's ability to brainstorm solutions and bring them into production ensures that your business can maintain the pacing and scale required to service major manufacturing contracts, and keep your business on an approved vendor list. As discussed above, this can have a massive impact on your business as a whole. If you have questions about how Creative Mechanisms can collaborate with your company to keep your clients happy, please contact us today!
To learn more about the manufacturing process click here