As recently as a year or two ago, many people in the product development sphere did not think it was possible to machine a single piece of polypropylene into a living hinge. Perhaps a large number still do not realize this is an available service. The design and engineering team at Creative Mechanisms has been talking about our unique ability to prototype living hinges for several years now and finally, the industry is starting to take notice. So what's the big deal?
The major issue when working with or developing new living hinge devices is the ability to properly build a working prototype. Polypropylene is particularly finicky and is subject to melting if not properly managed with the CNC machine. If you understand the process like we do, however, it becomes relatively simple to produce a wide variety of living hinge prototypes that will allow you to work out the kinks well in advance of high volume production. With that in mind, the engineers at Creative Mechanisms put together a video that showcases a few different options available to companies looking for new functionality in their caps, closures, and lids for various product lines.
Check out our video of working living hinge prototypes

here

.
As you'll notice in the video, the prototype device is composed of four different compartments situated at a different cardinal direction (two squares, a hexagon, and a circle). Each compartment includes one or more living hinges and/or snaps. Two of the four compartments (the hexagon and one of the squares) include flush hinges (see video 0:16) which are typically used in conjunction with permanent snaps designed into the lid (see video 0:19). This allows the designer to mold internal features that are not otherwise manufacturable. Flush hinges are generally hidden when closed. As you can see in the video, the octagonal container has two different hinges incorporated into its design. The first is a flush hinge and the second is a snap-on hinge (see video 0:32 for the snap hinge). Together the flush hinge and the snap hinge allow the user to open the container in full or in part depending on the type of access desired (single serve dispensing or bulk dispensing).
The first square compartment (see video 0:45) includes a right angle flush hinge that opens on the side of the container and is manufacturable as a production part as shown without the need for deep coring in the mold tool.
The second square compartment is composed of a standard living hinge and snap (also known as a straight hinge). This is the most common type of living hinge (see video 0:51) and is widely implemented for a variety of flexible joints in various consumer product applications.
The circular compartment utilizes a butterfly living hinge (see video 1:07). Butterfly hinges (also known as bi-stable hinges) snap to and from the open and closed positions and then stay in that position until adjusted by the user. In other words, when a consumer opens the butterfly hinge it snaps open and remains in this position until readjusted. Butterfly hinges are frequently used in automation. Common applications include liquid dispensing and/or filling.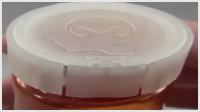 Living hinges are one of many useful mechanisms worth considering when deciding how to design your new product. Whether they are the right fit for your application really depends on the details of the project. Consider giving us a call to discuss your design and prototyping goals and we will help you develop a product that will far exceed your expectations.
Click here to learn more about Product Innovation