Faster turnaround times? Functionally testable prototypes? Rapidly progressing through adjustments? With 3D printing, you can have your cake and eat it too.
That is if you're using 3D printing to create functional prototypes.
Today, we're tackling how to expedite your prototyping process with the speed and functionality of 3D printed prototypes.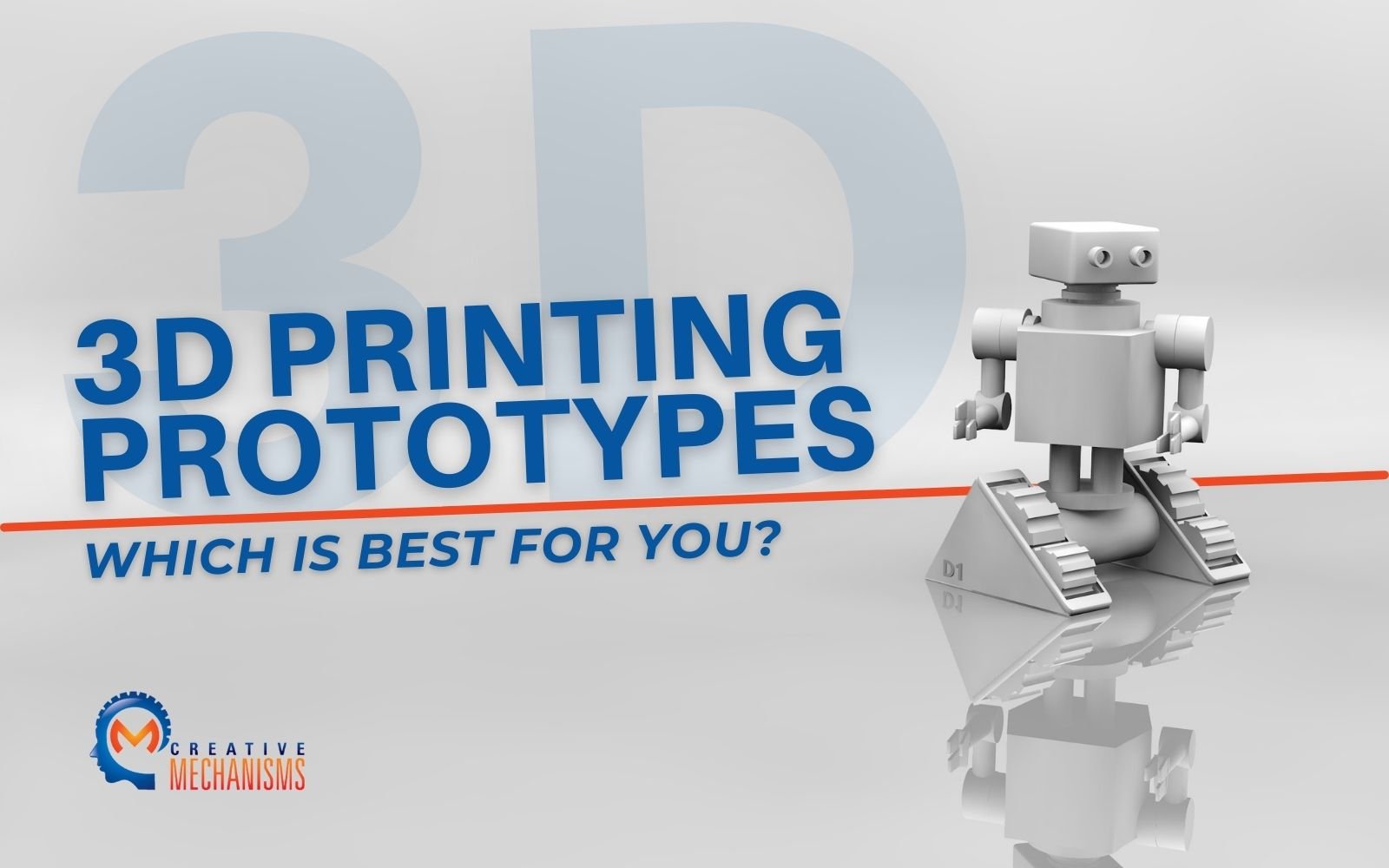 The Need for Rapid Functional Prototypes
Historically, rapid prototyping was more geared toward visual models that gave insights into geometries and aesthetics. While this provides some benefit, the real value comes with functional prototypes that can be tested and interacted with.
Before 3D printing became more commonly adopted, rapidly produced functional prototypes were extremely expensive, if possible at all. Now, many 3D printed prototypes can be printed with strong enough materials to replicate the final, functional product.
Even better, 3D printing technology is more accessible than ever. If you don't have 3D printing capabilities in house, leading teams like Creative Mechanisms provide both access to the technology as well as the expertise to maximize its potential.
So if you're looking for a cost effective prototyping solution with functional capabilities and rapid feedback loops, 3D printing is likely the option for you.
Additive Manufacturing (3D Printing) and Prototyping
Additive manufacturing is another name used in the industry for 3D printing. As a definition, these designs are produced in layers and can be composed of a variety of materials including thermoplastics, ceramics, metals, and biochemicals.
Additive manufacturing (3D printing) differs from other traditional methods like subtractive manufacturing and injection molding. Subtractive manufacturing removes materials through machining and other sculpting methods. Injection molding is done by injecting molten materials into molds which cool and harden.
If your final product will be manufactured via subtractive methods or injection molding, you can still leverage 3D printing for your earlier prototyping stages.
And if you are planning on using a different material for the finished product? You can find comparable materials that accurately replicate your final product. This allows 3D printing to be a consistently strong solution for prototyping across a variety of projects.
Advantage 1: Test Performance Earlier in Development Phases
There is no true substitute for real world testing. Yes, a veteran engineering team is able to catch a wide range of problems before physical models are made. Still, the ability to physically test your prototypes earlier in the design process is invaluable for shortcutting your adjustments.
This is especially important when designing your product for an end user. There are certain design features that are only engaged with and adjusted by a human being able to interact with a physical design.
3D printing makes this pipe dream possible in a few ways. It allows teams to:
Turn designs into prototypes in hours

Save material costs with minimal waste with additive manufacturing methods

Better integration between CAD (computer aided design) software and prototypes

No overseas logistical challenges and lead times
How's that for a competitive edge to help get your product to market faster and more reliably?
Advantage 2: Make and Test Small Changes Rapidly
The value of a functional prototype isn't just in your ability to test it and identify its flaws. The other half is your ability to make the needed corrections and test your new iterations.
If the turnaround time between prototypes is slow, your projects lose momentum and sacrifice crucial time. With 3D printing available for prototypes, you can identify the needed corrections, adjust them in your CAD software, and fabricate a new prototype within 24 hours.
You waste minimal time, and just as importantly, you preserve the creative thought process that drives your design.
Advantage 3: Fabricate Discontinued Parts
If your design relies on a specific part, and you find out it's been discontinued, what do you do? 3D printing allows you to create customized, single piece parts without the hassle of traditional molds. It saves you the time and money of acquiring hard-to-find discontinued parts!
Ready to Use 3D Printing in Your Prototyping?
If you're ready to inject 3D printing into your prototyping process, our team at Creative Mechanisms is ready to provide both the technological capability and design expertise your project needs.
To start the conversation, schedule a free, zero-obligation product review. Our team will take a look at your current project and help you identify the solutions you need and a path forward.