Injection molding is one of the most popular and effective manufacturing processes, because it is capable of producing high quality parts in large numbers, and generally very quickly. In a nutshell, injection molding is when a material (generally plastic) is heated until pliable, forced into a mold made for a specific purpose, allowed to cool and harden, and then ejected from the mold. Depending on how the mold is made (and what material is being injection molded), this process can be repeated over and over in order to create large numbers of a given product. Although popular and effective, injection molding is not a cheap process; projects typically cost between $10,000 and a few hundred thousand dollars to manufacture. Let's look at some ways to ensure that cost effective injection molding is a reality for your project.
Tips for cost effective injection molding from the Creative Mechanisms team
Make sure you're using the right material. Did you know that there are hundreds of plastics (let alone other materials) that can be injection molded? It's important to consider what function you want a particular piece to accomplish, and which material is most appropriate to make that happen. Does a piece need to be pliable or rigid? Will it be exposed to heat or extreme temperature deviations? How does Factor of Safety affect the materials required for design? It's a common mistake to assume that a state-of-the-art, top-of-the-line material is the right one to utilize, but if its good qualities aren't pertinent to your project, then they are essentially useless - and may cost more money overall. For instance, why use a 40% glass filled nylon when polyethylene would do the trick just as well? The best material for injection molding is the one that best fits your requirements and is not simply the better material overall.
Identify where processes can be consolidated. There are a lot of secondary processes involved in producing a part from scratch. Such processes (like custom inserts, label printing, painting, etc.) can prove to be time consuming, as they require extensive setup – and in injection molding, time is money. All those extra costs - and the time that could have been saved with better production management - ultimately drive the part price up. The best practice is to try to combine all of these processes into one single robust process. Read more about the Creative Mechanisms process, and how we design for defect prevention in injection molding.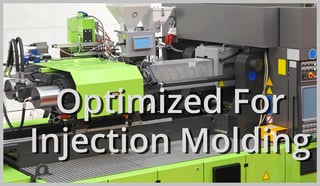 Be selective when choosing who does the injection molding. Like most industries, the injection molding industry is full of small, mid-size, and large companies. One or the other may be more appropriate depending on your project. Smaller companies will generally offer more flexibility and lower costs, whereas prices may be driven up with large companies due to higher overhead, higher salaries, and sometimes more advanced technology. In general, it's best to choose a company that has experience molding your type of product, as it will save time during the research and development part of the project. Remember that bigger and more expensive does not necessarily equal better quality. Creative Mechanisms is not an injection molding company, but over the years, we have built a reliable network of high quality, responsive manufacturing companies that have helped to turn ideas into reality.
Consider bulk production. Molding operations are rarely personal projects or projects that will produce small numbers. In the research and development phase alone, some projects produce hundreds or thousands of prototypes, as many benefits come from extensive testing and feedback. When the product moves into the production phase, it is even more important to be able to mold as many parts in one shot as possible. Molds for production should also have as many cavities as possible without compromising the quality of the parts produced. In a competitive market, a product must be the best it can be while also being affordable. That is why it is advisable to produce as many parts as possible at one time – because it spreads the setup cost out over more parts, thus leaving you with a lower price per piece. You can now sell your product in a competitive market.
Is the mold design optimized for cost effective injection molding? In mold design, as in bulk production, it is beneficial if you can produce as many parts as possible in a single shot. For mold design, it is also very important to be able to eject the plastic product quickly and to be ready for the next shot without wasting movements. Rods, an air blast, or a plate are typically used for the ejection stage of injection molding. Every second in the injection molding process translates into money, so it is critical to minimize the mechanisms of molding to as few and as fast as possible. A design and engineering firm that is familiar with the nuances of injection molding will create parts that will lend themselves to optimized mold design.

Optimize product design and materials. You can save a considerable amount of money, especially in material consumption, with an optimized product design. Using ribs and gussets to reinforce a product, for example, will save on material consumption, as well as ensuring that the product has uniform wall thickness that is neither too thin nor too thick. Incorporating adequate draft is also essential, as it allows for quick ejection of the product from the mold, saving time and money. If there is a need for a mechanism in the product, there are quite a few to choose from. Many can be incorporated into the molding process without the need for secondary processes or machining. Some mechanisms, such as living hinges, take advantage of the properties of the material that was used to mold the plastic part. These mechanisms can be made directly from the molding process versus spending extra time and money on other processes, such as stamping.
The right design and engineering company can ensure a cost effective injection molding process.
From initial design, to prototyping, to the finished product, Creative Mechanisms can help turn your idea into reality with cost effective injection molding in mind. We are a design and engineering firm with experience designing products across multiple industries, and we've built a strategic network of injection molding companies to finish the process. Please visit our customer testimonial page to learn about the successes we have been able to pass on to clients, and please reach out if you have any questions.
To learn more about the manufacturing process click here