Like most fields, engineering is being drastically affected and improved by the influence of computer technology. The underlying theory and general understanding within the field is vastly enhanced by the ability of super computers to rapidly iterate and make precise calculations that would take human beings working manually several lifetimes to complete. With that in mind, here is a quick primer on how computer aided engineering is shaping modern engineering in general.
What Is CAE:
CAE (computer aided engineering) entails the use of computer software to simulate the functionality of a device in order to increase the overall understanding of the engineering problems in play and to make iterative improvements to the device's underlying design.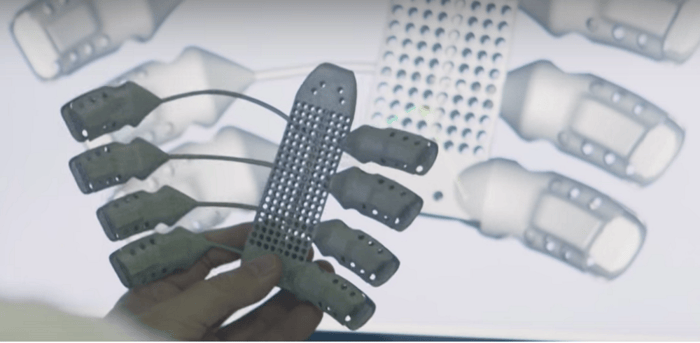 3D Printed Ribs Engineered and Manufactured Specifically For An Individual Cancer Patient. Read more.
CAE Software:
There are a number of CAD software providers in the market but unfortunately there is significantly less choice when it comes to CAE. Perhaps the most well known CAE software provider is Siemens. Siemens actually provides a full suite of integrated engineering software tools that can be used in conjunction with one another. It is an all-encompassing software platform for engineers (similar to all-in-one enterprise resource planning platforms like Oracle or SAP for business management). We work in Solidworks CAD which provides a number of similar simulation and design tools but doesn't technically label itself "CAE."
CAE Tools:
Major types of engineering analysis that generally fall under the umbrella term "CAE" include:
Computational Fluid Dynamics (CFD):

Computational Fluid Dynamics is a way to model the behavior of fluids and gases interacting with one another as well as the surfaces with which they come into contact. CFD takes into account specified boundary conditions to make predictions and to run complex simulations for different types of flow (laminar, transitional, or turbulent). All fluid flow for injection molding prototype production is laminar flow and is thus much simpler to model than say the airflow over a transonic airfoil.
Finite Element Analysis (FEA):

Finite Element Analysis is a method of stress and failure testing that works by breaking up a continuous object (the larger domain) into smaller "finite elements" (a.k.a. sub-domains), running analysis on the disaggregated sub-domains, and then combining the localized data using multivariable calculus to approximate the impact on a larger domain.
Manufacturing Process Simulation (e.g. injection molding or die casting): Three dimensional simulation of manufacturing processes is essential to prevent spending a large sum of money mass-producing a product only to see the output marred by defects. One of the most important simulations you can run is a mold-flow analysis. For an example of what this looks like see the video below:
Mechanical Event Simulation (MES):

Higher fidelity software and hardware are allowing new products to become infinitely more complicated. Accordingly, three dimensional simulation of moving parts operating in conjunction with one another is more important than ever. Multibody dynamics and the various kinematics of mechanisms necessitate advanced simulation software capable of predicting shortcomings before significant money is invested into prototype production.
The more fidelity is required from engineer,s the more important computer aided engineering will become. Even now supercomputers are helping to solve complex problems, solutions to which are not otherwise feasible. In so doing, CAE is advancing the accuracy with which we can model real world problems and provide rapid and accurate solutions.