In the last series of blog posts, we covered what mechanisms are, but to serve as a refresher, we will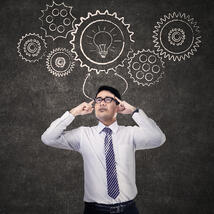 quickly define what mechanisms are again. Mechanisms are mechanical devices that are used to transmit or convert movements or forces from one location to another. There are a host of different types of mechanisms that employ different methods to transmit these forces or motions. Examples include gears, cams, levers, ratchets, etc.
Compliant mechanisms, however, are completely different from all other mechanisms in one fundamental aspect.
Typical mechanisms are assumed to be rigid or to use rigid parts linked at movable joints. As the name implies, compliant mechanisms are not rigid, but pliable, which is a significant reason for their usefulness as mechanisms.
(Side note: technically speaking, no material can be said to be perfectly rigid. Here, rigid is used in the sense that no significant deflection takes place or that any deflection that occurs is incidental and not advantageous or desired.)
Compliant mechanisms, like other mechanisms, convert and transmit movements and forces but they accomplish this, at least in part, by the deflection or elastic deformation of their flexible members rather than through the movement of joints alone. This distinction is important, for if a compliant mechanism design is replicated in any other type of rigid mechanism design, the mechanism will either not work at all or will work but with extremely low efficiency. Compliant mechanisms are reliant on the malleable nature of the material.
Advantages of Compliant Mechanisms
Compliant mechanisms seem massively advantageous because they can do things that rigid mechanisms cannot do. There are, in fact, a lot of considerations that may make someone choose to use a compliant mechanism over another type of mechanism.
Below are a few of these considerations:
Fewer Parts
Since compliant mechanisms are usually monolithic and do not involve the coupling of several parts, the need for parts is drastically reduced. A lot of parts traditionally go into simply coupling parts together, but there is no need for this when using compliant mechanisms, as the whole assembly usually consists of a single part. Therefore, you can achieve virtually the same movements as are possible with rigid mechanisms but with dramatically fewer parts.
Savings on Material and Production Costs
Compliant mechanisms can be manufactured through injection molding techniques and usually come off as a single piece. This reduction in parts lowers the costs that are attributed to material and time used to manufacture and assemble parts.
Elimination of Friction
The fact that compliant mechanisms make use of one part versus two or three parts rubbing against each other means that there is a great reduction in friction. This results in less wear and tear on the mechanism and a lesser need for lubrication. In cases where the mechanism is hard to reach and therefore hard to repair, this characteristic is invaluable, as the need for maintenance will be very low.
More Precision, Fewer Errors
It's a well known concept that, on a journey to a specific destination, more steps offers more opportunities to get lost. The same principle, applied to compliant mechanisms, indicates that the reduction in parts is the same as taking fewer steps and therefore being less likely to get lost. In other words, fewer parts will equal fewer errors and fewer inaccuracies. That's because the more parts there are in a mechanism, the higher the possibility of backlash from each part. Since vibrations and other errors may sometimes occur between parts moving relative to one another, a compliant mechanism that makes use of a single part (or at least a lesser number of parts) will greatly reduce such vibrations and other errors.
In Part 2 of this series, we will take a look at some of the challenges encountered when using compliant mechanisms.