Prototyping involves a combination of skillsets that include model making (digital design and physical construction of parts), facilitating mechanical interactions of different mechanisms (e.g. gears, levers, ratchets, etc.), and in many cases developing the electrical circuitry and software necessary to produce a particular output given a set of inputs. At Creative Mechanisms we tend to focus the majority of our work on the first two of these four skill sets (novel part development, and device construction). Although we do some basic electrical work in some of our projects, the typical emphasis and our particular expertise involves part construction and the development of different mechanical designs to facilitate efficient interaction between a product's various components.
An interesting example of a project that highlights part design and product design was a dispenser that had to do more than simply deliver product to the customer. In addition to this typical requirement, the new dispenser would have to evenly sequence the product from a hopper into four different lanes that would deliver the product to the customer. So how do you do it? The interesting thing about product design is that there's no single correct answer. We came up with a design that involved a sequence of three-pointed stars that would successively funnel product down one of two possible avenues.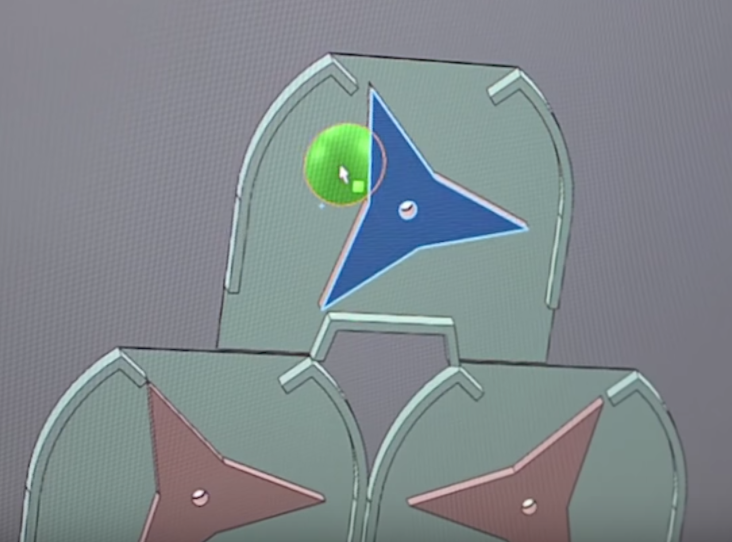 Arranging four of the three-pointed star mechanisms in a diamond formation made it such that the sequence would repeat it's order after four balls were dispensed. This allowed us to take an unsorted hopper full of product, evenly process it, and ensure that we did so without peaks and valleys in a particular lane. One of the most important (and often underappreciated) aspects of product development in projects such as the dispenser seen above, is customer participation. Customer participation occurs in two main ways:
Market research with the ultimate customer (the people who will purchase and use the new device in the real world once it is developed). This kind of research often comes in the form of surveys, prototype distribution and feedback, and/or discussion with different groups of relevant people.
The entrepreneur or company outsourcing development and engineering work to a design firm like Creative Mechanisms.
It is safe to say that new devices are not created in a vacuum. Striking the right balance between proactivity and passivity when it comes to interactions between the client and the designer is very important. Initial handoff typically includes a clear and detailed description of the design concept up front. This may come in the form of design requirements, creative direction, or technical specifications. After the initial handoff it is generally useful to give the engineering and/or design team a little creative license to produce the product's first iteration. Then comes the important part. The conversations that follow the first iteration typically set the tone for the rest of the project. It is, of course, essential to communicate clearly. Voicing your concerns and listening intently when discussing design iterations usually uncovers issues that were perhaps unanticipated. How effective the design team and the client are at communicating almost always determines the final number of iterations required to produce a working prototype that everyone is happy with. For more information follow our blog or reach out to our team about your own project to see how we can help you turn it into a reality.