Mechanism design involves making the best out of your mechanism. But how does one go about choosing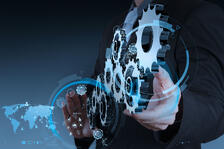 what mechanism to use in the first place? Below are some of the most pertinent factors (in no particular order) to consider when choosing what type of mechanism or combination of mechanisms to use when designing a product.
Space
When faced with a shortlist of mechanisms, the one that will produce the required operations while consuming the least amount of space is the best way to go. This is especially true for products that have space requirements as a factor, such as with products that are meant to be operated with one hand.
Efficiency
If the primary purpose of the desired mechanism is to do work for the user, the mechanism with the highest mechanical advantage will take precedence. That means that the mechanism that does the most work with the smallest input will rank higher than the mechanism that does not have as high an output versus input ratio.
Materials
Some mechanisms simply won't work if you use certain materials or if you are limited as to what materials you have available. Gear mechanisms, for example, require a certain amount of rigidity before they can work and so, for gear mechanisms, rubber-like materials would not be a feasible option. In other cases, such as with compliant mechanisms, rigid materials will not work at all.
Power
Just like in material constraints, some mechanisms lend themselves more to operations with high torque or high forces. If you have requirements for high input or output forces, some mechanisms will be more suitable than others. Cams are generally a precision-based mechanism and not one for delivering or withstanding high amounts of forces. Gears, on the other hand, combine precision and the ability to work with high torque.
Aesthetics
In today's market, sometimes beauty is as important as function. When the design team is conceptualizing a design concept, they usually start from how they want the finished product to look before they work back to what will be under the hood and how they are going to make it work. We believe there is no such thing as an ugly mechanism, but there are certainly extremely beautiful, mesmerizing, ingenious ones. A proud designer may be tempted to use a transparent body so that the user can fully view the product's inner mechanisms in action.
Ease of production
A very easy consideration to miss is the ease with which a mechanism can be mass produced. Product manufacturers are in the business of making money and the best mechanism is not necessarily the most cost effective mechanism. You will want to choose the mechanism that will not significantly impact lead time and will not be so costly as to price out the majority of the product's consumers. A balance must be sought to make sure the product is affordable for the buyers and yet profitable for the manufacturers.
Complexity
The most elegant designs are the simplest ones. When all other considerations have been decided upon, the least complicated design should be adopted because that will reduce the risk of failure. A less complicated mechanism generally means fewer things can go wrong or fail.
This list is by no means exhaustive and there are certainly other things to consider when choosing a mechanism, but this should serve as a guide for how to choose the mechanism with the best possible value for the manufacturer.
Click on the book cover below to learn why to work with a mechanism design specialist