Many customers come to us with impossible project deadlines as well as an overall desire for help in shortening the time it takes to develop product in general. Speed is critical in product development. Every hour that you can remove from a project helps both shorten the lead time and lower the development cost. Every dollar saved on development counts but delays in a project launch can be far costlier. When the project launch is delayed you are spending money instead of making it. That lost cash flow can cripple a product and a company.
There are many ways to facilitate speed in the development process, but from my experience the physical layout of the product development shop is one of the most productive. The way a facility is laid out can either hinder or help the speed of the team. I do understand that there are other factors that affect the layout like the size of the teams, tools and machinery and the job duties. We work as a very flat organization where everybody does just about everything which helps keep the teams working in one spot. The layout that works the best for us is a U-shape desk layout where everyone sits facing outwards and the area behind them is open.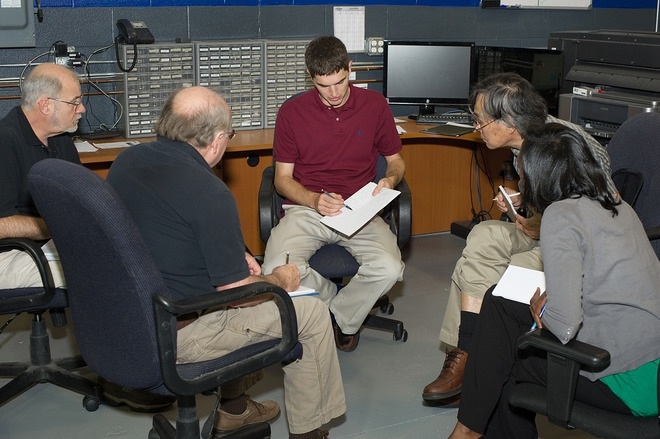 This configuration facilitates collaboration. We have found that the best way to speed up the development process is asking for other opinions when you are trying to solve a problem. Getting multiple perspectives quickly gets you to a solution faster. Product development is all about solving problems. The faster you solve problems the faster your project gets done. What the U-shaped configuration does is allow for spontaneous meetings.
If you want to meet with the team you spin your chair around and ask everyone to do the same. It takes seconds. You can meet for a few minutes and then spin back around. If the discussion is not relevant to you, then you can continue to work on your computer but your still able to hear the discussion. Contrast this with asking everyone to go to a conference room. How many seconds does that take?
You must get up and go to another area. Not everyone will be there yet, so you engage in conversation which takes time to subside. The meeting starts, and you find out you really don't have to be there, but you can't leave. Then meeting goes on and on because it's too hard to get everyone together so you must make sure that as much gets covered as possible. Does this sound familiar? Being able to have multiple very quick meetings that remove all that waste is a huge time saver. Compound that time savings over the length of your development process.
We recently had a project where we were asked to design, engineer and prototype five different products that could then be connected to one another to form one larger product. The time we were given to accomplish this was less than two weeks. Five engineers each took one product, but they had to constantly collaborate with each other to make sure that all the interfaces worked together. There was constant interactions and no time for any waste.
The client was delighted when the project was done with the expected quality and performance but mostly because it was done on time. This was a hard deadline job and there was no way it could be late. That's a lot of pressure on a project manager and a lot of relief when it was done on time. I can't believe this would have been accomplished in a traditional cubicle style layout.
Click here to learn more about Accelerating the Product Development Process
Please let me know what your teams biggest time saver is in the comments section below.