Typically, Creative Mechanisms works with large consumers or medical companies that require such strict non-disclosure agreements that we aren't even allowed to divulge their identities. Recently, though, we were approached by a company called Belt Envy. Belt Envy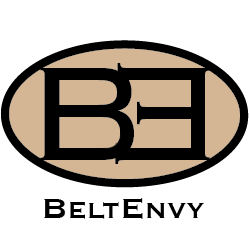 produces jewelry and so at first we thought they wouldn't be a good fit for us. But since we're always up for a challenge, we looked at their objective and seriously considered what would need to happen if we accepted Belt Envy's proposal. As it turns out, their needs fit our process quite well, and now Belt Envy is a Creative Mechanisms customer.
One of our favorite parts of this project is that Belt Envy is already being marketed, so there's no secrecy involved and no non-disclosure agreements to be signed –meaning that unlike most of our projects, we can blog about it! Our other favorite part is that it is a perfect example of how Creative Mechanisms can think outside the box. Yes, we have a "typical" customer, but we are also innovative problem solvers and love to look at and try new things.
So the first thing we're going to do is thank Jackie Arch, the owner of Belt Envy. We really appreciate her kindness in allowing us to document the development of her product so that we can share it with you in real time instead of in retrospect.
Jackie came to us about an acrylic cuff bracelet that she wanted to produce. The company she was working with to make the jewelry had four steps: 1) cutting out acrylic blanks, 2) beveling, polishing, and flaming the sides to ensure clarity, 3) printing on the acrylic, and 4) heating and hand-forming it around a mold. While that is the traditional manufacturing process to produce jewelry, Jackie was unhappy because her results were inconsistent.
When Creative Mechanisms looked at the product, we knew that the traditional acrylic techniques wouldn't work for us either. We envisioned instead developing a creative mechanism that would not only give Jackie the consistency she desired but would also reduce the amount of labor being put into the production of a single acrylic bracelet.
Before approaching Jackie about this idea, the Creative Mechanisms team sat down for a brainstorming session. We left the brainstorming session with an actual sketch of the mechanism we would create and put in place to produce Jackie's jewelry. After Jackie was on board, we had several things to prove out before we started building the machine.
The first thing we wanted to do was eliminate all of the manual processes and multiple steps that traditional acrylic jewelry typically goes through. Using our computer numerical control (CNC) machine – basically a computer controlled precision jigsaw – we were able to develop a process of cutting the blanks, adding the bevel, and polishing the plastic in a single step. The beveled, polished blanks came off the machine ready to be printed on, which left us with only the bending process to figure out. Because the proposed mechanism that we discussed earlier would take time to build, we designed another machine that could be built very quickly. Once that machine was built, we started experimenting with ways to bend acrylic jewelry. Practicing with this second machine gave us the information we needed: that using our machine was going to work! It would provide us the consistency that we and Jackie were after. We also found several issues that we were going to have to address in the process when going forward.
Armed with this information, we are ready to proceed.
Please stay tuned to our future blog posts and we will show you how Jackie's bracelet project progresses. Whether we are engineering a medical product, making prototypes for a consumer product, or making a creative mechanism to manufacture jewelry, remember – at Creative Mechanisms we don't box ourselves in to a single type of customer or a single type of material. The only thing that truly matters is whether or not we can help you.