Hal Hansen, a client and regular reader of these posts, suggested I write about the changing jargon of prototype building. The technology of prototype production has changed rapidly, and the terminology has paralleled those changes. We used to carve or fabricate models by hand. Later we used to CNC technology to cut models and now we grow or print our models with SLA or FDM technology.
In the mid-eighties, we would start the process by either carving a tooling pattern out of a solid block of plastic called acetate or we would fabricate the model out of sheet plastic using styrene or ABS sheets. E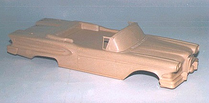 Everything was done in 2D.
The drawings you would follow were created by designers or draftsman working in pencil on large drawing boards. The milling machines that we used were operated by hand cranking in two dimensions.
You couldn't cut a curve with one; you could only move the plastic left and right, or forward and back underneath the fixed cutter. So you would tape a copy of your print on the piece of plastic and cut out the shape like it was cut from a cookie cutter; the rest of the shape would be carved by sculpting the forms with a dremel (or as we call it a handy-tool), files, knives and scrapers.
This solid sculpted block was mounted to a parting block which was made out of solid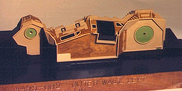 hardwood and would define the parting line for the toolmaking process. If the model was going to be a "looks-like model" or a "looks-like works-like model," you might just fabricate the parts using sheet plastic.
If there was a lot of shape you might make a form out of wood and heat bend the sheet over the form to get the shape you wanted. If there was a lot of shape involved, you would carve a wood form and vacuum form the sheet over top of the wood. All of the cut out or formed pieces of sheet plastic would be glued together like a puzzle or fabricated.
If you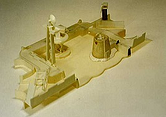 needed a curved edge on a flat piece of plastic, you used a different machine entirely; it was called a pantograph. It was a machine with two arms. One arm had a stylus that would follow a template, and the other arm had the cutter that would cut the shape. It took a lot of work to just make a simple shape with a curved line.
By the nineties, CNC technology had become the technology of choice. 2D Cad had come into use. Autocad was amazing, but more unbelievable was seeing a milling machine cut a sheet of plastic by itself and - get this - it could actually cut out a circle, because it could move in the x and y axis simultaneously.
Suddenly
the four pantograph machines that took up 1,000 square feet of space became obsolete. In the early years, we started using CNC by retrofitting our existing machines with computers that would numerically control the movement of the cutting bed in the x and y axis and cut out your sheet plastic to the shape you drew.
As we entered the 21st century, Solidworks was taking hold. This design software allowed us to draw a model on the computer in 3D. The ability to have a 3D computer file allowed us to bring in another type of CNC technology, a 3 axis CNC; the 3 axis CNC could actually move the X,Y and Z axis simultaneously.
With this technology you could now draw the shape that you used to carve by hand, put a block of plastic in the machine, and just let it run. Instead of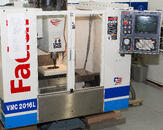 carving by hand, you were now allowing a machine to cut it out.
This was a huge change but not just in time-savings; it also brought another new concept to the industry. "Lights out" production meant that you could have a machine run at night when no one was in the building. It was revolutionary to see the guys load a piece of plastic in the machine at night and come back in the morning to see a finished part.
Solidworks and the other 3D CAD programs progressed and developed additional capabilities, initiating a tremendous shift. While the time it took to make a model was decreasing, the time it took to design it was increasing... because of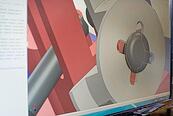 the shift from 2D CAD to 3D CAD. But the increase in design time was worth it because "Rapid Prototyping" began to come into its own; it would reduce the model build time exponentially.
The first technology we embraced was SLA or Stereolithography. It would grow a part by slicing the 3D file up into tiny layers. An ultraviolet curable material is spread in a very thin layer over a surface and a laser beam solidifies the material where the part is. The process is repeated over and over and thus the part grows layer by layer until finished.
We never purchased this technology. We choose to outsource these models because there was another technology that we purchased for growing parts that to us looked much more promising: FDM or Fused Deposition Modeling. It prints parts in ABS material, which is a production grade plastic unlike the material used in the SLA process.
Growing parts with these technologies has been a complete game-changer for the prototyping industry. It is faster than CNC and much easier to set up and use. We can print a whole platen of parts overnight and have them available for assembly the next morning. The material is ABS and it is not limited by cutter diameters or depths.
We still use CNC

technology where applicable. In fact, our use of that technology is growing because we can use that technology to machine polypropylene. It is a material that can't be printed and was always thought to be a material that you couldn't machine either. But we have found a way to machine this material, and the use of CNC technology is growing in our shop. Still, the number of parts we produce with that technology is still far less than our use of FDM.
So now when we say we are going to cut that part instead of growing it, you knowthere actually are differences in the technology behind that jargon. Many thanks for the suggestion, Hal.
Are there any other requests for blog topics? Please let me know.